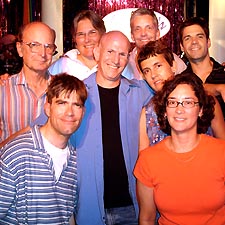 Members of GLSEN at a recent happy hour event
ORGANIZATIONAL MISSION: GLSEN strives to assure that each member of every school community is valued and respected regardless of sexual orientation or gender identity/expression.
ACTIVITIES: Formed in 2000, the National Capital Area chapter lobbies school boards, meets with student Gay-Straight Alliances (GSAs), sponsors conferences for LGBT and allied youth, and hosts a monthly teacher happy hour.
HOW TO JOIN: Membership is open to people of any age or profession who believe in GLSEN's mission of ending discrimination against all students. There are no dues, but a $35 donation ($15 for students) for individual membership is suggested.
BACKGROUND: GLSEN's National Capital Area chapter is poised for transformation, says Robert Rigby, the chapter's youth outreach coordinator and a special-education teacher at Falls Church High School. In October, the chapter will split into the Northern Virginia chapter, with D.C. members migrating to the Sexual Minority Youth Assistance League (SMYAL), and suburban Maryland members likely aligning with GLSEN's Baltimore chapter. Rigby says opportunities remain aplenty to help protect kids from harassment.
CONTACT: E-mail Rigby at rrigbyjr@yahoo.com, or visit the chapter online at www.glsennca.org.