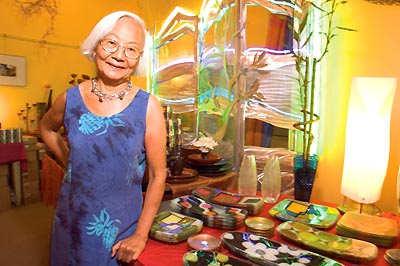 Noi Chudnoff inside Go Mama Go!
If you drive by too quickly, the sign above the door might look more like "Go Mango!" warns Noi Chudnoff. The name of her shop, at 1809 14th Street NW, is actually Go Mama Go! Inside, Chudnoff, born and raised in Bangkok, stocks gifts, artwork and tchotchkes from around the world.
The name, she says, stems from a transition in her life at the start of the millennium. She was in her mid-50s, her son had gone off to college, and she decided it was time to hang up her apron. The name of the shop is her advice to herself. Since then, she's relocated to Washington from suburban Maryland, renting an apartment above Home Rule, the store next door to hers. While her husband, Jonathan, keeps the home fires burning in Maryland, he sometimes makes an appearance behind the counter, or in the Go Mama Go! contingent in the Capital Pride parade.
Last weekend, there was plenty of action in front of both shops — and many others — celebrating the Dog Days of August with sidewalk sales. Chudnoff dedicated her frontage to the National Gay and Lesbian Task Force, with a fundraising event called "Beefcake and Bunz!" Chudnoff supplied the burgers, the Task Force supplied the labor, and Chudnoff's many friends and acquaintances were drafted to supply bake-sale wares. (Disclosure: This writer felt obligated to donate a couple batches of Rice Krispies treats.)
"She knows virtually everyone who comes into her store. She has no hesitancy about asking anyone to help," says Matt Foreman, executive director of the Task Force, for whom Chudnoff harbors particular admiration. While her profits have in large part translated to donations to Whitman-Walker Clinic, Concerned Black Men, the N Street Village women's shelter, and the National Youth Advocacy Coalition, among others, Chudnoff has pledged $100,000 to the Task Force. "I've met with a lot of donors over the years," says Foreman, "and it's an exceptional day when a donor offers to give money before you ask."
Despite her philanthropy, Chudnoff is the first to insist — repeatedly — "I am not a saint." Spend some time with her, and you'll likely agree. After all, she's not one to mince words. She can be demanding. Don't let her slight frame fool you — she does not suffer fools.
METRO WEEKLY: Is all this fundraising fun for you? Is it a hobby?
NOI CHUDNOFF: It's fun because my focus is that when we make money, we give back to the community. It doesn't matter if it's gay or straight. When I came out to say we would pledge $100,000 to the National Gay and Lesbian Task Force, a lot of non-profits came out and said, "How come you didn't give it to us?" Honey, if I haven't seen you in a year, why am I going to be thinking about you?
Part of the reason I'm doing the fundraising for the Task Force is because Matt Foreman is a good leader. He is like one of us. He'll pitch in to help. He doesn't have the air that he's above us. Some non-profit directors — I won't name names — have that air. To be a director of a non-profit, you need to be liked, not looked upon as a deity.
I talked to Jim [Bennett] and Deacon [Maccubbin] of Lambda Rising, and I said I would like to have lunch with Matt Foreman. I said that if I got the right answers, I would donate $25,000. We had lunch the next day. I had a sense that I'd found a leader, but I wanted to make sure. I did some research and asked everybody what they thought of the Task Force. How good are they? How effective? What do they really do? I'm not gay, so I really don't know gay politics. I'm a newcomer, but I wanted to help a gay non-profit organization.
Later I went up to Matt [at the Task Force gala in April] and said, "I have one question to ask you, only one. You need to think really fast." I said, "Will you marry me?" He said, "Yes. And my boyfriend, too." I said, "Okay, $100,000." He has the ability to figure out where people are coming from. Go Mama Go! is about creativity. We are in your face. We can be nice or we can be terrible. Mostly we're nice. My question was, can you think really fast? And he can. He didn't get bent out of shape. He knew that I knew he's gay, that he has a boyfriend, but he understood what I was saying.
MW: Where did you get your interest in philanthropy?
CHUDNOFF: I came from a background of money and education. If you have education, you can rise to a certain social, economic level. Without education, you're never going to get that. My family knew money could get you places. And if you're not corrupt, money can be a good tool to equalize society. When I opened this store, I realized I'm not going to live forever. I'm a Buddhist. Whatever money I make, I am going to give it away. For [my family], wealth is not something you brag about because there are so many poor people. They will resent you. What we do is give out what we make, in education, in social service. I always knew this was very important.
MW: What do you remember from your childhood?
CHUDNOFF: [We were] well-to-do. We never lacked anything. But I think my turning point was when I was going to Europe to visit friends. We had to stop in India to change planes. I was maybe 15. I saw a girl picking a banana peel out of the trash, then scraping it for food.
Here I am, just flying to visit friends. And here's this other person. [The] chances of where we were born divided us into have and have-not. But for the grace of God, I could be that girl. Before that, I never thought about it, because all my friends had money. What were we to know?
MW: How did you come from Thailand to America?
CHUDNOFF: I did really well in school. I would have graduated [high school] first in the country, except for the fact that I threw a Coke bottle at a boy. He said, "Your brain, your intelligence, is wasted on a woman." So I said, "You dickhead!" I didn't graduate first, but I had my satisfaction.
I had a scholarship to go to a medical school, but I told my father I would never be a good doctor because you cannot negotiate with God. If this man is to die, he will die. That's fate. But to me, it would be like I failed. I could never live with myself if I had that doubt. It's not a good thing to be a doctor and always wonder if you did enough.
And why would I want to be a lawyer? I don't want to make a lot of money. I didn't want either one.
My father said to just go to medical school. I said no. So he said — which was good — "Then you are not my child." And I said, "Oh, so I'm free? Then I can leave?" He thought I was kidding. I came to this country and studied philosophy. I was 17. I was a clever girl. I forged his signature and took what I needed. I never went back. My parents never talked to me. It was a total break.
MW: Was that too heavy a price to pay for freedom?
CHUDNOFF: It was worth it. Like I told my father, I could run his business, I could do anything. He said nobody would listen to me because I'm a girl. He wasn't going to let me run the business, so I thought, "Why should I hang around?" If society wouldn't accept that women were the same as men, what's the point?
MW: When did you arrive in America?
CHUDNOFF: In the late '60s. I had a scholarship. It wasn't a problem. I'm good at finding resources. My first job was scrubbing floors in a nursing home [in Seattle]. That only lasted three weeks. I decided that I should get a better job. I knew that I would have to do anything and everything to get myself educated. I wasn't afraid. If you are healthy and you can speak English, you can get a job. I had a work visa because I had a bank guarantee from forging my father's signature. I know, terrible. [Laughs.]
I didn't like cleaning, but it was an easy job to get. Once I got that job and a few paychecks, I got a job in a bookstore. Much better.
MW: And you married?
CHUDNOFF: First I moved to Wisconsin for graduate school. That's where I met my husband. He decided to go to law school at American University, so we moved here.
MW: Did he appreciate your independence?
CHUDNOFF: Not really, but it's okay. The first thing I said to him — he's Jewish — I said, "Don't say Jews are the chosen people. Don't say that in this household. I don't believe in that. The moment you say that, I'm going to leave you." It's important that everyone's the same.
MW: Before opening Go Mama Go!, you were living in suburban Maryland?
CHUDNOFF: I worked for somebody else for 10 years as the manager of a clothing store. I learned what to do and what not to do.
MW: And then your son went to college.
CHUDNOFF: [And I decided] to quit, because I did not have to be a mother or a wife. I told my husband, "I'm going to concentrate on this business. Maybe this is a good place for us to get a divorce, because I will never cook or clean again." It's true. I have an apartment above Home Rule. I spend my time here.
MW: And you don't cook or clean up there?
CHUDNOFF: I go out to eat. [Laughs.] I clean a little bit. I started out here with $2,000. You can tell how much I make if I could give Matt Foreman $100,000. I'm good. I did [a stand at] Eastern Market for one year, then looked for a place. I looked at Capitol Hill, but the demography was wrong. It was all straight families, no disposable income. I came here and realized this would be the place. It's mostly gay, disposable income, high income.
[Go Mama Go! opened] six weeks before 9/11. After that, nobody came out to shop. Even I didn't go out to Whole Foods. I was so depressed. I had no money to pay rent. I talked to [Home Rule co-owner] Link, and I told him my landlord wouldn't keep me if I couldn't pay rent. Link told all his friends. I think the neighborhood wanted to save me. Everybody came out to shop so I could pay rent. I always say, "Thank God for the gay community."
MW: Before that, did you have much of an impression of the GLBT community?
CHUDNOFF: I've always had gay friends. My best friend in Thailand was a gay boy. Without him, I probably wouldn't be sitting here. He couldn't come out as a gay person to his parents. They were well-to-do. We decided to kill ourselves, but then we talked each other out of it. We were crazy. In Eastern Buddhism, if you save a life, that life belongs to you. We belong to each other. I will always look out for his gay brothers and sisters.
You struggle to come out as a gay man. I struggled to come out as a person. I think that we had a bond because we both had to accept who we are. He had to accept the fact that he's gay, and tell his parents. He now lives in France. His parents could take him being gay once he moved far away. His parents wanted him to be a successful straight man and have children. He was the only child. That's big pressure. And my parents couldn't take that I wasn't going to listen to anybody. My friends and I hung out together because we were about who we were, what we wanted out of life. We could not be what our parents wanted us to be.
MW: Are you still in touch with this friend in France?
CHUDNOFF: We decided not to keep in touch because it's too hard. I told him I would marry him if I was a gay man. He said the same thing. It's too hard. Here's a perfect person, but he's gay. Here's a perfect person, but I'm a woman. It's not good. We always think, what if?
MW: Reincarnation is central to some Buddhists' beliefs. Do you think you may have ever lived as a gay person, or you may live as a gay person in the future?
CHUDNOFF: Maybe. I'm closer to a gay man than a straight woman. Honest to God. But I don't clean. I'm not so neat. [Laughs.]
MW: You've joked that you wished your son were gay, that if he were gay he'd be better at keeping in touch with his mother.
CHUDNOFF: Yes. I think it's hard for a straight boy. I'm such a strong person, and my husband is not. My husband is the good cop, and I'm the bad cop.
MW: How strict were you as a parent?
CHUDNOFF: I demanded that he did his best in school. One of my gripes is that he quit college to work in San Francisco making a lot of money in computers. I said, "Can you give money to some organization? I don't care which, just give some." He never did.
Of all the things in life, this is what disappointed me the most — the inability to give. He had so much money. He bought a fancy computer, went out to eat, but nothing to charity. I thought, "My God, I gave birth to this child?" It's not like you can give [philanthropy] in a gene. You have to reach that point yourself. But I think he's reaching that point. I told him I'm giving $100,000 to the Task Force. He said that's good. He understands. I think he's reached the point that he can give, but maybe not to a gay organization. He doesn't have any gay friends.
MW: What sorts of causes do you think you'll be giving to in the future?
CHUDNOFF: I told Matt Foreman the Task Force needs $1 million in California. I have a lot of rich, straight friends in California. I will go and charm them. I will try to get a house party for the Task Force. And because Randy Fiser, who is a Victory Fund [Gay & Lesbian Leadership Institute] board member, helped me, I will help him raise money. But my first loyalty is the Task Force.
I think people know that I'm sincere. I don't do this just to kiss ass. I don't need that. You do good things because it's a good thing to do. You don't do it to be Donald Trump. It's good that not everybody knows, or they would all come and ask me for money.