In 2002, nearly every major entertainment magazine singled out the Norwegian duo Röyksopp as a dance/electronica band to watch, producers of what so many hailed as that year's best dance/electronica album. For so many reasons it was hard to comprehend the acclaim: Melody A.M. took inspiration from 1970s psychedelic pop and avant-garde cinema to create Artic-force winds of chillout electronica that left you feeling cold and underdressed. Röyksopp's Torbjørn Brundtland and Svein Berge seemed more intent on creating the soundtrack to a chemistry lab excursion — or to your brain as it slowly regains consciousness in early morning — than to a trip to the dance club or a cocktail lounge.
Now three years later, it's just as hard to comprehend how the same band with the chilly past — and a name that loosely translates as "puff ball" — has created the warmest and best dance album released this summer, and one of the best in years. But that the band has. The Understanding is as different to Melody A.M. as night is to day. The duo seems to have found spiritual faith of an unspecified and humanistic variety in the intervening years and the second album's title seems to refer to that epiphany. But they could have titled the album Melody P.M. It finds Brundtland and Berge in a fully awake state, contemplating weighty subject matter while breaking a sweat and filling out the speakers with haunting house sounds. It's a more melodious and altogether fuller sound, with harder beats, that often recalls Erasure and '80s synth-pop, most noticeably on the jubilant first single "Only This Moment."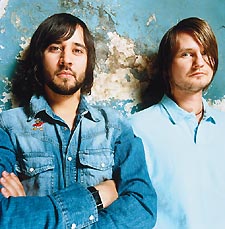 Finally understood: Röyksopp
(Photo by Stian Andersen)
The band hasn't completely forsaken its original atmospheric sounds, and it opens with a grandly orchestral synthesized score, one of four instrumental tracks on the album. But these are not light and airy; they are heavy, melancholic instrumentals weighed down as much by intense emotional feeling as by driving syncopation. The duo also continues to play with the connection between art and science in music, though fortunately this time the art comes out ahead. The masterful future single "49 Percent" repeatedly acts out the song's clever central lyric about incomplete romance: "Forty-nine percent, 1 percent short of half/And less of half ain't really much of nothing." Chelonis R. Jones sweetly sings this Prince-esque dance stomper, whose chorus is divided by a single crisp drumbeat that falls at the end of its first of two measures, or just at its halfway point.
Advertisement

| | | |
| --- | --- | --- |
| Royksopp: The Understanding | Royksopp: Melody AM | Superchumbo: Wowie Zowie |
If Röyksopp is responsible for the best dance album released this summer, then Tom Stephan, who records as Superchumbo, is responsible for this summer's worst. That's not to say his debut artist album, Wowie Zowie, is without appeal. But the 12 tracks here are too similar in too many ways, with too little thought having gone into them. Had Stephan combined several of the tracks and fleshed out the ideas behind several others, Wowie Zowie wouldn't have been as relentlessly repetitive and grating as it is.
You may remember Stephan's name, since he was the Cherry Main Event DJ in 2003, the one year the circuit party was at the Washington Convention Center. It appears the London-based gay American DJ was at his peak around that time, since we hadn't heard much from him before and we haven't since. It's hard to imagine, but maybe more of the industrial tracks from Wowie Zowie will be big club hits, as four already have been, including the stuttering, Sylvia Mason-James-sung "Irresistible" and his first and best single, "Revolution" featuring Victoria Wilson-James, a four-year-old track made even better by the new ribald remix from Miguel Mateo included here.
Superchumbo's brand of tribal house revolves around guest vocalists, but his tracks pay only passing reference to lyrics and even less to melody. They can't be troubled to focus on anything more than one or two overarching ideas, explored to exhaustion. As slippery of a concept as pots and pans dance music is, this is certainly its epitome.
The Pet Shop Boys' Neil Tennant co-wrote and sings on "Tranquilizer," a track clearly inspired by the effects of a sedative. Its best idea is to stab the listener with Tennant's robotic delivery of the title. Unfortunately, that technique isn't enough to carry the track. After the appealing shock of the stab the first few times, it quickly grows tiresome. Just like the rest of Wowie Zowie.