The stretch of 17th Street — roughly between P and R streets NW — is one of the district's foremost gay villages. It hosts the Capital Pride parade in June and the High Heel Race in October. There are gay-owned bars, restaurants and retailers. It's a gay-tourism brochure come to life. As with most marketing, however, reality is often a bit grittier than the marketed gloss.
Thursday evening, July 28, Chad Upham hung some of the community's dirty laundry in front of the True Value Hardware store at 17th and Corcoran. In a T-shirt that read "I use crystal methamphetamine," Upham and a few friends and co-workers unfurled banners and handed out stickers to raise awareness about methamphetamine abuse in the gay community.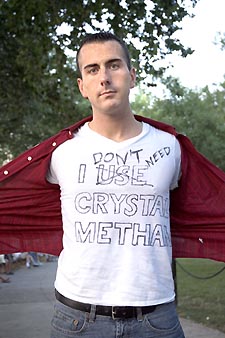 Chad Upham's personalized campaign
(Photo by Todd Franson)
Upham's own story, told on the banners, outlines a growing dependence on the drug during the past few months. The 27-year-old graphic designer has been enjoying drug weekends with sex partners found online, engaging in unprotected sex more often than not. He's worried for his health. As he came down from the high of the last such weekend, Monday, July 25, he crafted his plan to come clean.
"This whole thing going on was conceived at 3 a.m. on Monday," says Upham. "By 8 a.m., I'd built a Web site, conceived the banners and sent out an e-mail. Of course, I was still under the influence of the drug from the weekend. I was able to harness that energy."
That Monday, Upham sent his e-mail explaining his anxiety about this growing addiction to friends and family across the country, involving his mother, ex-boyfriend, co-workers, and others. On Tuesday, he went to the community, attending one of the ongoing grassroots meetings held at The Center — the area's GLBT community center — to discuss methamphetamine abuse in the gay community.
The meeting began with a round of introductions of the dozen or so attendees that evening. Upham introduced himself and then unfurled his banners across the conference table, dominating the meeting for a good 20 minutes. Judging by the looks on people's faces, reaction was mixed. Health professionals seemed genuinely excited by Upham's frank, first-person approach. Others seemed more guarded.
"I had the same uncomfortable feeling as when we talk about 'harm reduction,"' says Michael Sessa, coordinator at The Center, referring to a strategy that seeks to help methamphetamine users reduce their health risks while using the drug. Sessa, contacted by Upham, invited him to the Tuesday meeting. "I'm so angry that crystal meth is so prevalent in the community, just having Chad say, 'I use crystal meth,' makes me uncomfortable."
The campaign may be compromising Upham's comfort level as well. Raised in a fundamentalist Christian household, attending Christian schools, and moving to the area little more than a year ago, the Eagle Scout's foray into methamphetamines seems to have thrown him for a loop.
"My parents were very big on Focus on the Family," says Upham, recalling his childhood in Arcadia, Calif., near Los Angeles. "I was the good boy. I was never rebellious. I never lied. I never went behind my parents' backs…. I didn't have my first drink until I was 21-and-a-half. I was terrified of having beer and pizza with a friend."
At 21, Upham also came out to his family. A few years later, he fell in with a friend with whom he occasionally used ecstasy. He said that club-drug experience didn't prepare him for the crystal meth he tried after moving to Washington.
Upham says he first tried crystal on a trip from D.C. up to New York. That same friend, who dealt ecstasy, had flown in as well.
"It was last summer," Upham remembers. "He loaded me up with a whole bunch of things, including tina [methamphetamine] that night."
After that July 2004 experience, Upham says he tried the drug again in April. "Now it's every other weekend for the past two or three months," he says. "I can feel the pattern. It takes a toll on my work. I feel like I have [Attention Deficit Disorder]. I just cannot focus…. A lot of people I've met [online] are just messes. Their entire lives revolve around this. There's nothing but Gatorade in the refrigerator and candy all over the house. I saw a guy freak out, just yelling on his bed."
Upham says the friend who had supplied him the ecstasy and crystal has since been forced to face his own demons as well. "Over the past year, he's had to go through the process of quitting the addiction. He'd been a salaried professional, and now he's working retail. He had to leave his entire group of friends."
Meanwhile, Upham has taken to the streets to deal with his addiction. By the end of the evening, a passerby had convinced Upham to amend the message he'd penned on his T-shirt. With a Sharpie-scrawled edit, it now reads, "I don't need crystal methamphetamine." And he says that thanks to other passerby affiliated with the Triangle Club, a GLBT sobriety group, he learned about Crystal Meth Anonymous and attended meetings Friday, Saturday and Sunday.
Sessa didn't see Upham Thursday, but he did see the subsequent photos posted on Upham's Web site. "I can see from his pictures that he's thinking about fixing himself. It's wonderful," he says. "I'm glad I didn't let my personal opinions block [his invitation to join The Center's meeting]. I'm learning."
Says Natalie Topa, one of Upham's co-workers who learned of his addiction via his Monday-morning e-mail, and who accompanied him on 17th Street, "It was interesting to see Chad being challenged. Strangers were asking him questions that you might not even ask yourself…. When he made his decision [to undertake this campaign], he invited a community to have a sense of ownership over his circumstances. Now there's no way we'll let him get away without some kind of healing process. It's something he can't take back. He'll have to expect that he may get some pressure."
Upham is chronicling his experience with addiction at www.chadupham.com. Triangle Club is online at www.triangleclub.org.