On his new album Body of Song, Bob Mould bares himself in nearly every way but the physical, to such an extent it will give you chills. That's true even if you know little about Mould or his past musical output.
Body of Song is Mould's first to fully incorporate both his famed early style of post-punk/pop and his more recent turn to electronica. The electric guitar returns as Mould's favored instrument, but a compromise was reached: Now the guitars aren't just live or live to record. Just as often they've been recorded, looped and manipulated through electronic programming. And nearly as often they're brooding without being heavy, emotive without being bombastic.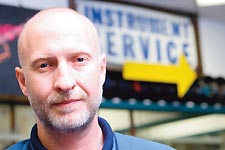 Guitar man: Mould
(Photo by Jim Saah)
Mould has built Body of Song to feature a few tracks appealing to those chiefly interested in muscle-strengthening rock and another few appealing to those chiefly interested in cardio-exercising electronica. That last set includes the album's only true dance-rocker "(Shine Your) Light Love Hope," an appealing song stretched a bit too much as a result of its Cher-inspired vocoder treatment.
But if Body of Song were a gym, it's one of a new-fangled sort, where the connection between mind and body is emphasized, where people might go to practice yoga and to hear contemplative, tuneful pop that splits the difference between loud/uptempo and quiet/downtempo. In short, it's where people would go to hear one of the year's best pop albums.
Mould has meticulously sequenced Body of Song to follow the emotional rollercoaster that often accompanies love, especially in a doomed relationship. "I am fragile now, beat about the head," he sings on his most pained track, "Days of Rain," which arrives midway through the album, just as Mould begins to accept the loss of love. He sings the gently rocking song in an affecting, tentative vocal style, except when breaking down and crying out at the end, "I only wanted things that would make you happy/I only wish for you that you find your way."
"When I cry I see millions of circles," he sings on "Circles," the album's ravishing opener in which chords and vocals are tweaked so that each note carries a slight echo, creating a spiraling effect.
Mould isn't explicitly gay on Body of Song, though the ballad "Gauze of Friendship" finds him singing about loving men from an obviously informed perspective. The lyrics are resigned to the prospect of falling in love with someone new: "A window with a view of present, past and future/Wrapped in the gauze of friendship anew." Unfortunately, his slightly wrinkled but mostly matter of fact vocal delivery doesn't quite match the lyrical weariness.
That's not true of the mournful notes from the cello interlaid throughout the piece, which responds with sweet forbearance. The cello is just one of several unexpected artful strokes Mould has added to make his splendid album dazzle the ear.
Richard Morel is Mould's partner in the local bimonthly Blowoff DJ parties. But years before he met Mould, Morel worked with Deep Dish, and that relationship continues. The D.C.-based Persian duo features Morel three times on their latest artist album George Is On. It's a wonder Ali "Dubfire" Shirazinia and Sharam Tayebi didn't enlist Mould: George Is On makes plain that what they really want is to be tried-and-true rock stars, playing rock music, and not just rock-star-famous dance DJs.
"No stopping for nicotine, no stopping for rock 'n' roll stars," Morel sings on George's lead-off track. It's not until a third of the way in that the duo's namesake original deep house sound emerges. And that track, the percolating instrumental "Swallow Me," is among only a handful of house tracks, nearly all instrumentals. Instead, the duo has moved on to creating electronica-flavored rock as its principal output, enlisting Morel to add his deep, brooding musings, as well as Stevie Nicks, who refashions one of her previous songs as a smoking dance-rocker.
Still, it's when sticking to dance music that the duo shows the most confidence, creating multi-layered tracks with complex song structures and tight programming touches. So unlike the slight first single "Flashdance," a sample-driven whisker of an upbeat rock song centered on a detached vocal delivery from Anousheh Khalili, the album's recently released second single, "Say Hello," glimmers with feeling and passion as Khalili sings in a sad voice about fleeting moments in time. Her vocal is set atop pretty piano keys, melancholic guitar chords and carefully speeding electronica. Too bad more care — and more speed — weren't factored in elsewhere.