KNAPP'S "SOAKIN WET" REPRISE… Just last weekend, many D.C. dance denizens got soaking wet playing in the rain and the thundershowers in New York. The occasion was the 5th annual Soakin Wet party at the Chelsea Piers, thrown as ever by current D.C. resident Don Turner and featuring music early on from D.C.'s own DJ Rob Harris. But David Knapp is the event's original DJ, and yet again this year he closed out the event and captured it on CD. His Party Groove: Soakin Wet Volume 2, to be released by Centaur Records next Tuesday, includes more hot-off-the-Billboard Club Play chart tracks than any other I've seen in a while. And just like the original set, released last year, Soakin Wet 2 is the perfect soundtrack for a clear, sunny summer day, even if it's only in your mind.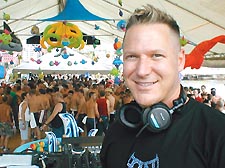 David Knapp
Knapp is a master of combining in equal, appealing measures heavy tribal beats with happy vocal melodies. Unfortunately, this new set is not quite as rapturous as the first. New tracks from Georgie Porgie, Vernessa Mitchell, GTS featuring Norman Jean & Luci M may have recently hit the top of the Billboard chart, or at least come awfully close. But they don't promise to have the longevity of those from Debby Holiday, The Transatlantins or Jakhey B on last year's Soakin Wet compilation. That set was just about the best dance compilation released in all of 2004. As good as it is — and it is a consistently good compilation, with no weak spots — Soakin Wet 2 isn't positioned to earn that distinction in 2005….
PEACE AND LOVE IN SEPTEMBER… And you thought you had an active summer: September is shaping up to be a major month for dance music. Let's jump to the fourth weekend of the month. There you'll find two competing events, depending on whether you want to go west or stay home, whether you want to love or fight war. The Washington Monument grounds will be the site Saturday, September 24, of Operation Ceasefire, a coalition of musicians opposing the war in Iraq and lead by D.C.'s own chilled electronica act Thievery Corporation. After a morning rally and a march through downtown, the coalition will hold a free, 10-hour concert where Thievery will perform alongside feminist dance-punk trio Le Tigre, among others. For more information, visit www.opceasefire.org.
Even if you count yourself among the antiwar set, love might win out that very same weekend, as long as you could get yourself to the love capital, San Francisco. That's where the famous Love Parade — first birthed in Berlin in 1989 – will take place. One look at the DJ lineup for San Francisco's second Love Parade and Love Weekend festivities and it's clear to see why organizers expect crowd figures approaching six figures: Paul van Dyk, Carl Cox, The Crystal Method, Mark Farina and openly gay DJ Dan are just some of the headliners. Though no specifically gay events have been announced yet, there is some overlap between organizers of the Parade and those of San Francisco's Pride festivities. And the event, to say nothing of the locale, can't help but be gay-friendly. It's billed as a "no spectators" event, where partygoers are encouraged to dress outrageously and dance alongside the parade floats — atop which the DJs will spin — for the entire route down Market Street to the city's Civic Center. Visit www.loveparadesf.org for more information….
TIESTO TAKES CENTER STAGE AT MCI… He's not scheduled to appear at the Love Parade, but Tiesto, perpetually ranked as the "World's Number One DJ," will put on an event nearly as large – and nearly all by himself. And you don't even have to go very far from home to see it, as the Madonna figure among DJs is following in the Cabbalah Proselytizer's footsteps to the MCI Center. He'll appear there Friday, October 21, in an unprecedented DJ-led event, part of the Dutchman's effort to become a mainstream star in the states. It's just one of only five stops of this fall's Tiesto In Concert Tour in the U.S. and feature a half-million-dollar, audio-visual set from the same designers of Madonna's Drowned World Tour. Tiesto has enlisted more than 30 performers to support him, from singers to aerial acts to "flying Geishas," and they'll come out in two acts during the "sensory-driving, four-hour production." As always, he'll spin a crowd-pleasing, happy and dramatic set. Tickets go on sale Aug. 29 at www.tiestoinconcert.com and Ticketmaster, with prices expected to start at around $40….
BETWEEN ROCK AND A HARD BEAT… Last week we told you about new work from The Cure and Depeche Mode. And we made passing reference to a compilation that those two bands would appear on, but we neglected to provide further details about Future Retro, which Warner Bros. plans to issue Sept. 27. Future Retro is a remix compilation of many early electro and post-punk classics, nearly all drawn from bands part of the '80s British pop invasion, from Echo & The Bunnymen to Yaz to New Order, as well as Erasure, Morrissey and Alphaville (and, of course, The Cure and Depeche Mode). And there's hope that the remixes won't be predictable or trite: the label recruited a motley crew of peer-revered but popularly little known remixers — at least stateside — from Way Out West to Richard X to Infusion….