Few playwrights possess the ability to stimulate, provoke and bewilder an audience as well as British firebrand Caryl Churchill. Her plays are muddy, mutable forces that present a confounding array of choices and chatter and often conclude with a swift bludgeon to the psyche. Some of her scripts are scattered and non-linear, others taut and compact. For those yet unacquainted with her obtuse offerings to contemporary theater, or for the seasoned Churchill enthusiast, a pair of local theaters have afforded Washington audiences the rare opportunity to savor two very different productions of the playwright's peculiar style: Churchill's latest contribution, A Number, at Studio, and Top Girls, her classic exploration of early-'80s feminism, at Fountainhead Theatre.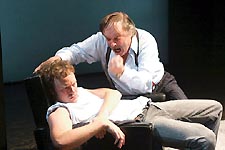 Attack of the clones: Story and van Griethuysen in A Number
(Photo by Carol Pratt)
Churchill takes on the ethics of genetic cloning in A Number, where she tests the age-old theories of nature versus nurture in any number of cold Petri dishes. When Salter loses his first son Bernard to some kind of vague accident, he's presented with a choice of mythic proportions: To clone or not to clone? Of course, he doesn't resist a second chance at parenting and fulfills his vow to "get this one right." But the well-adjusted son never learns from his faithless father that there are approximately twenty other clones of the original Bernard, and when he finally receives word that he is a mere facsimile of the first, Salter must pay the price for each and every orphaned replica.
A dark, visceral examination of the relationship between father and son, A Number plays out like a harrowing game of poker, where cards are held close to the chest and you aren't ever sure of anyone else's hand. Churchill doesn't write for the meek and the mild, and her characters often interrupt each other with bursts of rapid-fire dialogue on a merry-go-round of exposition. All of these unfinished sentences and dangling inquiries can prove immensely frustrating to the untrained ear, but in elevated hues of lowbrow Cockney, Ted van Griethuysen and Tom Story deliver all of Churchill's urgency with voracious flair.
Story's Bernard is engrossed in extremes of personality and demeanor, while van Griethuysen's Salter is an oily, artful old bird who tries to affect love with a gold chain ringing his neck. "I did some bad things. I deserve to suffer. I did some better things. I'd like recognition," begs Salter, and in the tender, calloused hands of van Griethuysen, we are likely to pardon the conniving patriarch of many.
This isn't Joy Zinoman's first dance with Churchill — two seasons ago she directed a venomous production of Churchill's undercooked Far Away, and this time the timbre is far more eloquent and devastating on a small, claustrophobic set. Debra Booth's minimalist space is covered by a tawdry shag carpet and a set of mismatched chairs lit with an oversized red box glaring above the stage, alluding to the heat lamps that hover over cells growing in their laboratory farms.
Clocking in at just under an hour, A Number can seem a bit timid to creep over into the political and scientific arenas surrounding cloning, but there is nothing shy or bashful about Churchill's existing scope, where the focus rests upon heavily-cultured, necessary theater that is at once urgent and imploring.
---
It could be considered "vintage" Churchill, since the script for Top Girls has aged as well as a fine red wine. All of the same golden themes of sacrifice, compassion and competition among women are still as relevant today as they were when Churchill first shoved her toes into a pair of pumps and thick support hose.
We like to think we've all come a long way since the days of oppression and servitude, but Top Girls reminds us how long that road to success stretches on. Here Churchill's first act answers the question, "If you could throw a dinner party and invite any five women throughout history, who would make your guest list?" Later in the second act we learn that Marlene, the graceful hostess of that celebratory feast, has just accepted a swell promotion at London's Top Girls Employment Agency, but not without some grumbling and hostile resentment from her peers. And when niece Angie shows up, a simple-minded girl from the edges of Suffolk, Marlene doubts whether or not she's "going to make it."
All of the women talk over each other in rounds of overlapping conversation that is true to any dinner conversation, but Dorothy Neumann's flat first act lacks style and vision. There simply isn't enough subtext built into the plot, and the scene grows stale until it finally picks up with the arrival of Charlotte Akin's Patient Griselda. After an orgy of anger and emotion that closes the first act, the second half of the evening is fuller by comparison, largely due to Neumann's intuitive cast of eight.
Lynn Audrey Neal offers a thoroughly charming performance as Marlene, with appropriately awkward moments chartered by Regina Aquino as the niece who emulates her professional aunt. Callie Kimball and Rosemary Regan also offer quirky comic support as a snarky headhunter and her unnerved prey, and each woman dons sharp, dazzling costumes fashioned by Lynnie Raybuck.
Both acts of Top Girls culminate into the kind of theater that ebbs and flows with ideas and ruminations and thoughts and speculations on where we want to go and just exactly how we intend to get there — and who is perceived as most capable of leading the way.
---
Catalyst Theater Company launches its fifth season with Metamorphosis, the infamous Franz Kafka allegory as adapted by Steven Berkoff. A powerful tale of how one man devolves from industrialized human to hissing dung beetle, Berkoff's version hinges on theater of the absurd, and director Jim Petosa embraces this medium with a bold, eccentric production that remains as hopeless and as haunting as Kafka's original.
Petosa choreographs Gregor Samsa's gradual transformation with fine skill and motivation. The task is left to Catalyst's artistic director Scott Fortier, whose athletic performance is a sweaty, physical affair. In 75 intermissionless minutes, Fortier is accompanied on stage by an absorbing, emotionally-charged Valerie Leonard as Mrs. Samsa and Nigel Reed in muttonchops as Mr. Samsa. Loaded with existential ruminations on class and civilization, Catalyst's abbreviated exploration is a worthwhile jaunt through one of the most enduring and effective pieces in the Kafka collection.