"It's something that I've been wanting to do for a while," Andy Bell says of his debut solo record. Electric Blue comes exactly two decades after the flamboyant singer joined Vince Clarke in the seminal synth-pop duo Erasure — a band still very much together. "Vince is taking time out because he and his wife are having a baby — his first, so he's really nervous," Bell explains. So Bell, 41, decided to have his very own "baby" at the same time.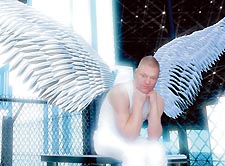 Bell
For his first, Bell doesn't actually go it alone. He co-wrote and recorded Electric Blue with Philip Larsen and Chris Smith, who together form the British dance production duo Manhattan Clique. And he hasn't changed his sound much either. Bell's lyrics are more personal, and even more explicitly gay, but otherwise Electric Blue actually sounds like Erasure from its peppier, synth-pop first decade. "Yeah, it wasn't intentional, that," Bell says. "I mean people have said, 'Oh, have you written it in an '80s style on purpose?' It's just how it is."
Bell suggests "it's more immediate" than recent Erasure albums, "because [Manhattan Clique] are DJs and they love dance music. They just want to write slamming tunes in the first place." These days Bell is also a DJ and a fan of dance music, the genre of music that inspires him most.
He anticipates his revived interest in dance music will influence Erasure's future work, beyond next year's release of an acoustic covers set of the duo's past hits. But in the meantime, plans are for Bell and Manhattan Clique to DJ as well as perform together during a promotional tour for the album early next year, with a probable stop in Washington.
"It's very nerve-wracking," Bell says about DJ'ing, which he's done only about a half dozen times so far. "The adrenaline, the rush is kind of more [intense] in some ways than going on stage and playing live. I'm more nervous."
Electric Blue will be available in stores Tuesday, Oct. 4.