It may not be fair to her, but Juliet's debut album Random Order in all likelihood serves as a window into how Madonna's next album will sound. Madonna could simply take songs whole cloth from Random Order and dress them up to suit her. And she just might. The same producer, after all, is responsible for both sets — Stuart Price, the on-the-cusp producer who was Madonna's musical director for her Re:Invention Tour and, as Jacques Lu Cont, is a Grammy-winning remixer. Price's emerging style of gently rocking dance music is as distinctive as it is transferable to the widely divergent pop artists he's worked with, from Gwen Stefani to the Killers. Artists hire him, in other words, because they know exactly what they'll get.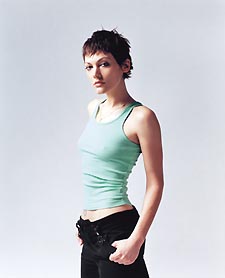 Juliet
As much as Juliet draws from other pioneering female artists, including Debbie Harry, Joan Jett and Bjork, it's Madonna you can't stop hearing. While the 25-year-old London-based Philadelphia native has a stronger voice than Madonna, and a grittier, more rock-based sound, Random Order often sounds like a natural, peppier successor to Madonna's American Life. Juliet's "Waiting," for example, echoes several of the acoustic-guitar slow-burners from Madonna's last album, especially "Intervention." Now that Madonna is aiming to circle back to a more club-oriented vibe, she seems to have found the perfect guide in Price. And as Juliet shows, his best work is club-ready.
Juliet's best track, "Avalon," is about the afterlife. The haunting but beautiful melody and lush synthesized touches, registering at a fast, feet-moving clip, sound like paradise to me. On "Avalon," Juliet displays her characteristic, central lyrical theme of focusing on opposing forces, chiefly up and down. "Catch up to fall down, stand up to get down, lose it to find," she sings. Like Madonna, Juliet is not a particularly witty lyricist. But she is an effective one, getting her points across. "Here's the story and an ending, can you forget the in-between?" she sings on "Would You Mind," a dirty-pop, post-punk groover on which she asks her lover to leave, or "go on without me."
"I have my best dress and new shoes…if I don't have you, I have nothing at all," she sings, and nearly screams, on the stormy ballad "New Shoes," co-written and produced by Guy Sigsworth. Sigsworth, it should be noted, has previously worked with Bjork and — you saw this coming right? — Madonna. He produced Music's "Nothing Fails" and "What It Feels Like For A Girl."
Random Order bodes well for both Juliet's future — let's hope her label pushes for more publicity and airplay than they have thus far — and for Madonna's forthcoming album. As long as Random Order isn't a set up, we won't be let down.
Over the past decade Armand Van Helden has only drawn mass attention with a couple remixes and original singles. But they're surely among your favorites: "U Don't Know Me" featuring Duane Harden and "Hear My Name" featuring Spalding Rockwell on the singles front; and Tori Amos' "Professional Widow" (sample lyric: "Come bring it close to my lips, yeah") and Britney Spears' "Toxic" on the remix. Still, his just-released album Nympho isn't actually his first. It's something like his fifth, and he sounds a defeatist note in advance press for the album. "Everybody has their run, as they say. I had my run and I was fortunate," Van Helden says.
Not so fast, Van Helden — you've never sounded better. Though it's all the rage right now, no one else has managed to merge house and rock with such riveting, blistering and dance-worthy success as does his Nympho. Just as with his fantastic compilation New York: A Mix Odyssey of last year, Van Helden here takes inspiration from an earlier generation's rock 'n' roll, chiefly that from the early '80s during the disco inferno and its party-rock aftermath. His songs can be a little, or even a lot, too repetitive at times, and a couple songs sound like carbon copies of one another. But there's so much unbridled energy and passion here, it's impossible to avoid getting down and dirty with what he calls his "crazy drunk rock," featuring unrestrained vocals, crunchy guitars and souped-up beats.
Whether he's creating gritty, sleazy femme fatale rock with Spalding Rockwell or Crème Blush, or gritty, sleazy bar-brawl-inducing punk with Virgin Killer (Van Helden in disguise) — or something in between — Van Helden can't be denied. Every song features a driving beat and an insanely catchy melody. That includes his masterful dance hit from last year "My My My," as well as his latest hit, "Into Your Eyes," featuring a sample from Duran Duran's Andy Taylor.
On "Come Play With Me," Nicole Pinto as Crème Blush screams in ecstasy about one hot "suit-and-tie" guy she just met. "Last night I fell in love with a DJ," she talk-sings. It was an improbable occurrence, as she tells it, since she "was tired of the scene." Van Helden just might have that kind of rekindling effect on you, too.