The Wednesday opening reception aside, when attendees of the National Black Justice Coalition's first Black LGBT Leaders Summit sat down to business early Thursday morning, Sept. 22, ghosts set the tone. The first presentation of the morning was a slideshow of fallen leaders of the black GLBT community, starting with Wanda Alston. Alston, the first person to head Mayor Anthony Williams's Office of LGBT Affairs, was murdered in March. Following Alston, the morning attendees, about 50 in all, saw the faces of dozens more community heroes, from Angelina Weld Grimké, a writer and D.C. resident who died in 1958, to AIDS activist Reggie Williams, who founded the National Task Force on AIDS Prevention before his death in 1999.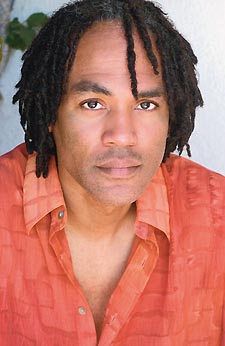 Phill Wilson
(Photo by Duane Cramer )
It was a bittersweet start to a bittersweet summit. Here, a community was coming together with hope for the future, yet with so many crosses to bear. On Friday morning, for example, at a panel titled "Naming Our Priorities," Phill Wilson reminded everyone: "Dead people don't get married. Dead people don't adopt. Dead people don't need protection in the workplace." It's not that attendees needed Wilson, CEO of the Black AIDS Institute, dressed in a "Got AIDS?" T-shirt to remind them that HIV is taking a seemingly near-apocalyptic toll on the African-American community. Rather, so many conversations throughout the summit kept returning to the topic.
There were ever-present statistics from the Centers for Disease Control and Prevention showing the African-American population constituting nearly half the country's HIV infections. And then there were the recently announced results of a five-city study of 1,767 MSM (men who have sex with men), in which 46 percent of African-American participants were HIV-positive — compared to 21 percent of white or 17 percent of Hispanic respondents. These were part of every summit dialogue, no matter the title of any given panel.
But while HIV hung over the summit, the virus did not own this event. There was still other work to be done. There was analysis of the same-sex marriage debate in the African-American community — particularly in the black church, and as a wedge issue strategically employed during elections.
"There is no way I could've imagined the ferocity of the Republican Party on the marriage issue in [Ohio]," said Gregory Moore, a Cleveland native and executive director of the National Association for the Advancement of Colored People's National Voter Fund.
"Ken Blackwell was leading the charge [against marriage]," Moore added during Thursday morning's panel of leaders from across the spectrum of the African-American community. Blackwell, who is black, is running for Ohio governor in 2006. "It was just one of the many egregious things he did in the election that we will never forgive him for."
That intersection of politics, the African-American community and GLBT equality had obvious resonance with summit attendees. It's what they came for. Many of them questioned panelists about what was being done to counter the political right, which was often described as this movement's more evolved counterpart.
"It's the 'Archie Bunker' world, and they're working diligently to get it," observed Cedric Harmon of D.C., insisting that the right is moving full-steam ahead to return America to a time when "girls were girls, and men were men," borrowing from Bunker. "And they're using our own pastors and people to get there."
Attendee Meredith Moise of Equality Maryland, who heads that organization's outreach into religious and people-of-color communities, spoke similarly: "The right is maybe 15 years ahead of us in organizing in the black community."
Leaders from a range of GLBT organizations sat on a panel, "Building Alliances," seeming to sow seeds for partnerships in the future.
"For more than 20 years, we've said racial justice is a gay issue," offered Matt Foreman, executive director of the National Gay and Lesbian Task Force. "We have to be there for other people's fights."
Aside from the Task Force, other GLBT organizations joining NBJC for this panel were Lambda Legal; Gay & Lesbian Alliance Against Defamation; Parents, Families and Friends of Lesbians and Gays; the National Center for Transgender Equality; the National Center for Lesbian Rights; the Victory Fund; and the Human Rights Campaign.
By the end of the summit, held from Sept. 21-23 at the Washington Court Hotel on Capitol Hill, attendees identified three loosely defined goals for the future: finding ways to encourage more gay African Americans to be public about their sexuality, crafting ways to deal with homophobia in the black church, and combating the alarming increase in HIV among African Americans. NBJC leaders say they will present a report in coming weeks to elaborate upon the hours of discussion at this initial leadership summit, and further define agreed upon issue areas.
For more information about the National Black Justice Coalition visit www.nbjcoalition.org.