Never look a gift horse in the mouth, or so the saying goes. Oh, well. In celebration of the Washington National Opera's 50th anniversary and Placido Domingo's 10 years as artistic (and now general) director, we are gifted with Trilogy: Domingo and Guests in Three Acts. In this mélange Domingo sings from three of his most acclaimed roles, including Act II of Giordano's Fedora, Act IV of Verdi's Otello, and Act III of Lehar's The Merry Widow.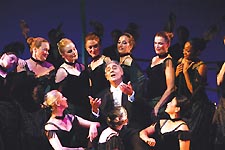 The more, the merrier: Domingo
(Photo by Karin Cooper )
There simply can be no doubt that listening to and watching one of the world's greatest tenors is a transcendent pleasure. Domingo, now in his sixties, maintains his reach, his astounding power and the noble beauty of his unique tone. And yet the maturing of his voice and demeanor adds more to his performances — it is the gravitas of age and experience, but it is also the drive to keep one's embers burning and relevant. These are two potent dimensions rarely witnessed in today's world of ever-so-young performers.
Thus, the gift of Domingo arrives intact. However, some patience is required. Fedora begins with an oddly choreographed café-scene and the action begins rattling along like a charter jet with dubious maintenance records. Just when we are beginning to wonder if this thing can actually take off, Domingo takes the joystick and up it goes. Suddenly we are in the moment, living the pathos of tortured love. Soprano Sylvie Valayre plays Fedora (Mirella Freni sadly could not commit to the run as planned) to Domingo's Loris and she has a lovely full-bodied voice. Her interpretation of the Russian princess, granted a woman bound to be a drama queen, is less subtle than it could be, but she keeps it memorable.
After a long intermission for the gadflies, the night continues with the last act of Otello, a scene so magnificently executed it is hard to believe we just sat through the muddles of Fedora. Heinz Fricke conducts this portion and brings the orchestra into glory. The set is beautifully conceived with the dramatic visual of the marriage bed flanked above and below by red silk. The long drapery over the headboard is used to tremendous effect as it announces the terrifying arrival of Otello. Soprano Barbara Frittoli as Desdemona, a role for which she has received much acclaim, is positively sublime. She uses her voice as an exquisite instrument of fear, resignation, spiritual communion and love, and her portrayal, iconic in its message of the battered and murdered spouse is deeply moving. Domingo's layered performance of menace, tenderness, madness, violence and death of the soul is spectacular.
Trilogy: Domingo and Guests
Sept. 30; Oct. 2, 6 and 9
Kennedy Center
Opera House
202-295-2400
www.dc-opera.org

And then comes The Merry Widow. Ouch. It's as if director Micha Hendel simply dropped the reins. Meant to break the desperate mood left by Otello, this scene unfolds as a bizarrely arranged mish-mash without any sign of flair, wit or irony. Can-can dancers dominate and though my neighbor clapped louder for them than he did Otello, the bottom-in-your-face antics seem a shameless catering to the octogenarians dragged along by their wives. We also have Broadway star Christiane Noll throwing in an incongruous performance that comes across as forced and shrill, even when she isn't spoofing. Even the sopranos from the earlier acts are dragged out for an awkward exchange of humorous one-liners.
The only saving grace is Domingo, delivering yet another gorgeous aria as he woos the recalcitrant Hannah, sung ably by Leslie Mutchler. And ultimately it will do well to remember that this is what this evening is all about — hearing and seeing Domingo.