Attending Blake Robison's new production of Camille at Round House Theatre is like accepting an invitation to a particularly exquisite dinner party. The table is flanked by familiar faces, the host is especially gracious, the wine flows freely, and the meal is superb. The only perpetual distraction happens to be the evening's centerpiece — a loud, garish ornament that doesn't blend in to its surroundings.
She is certainly not the fragile flower of Camilles past, no drowsy Greta Garbo or delicate damsel in distress. In fact, Angela Reed's Camille, nee Marguerite Gautier, is a rather thorny wench, stomping around the stage like a spoiled child, demanding her supper in the parlor, chastising the very men who pursue this unruly shrew, this dying courtesan in the middle of the 19th century.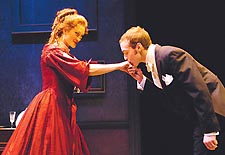 Love lies bleeding: Reed and Deeker
(Photo by Scott Suchman)
Yet something in Reed's nearly anachronistic portrait of the doomed heroine renders her not quite entirely unlovable, despite her oft prickly and unnecessarily abrasive demeanor. And it is there, in one of her more vulnerable moments, we can barely make out that shimmering speck of hope that our young Armand Duval might cling to, as he pursues his one and only forbidden love.
It's the stuff of legends, and Robison's production marks the American premiere of Neil Bartlett's adaptation of La Dame aux Camélias by Alexandre Dumas fils. Penned after the fall of his own scandalous affair with a Parisian prostitute, Dumas's story is a sweeping romance wrought with tragedy, the inspiration for Verdi's classic opera La Traviata and countless other incarnations of his enduring drama.
Even if you've never heard of Dumas's Camille, you already know the story of the beautiful, sick courtesan and her young, star-struck gent. You know they fall in love and consequently, she dies. The variations on this theme have been redressed and reupholstered so many times it's hard to imagine the story refreshed and anew. But here Bartlett strips Camille of its stuffier literary origins to present a flesh and blood revival, and with a bit of creative staging and operatic subtitles projected upon the stage, Robison's brisk, frothy version breathes new life into the shopworn tale.
It's an update not without its fair share of puzzling moments, from characters cursing apropos of nothing to a couple of spontaneous, feral sexual encounters that don't make sense visually, physically or otherwise. Bartlett also underlines a meddlesome kind of culture where the society birds chirp openly about their fiscal worth and the sources of their financial nets and losses, and to whom you owe your debts easily becomes fodder for the masses.
All of this endless speculation plays out on James Kronzer's spacious drawing room set — the kind of spectacular design at which he excels — augmented by precise, emotive lighting from Daniel MacLean Wagner. Robison also spared no expense with Rosemary Pardee's stunning costumes, a gorgeous, pristine set of ball gowns and nightgowns and mourning sheaths worthy of higher recognition.
She's not a particularly likeable Camille, and you get the sense that her Marguerite fluctuates between the throes of passion in a 21st century woman and the rigid confines of Parisian society in 1847, but Reed does deliver a compelling performance in her regional debut, especially late in the second act as she must surrender to consumption. Aubrey Deeker proves a gentle Armand, handling the heavy emotional weight of his role with buoyant physicality and a warm sense of humanity. And while Vanessa Vaughn and Dan Manning shine in two very opposite supporting roles, the sprightly Sarah Marshall proves once again why she is one of Washington's most popular actresses in another comic turn as the profiteering Prudence.
Robison's Camille does more than illuminate a classic piece of literature that examines the vows of romance and questions of ownership of body, soul, and material property — it also ushers in the leadership of a new artistic director who, by all estimations, seems royally fit for the job.
---
Just in time for the fêtes of Halloween, Synetic Theater sinks its fangs into a new adaptation of Dracula from local actor Jonathan Leveck, based on Bram Stoker's ubiquitous novel. As always, the music is prime to the action and emotional arcs in Synetic's storytelling, and here director Paata Tsikurishvili and Irakli Kavsadze have designed a lush, epic soundscape that leads the Count and his cronies on a feverish feeding frenzy from the bowels of Transylvania to the misty streets of London.
With meticulous choreography by Paata's wife, Irina Tsikurishvili, Dracula is an erotic, breathless rendezvous laced with the legend of Vlad the Impaler and lit in perilous shadows and thin blades of light by Colin K. Bills. Using extraordinary convergence of pantomime, modern dance and text, the Tsikurishvilis offer up a physical reinvention of the familiar story, creating a dark haunt for the undead.
Paata also dons the mysterious cape of the Count, and his Dracula is a stealthy, seductive predator who is absolutely captivating. Whether he is creeping across the stage stalking his prey or poised a few feet above it in mid-air, this is a lusty, impassioned soul who revels in his power and thirst for new blood. Among Dracula's three ravenous wives, Irina is the Beyonce of the trio, always front and center with intense focus and flawless, fluid movement.
Greg Marzullo and Anna Lane present the upright English couple Jonathan and Mina Harker, two unsuspecting victims of Dracula's bloodlust, and the rattling seduction of Jodi Niehoff's cherubic Lucy is a fine example of the kind of operatic emotion and athletic passion that courses through Synetic's veins.
Dracula can appear a rudimentary exercise in archetypes, and there are moments in Synetic's work that could easily slide into camp, creating that awkward acknowledgement of past interpretations and the comedy into which the melodrama could slip, but Tsikurishvili does not allow those moments to linger, and as he tiptoes across the stage, what could just as well turn into a ripple of farce sends a chill down your spine. It's that kind of unexpected physiological reaction that makes this Dracula so utterly stimulating.