Nickel Creek's adventurous third release, Why Should the Fire Die?, finds the precocious trio evolving as artists and exploring a much broader sound. With roots in bluegrass, both traditional and progressive, their genre-defying acoustic music expands to incorporate elements of folk, country and rock. In doing so, the trio creates something infinitely more exciting than the sum of its parts.
Chris Thile and siblings Sara and Sean Watkins began performing together in 1989 as preteens, so it's only natural to expect their sound to mature with age. Their self-titled debut, produced by leading lady of contemporary bluegrass Alison Krauss, was released in 2000 to instant critical acclaim and won the group a legion of fans and a Grammy nomination in the bluegrass category. That success was quickly followed by 2002's This Side, also produced by Krauss, which began to show signs of musical experimentation and won a Grammy for Best Contemporary Folk Album. Now in their mid-twenties, the band members leave Krauss behind and forge ahead on Fire under the guidance of producers Eric Valentine (Smash Mouth, Good Charlotte, Third Eye Blind) and Tony Berg (Squeeze, X, Aimee Mann). The result is both visceral and virtuosic.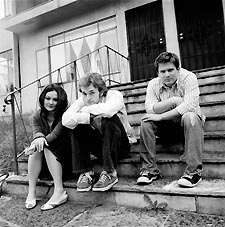 Nickel Creek
While Fire likely won't appeal to staunch bluegrass purists, it may well win over some pop and indie rock fans. It is influenced by Nickel Creek's recent work on Mutual Admiration Society in which they collaborated with Toad The Wet Sprocket's Glen Philips, and by Thile's recent solo work. Fire ventures into grittier sonic territory, and its lyrics are darker, more austere and introspective. Bluegrass has always trafficked in death and desperation, but this time the music matches the lyrical content of songs that investigate shattered lives and relationships, infidelity, loneliness and spiritual failing.
Nickel Creek still employs traditional acoustic instrumentation — Sara on fiddle, Sean on guitar, and Thile on mandolin, with Mark Schatz providing bass accompaniment on a dozen of the tracks — but the arrangements are unique and striking, often with the power and intensity of modern rock. The album is dusted with mandola, banjo, ukulele, piano, bouzouki and even drum accents. And several of the songs display a brooding, minor-key eeriness.
Thile has always been the dominant player, singer and writer in Nickel Creek, but never before has this been more evident. He wrote or co-wrote 11 of the album's 14 tracks and performs lead vocals on seven tracks. In contrast, Sara takes the lead on three songs and Sean is left with only one vocal turn. The remaining three songs are a varied batch of instrumentals. Thile, a rather self-indulgent musical genius, does find a way to share the spotlight with his band mates — on Fire, their three-part harmonies are tighter and more abundant than ever before.
The lead track and first single "When in Rome" opens Fire with a lo-fi crackle reminiscent of an early 20th century recording before launching headlong into the rhythmic assault of full-band boot stomps and a driving, infectious melody. It's a clear signal that the times, they are a-changin'. Up next is Sean's "Somebody More Like You," a biting commentary on a bitter breakup: "I hope you meet someone your height/So you can see eye to eye/With someone as small as you," he sings. Midway through Fire, Sara's vocal work shines on the Bob Dylan ballad "Tomorrow is a Long Time," the only cover song on the album. Her lonely voice floats atop clear, crisp guitar and masterfully subdued mandolin.
Fire burns brightest with the raw-nerved emotion of Thile's "Can't Complain," a song about cheating and heartache, and on Sara's menacing scorcher "Best of Luck." And then there's "Helena" — by far the most radical composition on Fire, it implements drums and steadily builds to a Coldplay-esque crescendo. It's a track that's sure to turn heads. "Jealous of the Moon," a pensive, folksy waltz with a clear country influence co-written by former Jayhawks front man Gary Louris, is another highlight, and "Doubting Thomas," a soothing ballad in which the narrator questions his faith and ponders the afterlife, shares a similar country aesthetic.
On Why Should the Fire Die?, a showcase for a multi-talented trio in transition, Nickel Creek throws fuel to the flame.