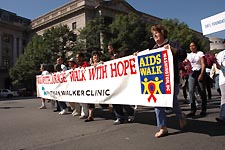 Banner year? The Oct. 1 AIDS Walk
(Photo by Todd Franson )
Though not quite on par with last year's figures, as yet, Kim Mills, communications director at Whitman-Walker Clinic, says this year's AIDS Walk was not too shabby. This, the 19th annual fundraising walk in the clinic's history has so far brought in $462,000, says Mills, compared with last year's $547,000.
"But checks keep coming in," says Mills, explaining a final tally for the Oct. 1 walk is still premature. "We're still getting money."
With the loss of their development director and a drastic fiscal shortcoming that surfaced earlier this year, Mills says preparations for this year's walk got off to a late start.
"We had some challenges this year, but I think everybody got up to speed very rapidly," she says. "We're very happy with the results. We had a great event. We raised money for clinic services, and the community turned out enthusiastically.
"One lesson that we learned is that there are a lot of loyal walkers in the area. People come out year after year and expect to walk. We're proceeding right now with building a budget for next year's walk."