The District government exercised its eminent domain powers Oct. 25, filing a legal claim to properties in the area of the proposed Southeast baseball stadium for the Washington Nationals, as reported by the Washington Post the following day. The filing leaves affected tenants with 90 days to vacate.
Bob Siegel, an ANC commissioner in the neighborhood, owns a large complex along O Street SE that sits in the proposed stadium's footprint. And as the city wants baseball in, it wants Siegel out. Siegel, who owns Glorious Health and Amusement, a gay-oriented club, adult cinema and shop in the complex, does not want to go. Along with the threat to his own business comes the threat to other gay-oriented, adult businesses for which Siegel is landlord: The Follies Theatre, Heat, Secrets and Ziegfeld's, which combined offer male nude dancers, bars, drag shows, and an adult theater. Siegel also maintains a private residence for himself within the complex.
"It's my livelihood, my home, my commission. I don't want to start all over again," Siegel told Metro Weekly Oct. 26. "There's an arcane rule that says that if the businesses move, they can't be within 300 feet of each other. That rule needs to be addressed and revised at the insistence of the mayor and the City Council if they want us to move.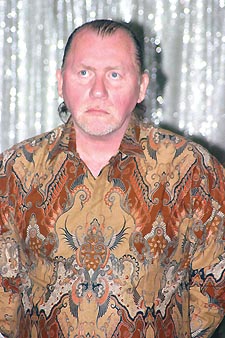 O Street business owner Bob Siegel
"These are my tenants. We work well together. [The O Street corridor] is a strong area of town. I feel upset reading today's [Washington Post] article that we have to move within 90 days."
Siegel says that he has a court date set to fight the city with a two-pronged approach. His foremost wish, he says, is not to move. If forced, however, he says the city's offer of compensation falls short of what he considers fair.
"On Nov. 30, I will have my day in court," says Siegel. "I'll be in D.C. Superior Court that morning, seeking an injunction…. When I do get to eminent domain, I'm going to have a field day. That corner of South Capitol and O streets involves a four-story building, including the basement…. The entire complex was listed at $526,000. But in 2005, the tax appraisal was $1,500,000. For 2006 — I've already gotten the appraisal — it's $100,000 more. The way Bob Siegel figures fair price is tax appraisal times two. I figure that the building alone is worth more than $3 million."
Siegel is trying to cover his bases, however, looking for a new location for Glorious Health and Amusement. He declined to give details, beyond noting a warehouse on West Virginia Ave. NE that may suit his needs.
"I really am very hopeful," Siegel says. "The building I'm looking at is 20-times larger than the existing area. It's room enough for all of the adult amusements. Maybe I will have my Gay Disneyland…. I believe that Glorious Health Club could relocate to any part of the city. It's just my tenants with the liquor licenses who will be having a problem."
Siegel says that if forced to move, he hopes some corner of District government will be supporting a collective move of all the O Street businesses, despite current regulations.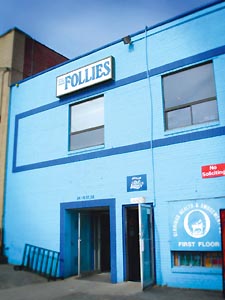 The Follies Theatre and Glorious Health and Amusement building
"I've gotten nothing but promises and smiles," Siegel says of the varying levels of District authority to whom he's turned for help. "I do know that Marion Barry is definitely batting for me. But next week I'll be knocking on doors. I hope one of the City Council members has the balls — or tits — to demand and insist on putting something else on the table, especially those that are running for mayor."
Behind Siegel's maverick tone, however, is a plea to the community, as he's quick to admit that sometimes you can't fight City Hall. At least not by himself.
"I want to connect with people who will support me," he says. "I still need people to help with some sort of bandwagon — advertising, rallies, stuff like that. I'm tired of the 'yeah, yeah, yeah,' 'maybe in the middle of the week,' 'yes, we need to talk, call me.' I need to know that people who want to help me will help rally with me, so that if there is any problem with zoning, the gay community is 100 percent backing me up. A lot of people think that I'm a very independent type person, but I really need their help."
See the Nov. 3 issue of Metro Weekly for further coverage of this story. Bob Siegel asks that supporters of his adult-oriented businesses contact him at legeis1@verizon.net.
RELATED ARTICLES:
The Last Inning – A Whole New Ballgame in Southeast DC (4/14/05)
Evacuation Plan – Community meeting set to discuss future of O Street Corridor near Nationals' proposed baseall stadium in Southeast DC (4/7/05)
Adult Zone Shut Out – Proposed baseball stadium would displace adult gay clubs in SE Washington, DC (10/7/04)