On Thursday evening, Oct. 6, The Center: Home for GLBT in Metro D.C. opened its doors and its accounting books — to a degree — in an attempt to counter anonymous critics who have reportedly accused the board of directors of mismanaging funds.
"We've been wanting to be more open with information," began Center President Michael Sessa, during this meeting of local press, himself, and three of the Center's nine other board members: Robert Baldre, Edwin Craft and Colleen Dermody. "This is your opportunity to ask away."
What Sessa and the board offered was a listing of figures for 2003-2005, using The Center's incorporation in December 2002 as a starting point. "We wanted to present the numbers as plainly as possible," said Sessa, who has served as president since January. "I'll first say this is un-audited. But we do have source documentation. We are confident about this information. This is going to be the documentation with which we file our taxes."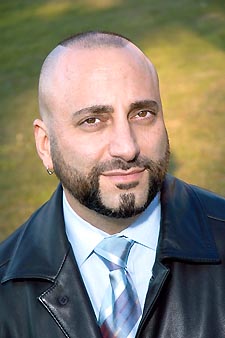 Sessa
(Photo by Todd Franson)
What the numbers on offer showed, in short, was nearly $200,000 from the Cherry Fund; a single largest expenditure of $67,321 to Robert Bruening for administrative services between 2004-2005; and a slowing rate of income, when compared to the six-figure Cherry donation of 2004.
The figures do not show a community center spinning out of fiscal control. They do, however, illustrate one center with seemingly grand designs replaced by one of far more modest means. The big donations accompanied big expenditures. Likewise, this current year of smaller donations has come with smaller expenditures. Sessa says that change is not by necessity, but by design.
"I've put sort of a chokehold on spending," says Sessa, following up on comments from the Oct. 6 meeting. "And we don't need hundreds of thousands of dollars. We did when we were looking to buy a building. What I need people to understand is we're no longer on this mission to build a building. Rob [Bruening] was brought on because [former Center President] Patrick [Menasco] was planning a multi-million dollar capital campaign. Now we don't have a capital campaign. We've locked Stead Park out of our plans. We've downsized our plans….
"The Center needs to evolve based on what the community needs. It's a living organism. You can't build a Frankenstein. People think of D.C., and want the biggest, shiniest and tallest [GLBT] community center. But growth is the No. 1 reason non-profits suffer. They can't handle growth."
Menasco, also a former board member of the Cherry Fund, but now with no formal ties to either Cherry or The Center, says he appreciates the current board's interest in providing community services, but says that the money must come first.
"When I left [in August], one of my major concerns was a lack of fundraising by the board," says Menasco, who resigned from the board as that body terminated Bruening's contract and ousted member Larry Stansbury. "Prior to this year, we didn't need to raise a lot of money, because we didn't have a physical operation. When we turned a corner and opened an office [in February], due to a lot of hard work by Rob Bruening, we were starting to pull heavily on the budget."
"I hope it works out," Menasco says. "God helps those who help themselves. If the board doesn't make the transition to a money board, The Center is going to have trouble down the line." Menasco says the primary function of the board should be to raise funds. "The Center has got good people and talent on the board, but without money coming in the door, it doesn't matter. To the extent they've taken that to heart, I've not a clue."
Sessa could counter that today, there is nothing to "pull heavily" on the budget. He points out that The Center's annual rent for its downtown space is $9,600. "With what we have now, we have three years worth of rent," he says, referring to the roughly $35,000 shown by Center figures to be on-hand.
Further, says Sessa, The Center is still working to raise money. Gone are the days of the Cherry Fund windfall, but the numbers released by The Center claim seven 2005 donations to date, valued at $47,996.
"We're looking at direct marketing, event fundraising and grants," adds Sessa, discussing the board's current fundraising work. "We're looking at those three streams, but we don't need $100,000."
The Center, says Sessa — whom the board has chosen as its sole spokesman — may not be what it once was. It is not pursuing a building of its own. It is not concerned with maintaining previous levels of donations, or spending. It is, he says, primarily concerned with providing services to the community, like a soon-to-open computer lab, or meeting spaces.
"I want to make people realize this is no longer the case," Sessa says of The Center's previous real-estate plans. "And then we're done. I want to move on. I don't want to keep talking about this…. We have nothing to hide. We've done nothing wrong."
Whatever the gaps between The Center's initial priorities and its goals today, there seems to be common ground for those in either camp. While their ideas may differ, people like Menasco and Sessa share an obvious commitment to the local gay community. And though Menasco is no longer affiliated with The Center, he suggests that may change.
"There are people in the community who are more than happy to come back and do fundraising if the board itself is ready to do some serious fundraising," he says, leaving the door open for future involvement.
Meanwhile, regardless of the twists and turns it's taken to get here, personality conflicts and growing pains, suite 350 at 1111 14th St. NW is "home for the GLBT in metro D.C." It may not be what some would have wanted, it may not be the shape of The Center of the future. Regardless, says Sessa, "We have space. Guess what, D.C. — you have a center."