At the heart of Marie Ndiaye's Hilda stirs a cold and raw bitterness that pierces the air, the kind of astringent breeze that punctures your lungs with a chilly gulp and a crushed, burning sensation. It's difficult to digest that kind of cruel wind, especially when it blows through a tidy, upper-class dominatrix named Mrs. Lemarchand.
As she descends from her milk white staircase in her milk white home, Mrs. Lemarchand appears a woman of impeccable breeding, even as she begs her handyman, Frank, to submit his wife, Hilda, for service in the Lemarchand house. It's only mildly odd that she seems to know every small, insignificant detail about Frank and Hilda's lives, from their smoking habits to their savings accounts. And even if she is a little pushy and exhausting in her pursuit of a new housemaid, she's still a liberal willing to pay the couple $15 an hour to clean her home and take care of her three children — as long as half of the money is paid "under the table" and Hilda agrees to abide by her strict set of requirements.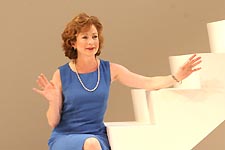 Controlling device: Karas
(Photo by Carol Pratt)
It isn't long before Mrs. Lemarchand begins to expose a tiny, toxic seed of self-loathing. It's a destructive breed, spawning dangerous obsessions and overwhelming all reasoning and emotion. Soon the lady of the house is entirely consumed with controlling her servant's every step, adopting the mission to "educate and socialize" Hilda. In a dark and ugly disintegration of self, Mrs. Lemarchand simply buys herself a new identity, borrowing from the lovely young maid who is now enslaved by a woman incapable of feeling empathy toward anyone.
While there is much ado about a woman we never see (Hilda), the woman we do spend the evening with is Ellen Karas, whose Mrs. Lemarchand is a perfectly loathsome hybrid of Joan Crawford and Stepford Barbie. Karas is utterly intriguing as she blankly asks personal, intimate questions with grueling precision. Her lonely housewife is a demonstration of eerie restraint as she takes up the cause of championing her subject from a life of housing projects to pressed linen dresses and afternoon tea.
Carey Perloff directs Karas, along with Michael Earle and Brandy Burre, in a poetic production choreographed to haunting original music by David Lang. Earle and Burre have much less work on stage than Karas' overbearing hawk, but both provide substantial backbone for Frank and Corinne, Hilda's silver-tongued sister.
An invisible, omnipresent servant, Hilda efficiently dispenses a tense study of slavery and ownership as defined by power and class in the 21st century.
---
Just as Ellen Karas gives twisted life to Hilda, it's Suli Holum's Billie Dawn that ultimately makes Born Yesterday succeed at Arena Stage. Without Holum's charming performance as a pipsqueak chorus girl who gets a crash course in American politics, Garson Kanin's postwar comedy might be rendered quaint and artificial.
Set in 1945 at the "best hotel in Washington," Kanin's script follows the plot of junkman Harry Brock, a self-made money machine who has no patience for silly laws and regulations. Harry's arrived in Washington to schmooze a corrupt senator into bending the laws his way, but he's worried that his mistress Billie might stand in the way of his success. So he hires a local newspaper reporter to "wisen her up" and "learn her the ropes." After a few months of informal education, Billie begins to see the light — and it may end up blinding Harry.
"Never crap a crapper," threatens Harry, and in Kyle Donnelly's cutesy-tootsie revival, Jonathan Fried growls through his lines, sticking his character to one level and one level only: full-throttle. His Harry never stands a chance of being redeeming or sympathetic, and against Holum's "I'm stupid and I like it!" personality, Fried is a gruff bully intent on getting his way.
Born Yesterday
To Nov. 11
Arena Stage
1101 Sixth St. SW
$46-$60
202-488-3300
www.arenastage.org

Michael Bakkensen is a refreshing presence as Paul Verrall, Billie's new teacher and love interest, and Hugh Nees is terrific as Harry's pushover cousin Eddie. Rick Foucheux also offers another classic turn as a washed-up lawyer who warns that, "A little learning is a dangerous thing," and Jon Aitchison's distinctive hair design and wigs feature very fine, detailed work.
All of the Washington wheeling-and-dealing happens in Suite 67D, a plush red hotel set designed by Kate Edmunds, and while Donnelly has no problem staging Born Yesterday in the round, her production frequently falls flat — most noticeably whenever Holum is off stage. But as soon as her Billie struts in again and casts her lovely spell, Kanin's dated sermon on democracy and enterprise is instantly born again.