| | | |
| --- | --- | --- |
| | BIG STYLE IN SMALL SPACE in this cozy Columbia Heights condo, perched atop a fabulous Victorian row house. Do more than you can imagine, whether entertaining on the relaxing deck or playing peek-a-boo with some distinctive bathroom windows. | |
Starting over from scratch, Tony Villa took a bare-bones, 500-square-foot studio condo on the top floor and created his own "luxury hotel suite". Perfect for entertaining 100, or just relaxing with his hand-crafted fountain, his Seattle-inspired rooftop deck is an urban oasis.
TONY: The story begins when my boyfriend and I decided to end our 10-year relationship. The criteria I had for purchasing a new home was that I didn't have a lot of money but I wanted to be on the top floor if at all possible. Knowing my budget would afford a studio, I was a little bit disheartened. But when I walked in this front door and saw that you would actually live on the top floor of this fantastic Victorian row house, I knew the possibilities could be endless.
When I purchased this place there were no floors, the walls were all pushed through and there was no kitchen. I had to use a lot of imagination. Of course, Tony Villa can't have anything vanilla, right? Everything you see is sort of custom made — a bit of glue, some broken glass, brackets and whatnot from Logan Hardware. I love their "free bin." I'm always there asking, "What do you have in the scrap pile?" That's how I created a lot of what you see.
I love to throw parties, so that was going to be a problem with the amount of space I had. So I made really good friends with the foreman on the job, Maria. She had the ability to address any problem. I told her I needed more countertops, so she pushed the wall out, hid a new hot water heater underneath my kitchen counter, and made room for what is most important — not the hot water tank, but the liquor cabinet. A straight person would call this a butler's pantry, I would call this a mini-bar. This is where I store a lot of my spirits — my "happy juice," as Mama used to call it.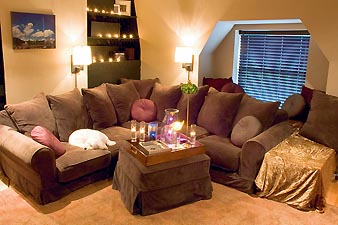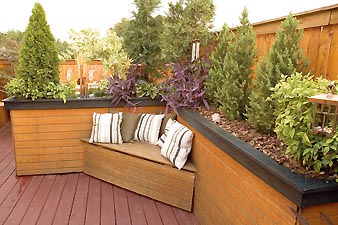 I had one bathroom and I needed to make it count. These two-way mirrors that divide the bathroom from the rest of the home have made and broken many famous individuals here in D.C., but it's been quite a party entertainer. It's fun to see people arrange themselves on the other side of the mirror knowing that they can't see you. Nonetheless, the two-way mirrors serve a very important function, making it appear much bigger because you can see out into the rest of the home. But it gives you privacy, given the correct light levels.
One of the challenges of a studio bedroom is who wants their bed in view the entire time? Especially if the correct guest is not there. This Murphy bed was made by a very old gentleman. I think he's about 175 years old. He has a little company called "Wallbeds by Wilding." It's solid alder with a cherry stain. This bed is fantastic — strong, queen sized, with a pillow top mattress — and it's how my living room becomes a bedroom.
My home office is all about hinges. I have every kind of hinge that slides, pops, flips, snaps or connects throughout the place. This became like a game with me: How efficient can I make this unit, whether it's for my clothing storage or my home office? Every single drawer in my home has an organizational device.
[On the deck] This is what sold me on my home. I can say with some confidence that I have never come across a studio that was within my budget that had a deck of this size. And it was crying out for some TLC. I had dreamed up a couple ideas that I always wanted to employ, especially those that my old boyfriend would never really allow: recessed lighting built into the fence and the planter box; gigantic planter boxes that would divide up the space; and, most importantly to me as a Seattle native, evergreen trees. When I'm on this deck, I'm back home in Seattle.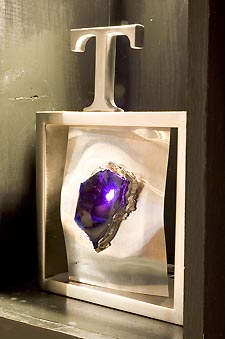 I had a problem. I had never been to a lumberyard before and I was quite intimidated walking down there with the kind of fashions that I usually employ. So I cashed in several thousand airline miles to fly my dad here first class in exchange for having him walk into that lumber yard with me and make my dream come true. And that is exactly what happened. Every tree you see, every piece of wood, was hauled up five stories up the fire escape on the other side of this fence in the blazing heat of the summer.
This is the reason why it is rare to see me out at a restaurant or a lounge — this to me is the epitome of relaxation, style and the ability to let loose and connect with my friends. Plus, I think this is the hottest ticket in town. But, nevertheless, this has really been my home. I really value my time up here.
Does your house, condo or apartment have a story to tell? Let Environs know about it. E-mail environs@metroweekly.com.