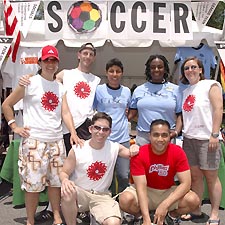 Federal Triangles members at the 20005 Capital Pride festival
(Photo by Todd Franson)
MISSION: Founded in 1990, The FTSC promotes the growth of soccer and fosters a sense of community for gay, lesbian, bisexual and GLB-friendly players.
NUMBER OF MEMBERS: Approximately 60 dues-paying members (though many more participate in pick-up games).
COMMON ACTIVITIES: Various indoor, outdoor, male, female and mixed-gender leagues meet throughout the year to play soccer. FTSC teams also play in International Gay and Lesbian Football Association tournaments. Aside from soccer, there are regular social events.
HOW TO JOIN: Membership is open to all skill levels, or non-playing supporters. Annual membership is $55.
BACKGROUND: "The first way I found out about the club was playing a pick-up game on the Mall," says FTSC President Wendy Chun-Hoon. At the time, the club had no women's league. So after her first FTSC tournament, when some male members suggested it may be time for her to begin paying dues, Chun-Hoon struck a deal: If the club adopted a women's league, she'd pay. She got no argument — as long as she did it herself. That playful, relaxed club temperament is one of her favorite things about the club, she says. "It's a really good group of people. We're a very friendly club, and we always welcome new folks."
CONTACT: www.federaltriangles.org
NEXT EVENT: Annual FTSC Turkey Bowl, Nov. 19, Virginia Highlands.