(originally posted on 10/20/2005)
Here's a scary thought: Try spending Halloween in England, Ireland, Scotland, Germany, Italy and France — all in one whirlwind weekend. Not possible, you say? Not in the modest travel budget? Well, not if you visit Busch Gardens, which boasts elaborately recreated surrogates of all six countries in Williamsburg, Va. As a bonus, the park features some of the country's best coasters (the turbulent and exhilarating Alpengeist, the adrenaline-boosting Apollo's Chariot, and the still-thrilling-after-27-years Loch Ness Monster), transforms itself this weekend and next into Howl-O-Scream, a Halloween haven with thrills, chills and (a few fake) bloody spills.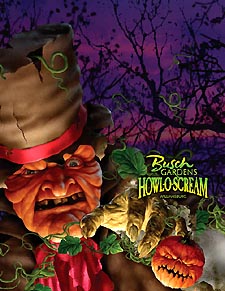 Over the past few years, theme parks across the country have tapped into the Halloween market to extend their season well beyond Labor Day. The parks are decorated with lavish Halloween motifs and feature haunted mazes, various spooky-themed shows and attractions, and a cast of roaming zombies, werewolves and demons to give you a fright while standing in line. But the Busch Gardens Williamsburg overhaul is a little more special in that it has the benefit of that old world European framing that spikes the overall atmosphere. When you factor in the crisp autumn weather, you get a frightfully fun experience like none other in the region.
This year's Howl-O-Scream boasts several terror-themed mazes, helpfully rated for age-appropriate shocks. Five pumpkin attractions, for instance, are the most extreme, with no one under 17 admitted within. Single pumpkin attractions offer fun "without the startles" for tots. There are plenty of in-between pumpkin-rated attractions, including Jack's Nightmare Express, in which the park's train, arguably its dullest ride during the summer season, is transformed into a terrific terror train, and Last Laugh Industries, an evil clown factory situated in Italy. Among the more terrifying is Curse of Pompeii, a fear-filled maze ingeniously located underneath the Escape from Pompeii water ride, and Sleepless Hollow Manor, an intense haunted attraction in the Black Forest area. The Clydesdales in Jack Hannah's Wild Reserve are replaced by moon-baying werewolves, and the living dead lumber along in search of brains in England's Sea Dog Cemetery.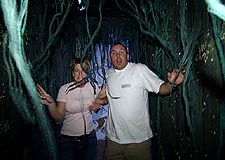 With the exception of the Roman Rapids, all the park's rides are operational both during the day and night, though the Howl-O-Scream fear factor doesn't kick in until 6 p.m. Interestingly, the park's newest attraction, Curse of DarkKastle, fits the horror motif without requiring a makeover. It's a spectacular, ingenious dark ride, sophisticated in its combination of hydraulically controlled, moving cars and 3D digital projection that tells the story of a wolfman whose manners toward his guests are less than friendly. The ride isn't very scary — it's mostly an assault on all the senses, leaving you a little shaken and stirred and ready for another go.
Nothing, of course, can replace the full-throttle thrill of a roller coaster — and, for my money, Apollo's Chariot is the park's best. If its initial 200-foot drop isn't enough to leave you gulping in anxiety, the ride's speed will leave you breathless. I also can't get enough of the Alpengeist, a floorless coaster that turns you every which way until you fear your liver is where your heart ought to be.
Busch Gardens food is a cut above normal theme park fare. But for Howl-O-Scream, the park reinvents the whole notion of the candy apple, and features a sumptuous pumpkin fudge. There are several "monster" shows, including the playfully named "Fiends in the Festhaus," a nightly Jack-O-Lantern celebration of Jack is Back in Ireland, and Nightscares, staged in the mammoth Royal Palace Theater, featuring a ton of illusions and special effects.
Consider making a weekend of your trip, with a stayover at the Kingsmill Resort & Spa — a lovely and serene collection of bungalows, minutes away from Busch Gardens, set amid three golf courses and a lake. During a recent visit, the suite I stayed in was as comfortable as my own home — spacious, tastefully appointed and boasting a very large bed and furnishings, as well as high-speed internet access. Kingsmill also has a well-equipped fitness center, several excellent restaurants covering everything from casual-to-fine dining, and an indoor pool complete with a sizable whirlpool. The Spa at Kingsmill is legendary for its services, and in one sense is a perfect complement to Howl-O-Scream: You can spend your days relaxing in bliss and your nights being scared out of your wits.
Busch Gardens/Kings Mill Resort offer Fall Getaway Packages starting at $399 and including 2 nights stay at the resort and 3-day unlimited admission to Busch Gardens and Howl-O-Scream, Fri.-Sun., Oct. 21-23 and Oct. 28-30. For an additional $25, the park offers a Howl-O-Scream front of the line pass, providing VIP entry to four Howl-O-Scream attractions and Curse of DarkKastle. For more information or to make reservations, visit www.buschgardensvacations.com and click on the Williamsburg window or www.kingsmill.com, or call 1-800-832-5665.