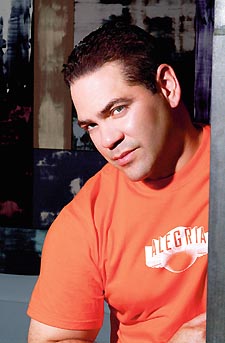 Abel
HALLELUJAH FOR ALEGRIA… The dance compilation you've waited all year to buy is finally available, DJ Abel Aguilera's two-disc Alegria Musica. If this set's 140-minutes of driving and dynamic tribal house beats and warm, tasteful melodies don't make you want to go to New York's Alegria dance party, nothing will. Well, except maybe the promise of being amongst just about the hottest crowd of gay men you could ever imagine. Alegria is held on Sundays seven times a year, including this weekend for Halloween, at New York's top-flight mega-club Crobar.
Alegria Musica is the sequel to last year's Alegria set, both compiled and sequenced by the party's resident DJ Abel, one of the scene's very best DJs. While the first set was superb, it wasn't without flaws — namely that it was a bit unbalanced, with the "Peak Hours" of disc one featuring tracks that wore thin after oft-repeated listens, and the second "After Hours" disc featuring too many monotonous tracks that didn't even encourage oft-repeated listens. Thankfully Abel has corrected this with Alegria Musica, a well-balanced and nearly flawless set that you'll want to listen to straight through, over and over again.
The smartly eclectic compilation, driven by tribal house and neo-disco pop sounds but also incorporating traces of salsa, mambo, even funk, opens with Abel himself acting as enticing announcer before launching into his captivating, rattling Latin-heated beat bed. The set never once loses momentum or appeal during the course of disc one, "The Midnight Session," and only rarely drags on disc two. Among other tracks, "The AM-PM Session" includes the sauntering "El Tigre" by Ralphi Rosario, Abel's production partner in Rosabel. If only this graceful track, featuring Valerei Vix, didn't feature the Janet Jackson-popularized roaring black cat sample. Here, it actually reminds me of the sound made by the flushes from Nation's heavy-duty toilets. It's not something I really care to have on record for posterity's sake….
FALLING IN LOVE WITH DEUX… As with the previous compilation, it's hard to single out one track as the stand out on Abel's Alegria Musica. But the leading contender is one of this year's best dance songs: Deux's "Sun Rising Up." Deux is the Spanish duo of Toni Bass and David Penn, joined here by vocalist Rebecca Brown. "Sun Rising Up" was the standout track on DJ Paulo's Party Groove: Fireball 3 compilation released during the winter, but Paulo was way ahead of his time. The song was only released as a single a couple months ago. The Sharp Boys Eclipse Mix, as featured on Abel's set, is several times more musically dramatic than the Original Club Mix, but like the original it features gradually rising verses.
Even better than the climactic music itself are the song's lyrics. Brown starts off quietly, telling her story about how she struggled with severe depression "before you came and showed me the reason why" life was worth living. As with the music, Brown's voice in the verses gradually increases in volume and positivity as she savors the shining stars and cascades of rainbows that she now sees before her. She's in full diva-mode by the time she gets to "you're the reason the sun is rising up even when it's twelve at night/You're the reason why I think I'm falling in love." Falling in love, indeed….
DJS WORTH GETTING BLACK & BLUE FOR… During his set at Montreal's Stereo Bar during the Black & Blue circuit party earlier this month, Victor Calderone spun "Sun Rising Up" in the most dramatic fashion possible, completely cutting off the sound system for a minute right before the song's chorus came in and just after an a cappella climax of "I think I'm falling in love." It was the most stunning moment of the most stunning event during Black & Blue.
My picks as the party's other best DJs, at least among those I was able to hear over the course of 32 spinning official events, include Manny Lehman as most surprisingly good, going siren-free during a never-dull and meticulously sequenced set at the very best event, the Military Ball at Metropolis. Paulo was the party's most underrated DJ, turning out a festively percussive and seductively melodic set that kept most everyone in the intimate crowd at Parking grooving on the dance floor for exhaustively long periods of time. Calling all D.C. nightlife promoters: Paulo is overdue for a return engagement….
THE NEW C+C MUSIC FACTORY… This year's Black & Blue DJ To Watch was undeniably Chus & Ceballos. The Spanish duo spun a hypnotizing, revelatory set during the party's mixed-crowd main event, which drew an estimated 15,000 attendees to the Olympic Stadium. Chus & Ceballos are gaining increasing recognition for their invitingly warm, melodic, moderately paced and exceptionally dense polyrhythmic tribal house music. They deservedly scored big over the summer with their exuberant yet sophisticated remix of Jody Watley's "Looking for A New Love," managing to breath new life into an old, dated hit.
And now they've been tapped to do basically the opposite for Madonna. Chus & Ceballos have just completed a remix for her new, vaguely dated song "Hung Up" – vaguely dated given its synth samples from ABBA's "Gimme Gimme Gimme." Tracy Young, Bill Hamel and the song's producer Stuart Price a.k.a. Jacques Lu Cont have also each remixed the quickly chart-ascending hit. It will be at least a couple weeks before they become commercially available though, PerfectBeat.com reported….