It's a daring move for any performer to record a tribute album, much less an album of songs associated with an icon as beloved as Judy Garland. But that's exactly what Broadway darling Linda Eder (Jekyll and Hyde) has done to magnificent effect on By Myself: The Songs of Judy Garland. Her pristine, powerhouse voice is in the spotlight on this collection of 11 songs. Just one question, though — why does anyone need this CD if they own Garland's definitive recordings? And let's face it, Eder's audience likely has some shelf space already reserved for the Garland originals.
It's almost impossible to listen to By Myself without comparing Eder's interpretations to Garland's. She eerily channels Garland's spirit, capturing the contrasting strength and fragility of the legend's voice while engaging a similar deep-throated, vowel-chewing vibrato on many of the songs. There are, however, subtle differences in phrasing and style. While Garland's versions are more nuanced, Eder leans toward the epic and theatrical, showing off her vocal skills at almost every turn.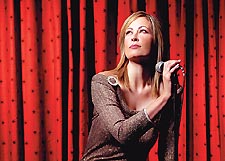 Friend of Judy: Eder
Backed by the London Symphony Orchestra, Eder brings together classic and lesser-known songs from her childhood idol's career in jazzy and lushly orchestrated arrangements that don't stray far from the originals.
The album kicks off with "By Myself," a song from Garland's 1963 film I Could Go On Singing. Together with "Me and My Shadow," this song represents Garland's more ruminant and emotional side.
Next up, Eder jumps into the swinging medley "Almost Like Being In Love/This Can't Be Love." It is one of four medleys to grace to collection, including the lively "Zing! Went the Strings of My Heart/The Trolley Song" and the rambunctious "The Boy Next Door/You Made Me Love You," on which Eder sounds surprisingly like Barbra Streisand, another of her leading influences. "I'd Like to Hate Myself in the Morning," a song Garland performed on The Merv Griffin Show in December 1968 but never recorded before her death six months later, is another highlight.
"Over the rainbow in ruby red shoes with a case of unchaseable blues," sings Eder on the opening verse of "The Rainbow's End," the only original composition on the album. The song, written by Eder's frequent collaborator Jack Murphy, lovingly captures Garland's essence. With a classic torch song sound, it is well worthy of standing alongside the treasures represented here.
Eder saves Garland's signature song, "Over the Rainbow," for last. Paired in a medley with "I'm Always Chasing Rainbows," the song receives a delicate, reverent and understated performance.
By Myself: The Songs of Judy Garland is a near-flawless pairing of two of the most gifted song interpreters of the past century. Never before has such a pointless exercise sounded so good.
Ever since she exploded onto the scene in 1988 with the inescapable single "Fast Car" from her eponymous debut, Tracy Chapman has been a champion of social justice, confronting issues of politics, race and poverty through her songs. Indeed, she continues to mine the same territory on her latest release, Where You Live. The subject matter couldn't be more timely for a country that has recently been forced to acknowledge the growing divide between its socioeconomic classes.
In addition to sharp and probing questions about social and racial divides, Chapman also explores questions of faith and love on this collection of songs that, for the most part, amble along at a gentle, mid-tempo pace. The arrangements are airy, hushed and spare, with flourishes of jazz and gospel. Chapman's folk rock sound is somber and subdued, and her convictions are worn on her sleeve. After seventeen years and seven albums, she's as steadfast in her beliefs as ever.
The album opens with "Change," a near anthem of a single that finds Chapman posing a series of philosophical questions: "How bad, how good does it need to get/how many losses, how much regret/what chain reaction would cause an effect/makes you turn around/makes you try to explain/makes you forgive and forget/makes you change?" It's Chapman's nonconfrontational way of asking listeners to reassess their values and judgments.
On "America," the most overtly political and memorable track on the album, Chapman points her finger at American aggression and imperialism and draws parallels between Christopher Columbus's "invasion" of this land and our current political regime's agenda. "You spoke of peace/but waged a war/while you were conquering America," she sings. "We're sick and tired, hungry and poor/'cause you're still conquering America." Her leftist politics are a breath of fresh air in the current conservative political climate.
"Going Back" and "3,000 Miles" offer observations on the isolation, desperation and the harsh realities of inner city living, while "Talk To You" and "Love's Proof" are intimate, hauntingly rendered ballads. Toward the end of the album, Chapman explores more spiritual territory with the shuffling "Before Easter" and the heartening and hopeful "Be And Be Not Afraid."
While Where You Live is lyrically potent, the powerful messages are ultimately muddied by plodding pacing and stripped down sound. As with her last two albums, Where You Live is a hit-or-miss collection of songs. That said, even a mediocre album from Chapman trumps most of the mass-produced musical drivel on the market today.