We're auspicious allies — indomitable Americans and Brits. We boast the same language, a shared history, and even gaze through the same looking glass at our prosy global neighbors. Even with our cultural differences and distant geographies, it's no wonder we've forged an enduring alliance. And it's that friendly fraternization between the two countries that sparked English director Nick Hutchison's imagination in updating Shakespeare's diuturnal Much Ado about Nothing.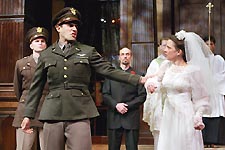 Set amidst an unsettled England following the second World War, Hutchison imagines Don Pedro's clan as triumphant American officers celebrating their allied victory at Leonato's English estates. With Beatrice a Brit and Benedick unabashedly American, Hutchison affords Shakespeare the opportunity to explore a relationship forged from two similar but separate nations. The possibilities are electrifying, with all of the quaint and cozy matchmaking between the two bonded worlds. Yet Hutchison merely poses the questions without fully rendering a conclusion.
His vision is certainly stylish and sexy — it's the same kind of lavish presentation the Folger produces with quality and taste — with its warm Swiss chalet set by James Kronzer and Kate Turner-Walker's fetching period costumes. But this Much Ado is a little too self-conscious and solemn in tone, with Hutchison often taking a deliberately literal approach to Shakespeare's romantic comedy.
Much Ado about Nothing
Folger Theatre
To 11/27
$30-$49
202-544-7077

It's a scholarly production, forthright and noble in its intent. But scholarly productions ultimately move us nowhere, and despite his fresh approach with the text, Hutchison seems to argue that reverence is next to godliness. Certainly there is enough psychology to ground Much Ado's dramatic arc without overreaching, and there's nothing wrong with embedding a little history into one of Shakespeare's most impetuous couples. But here his belabored revival lacks polish and pizzazz, despite contributions from a witty cast that features the talents of Kate Eastwood Norris, one of Washington's best actresses (and arguably one of its most underemployed).
This is not her first time lacing up Beatrice's boots, as Norris portrayed the slick-tongued spinster with Shenandoah Shakespeare a few summers ago. Her initial rendering was charming and coy, a bright spot among that season's repertoire — but here her Beatrice is almost bashful and reserved, a decidedly more British interpretation by default. She is matched with an athletic P.J. Sosko, a pip of a Benedick who flirts with the audience more than with his lithe lady.
Together, Norris and Sosko make quite a prickly pairing as our fiery fools for love. Aside from a visually odd coupling, there is little explosive chemistry bubbling between them. Thankfully we are distracted by a spirited turn from a nearly unrecognizable Timmy Ray James as Leonato, the father of Tiffany Fillmore's lovely Hero, and Jim Jorgensen as a perfectly villainous Don John.
The most enjoyable performance in Hutchison's Much Ado is delivered in earnest by Jim Zidar's boffo Dogberry, the fervent constable who declares that, "Though it be not written down, yet forget not that I am an ass!" If only Hutchison could take himself — and his work — in such stride.
---
There is an unexpected abundance of mined wit and humor in Michel Tremblay's For the Pleasure of Seeing Her Again at Alexandria's MetroStage, a tender and affectionate valentine to the playwright's late mother. Sprawling over ten of his most impressionable years, Tremblay's two-character script is practically a one-woman monologue that unfolds over the course of ninety minutes.
In an energetic flurry of memory and emotion, Catherine Flye crafts a profound performance as the narrator's mother, an instantly recognizable figure of all that is maternal. She is not unlike a universe of mothers past and present who dote and dream and criticize, exaggerating the truth just a wee bit to illustrate points already well made. Flye is a nervous Nelly of a mum, prone to vivid hyperbole ("He doesn't like my cooking; he's going to kill me") and gluttonous fits of melodrama in an exhausting, highly physical interpretation.
As her bemused (and barely closeted) son, Bruce M. Holmes has little to do other than open the act with an extended bit about what his play is not. After introducing his histrionic subject — "Words were her weapons," he explains — Holmes fades into the background to observe his mother's storytelling until he must react to it. Here, Holmes displays the unnatural talent of relinquishing the floor to Flye while also staying engaged in her relentless banter.
For the Pleasure of Seeing Her Again
MetroStage
To 11/27
$35-$40
1-800-494-8497

Linda Gaboriau is credited with translating the words of one of Canada's most prolific and most lauded playwrights, and there are some particularly lovely moments in Tremblay's tribute, including a humorous passage about Tremblay's interest in literature at an early age and a poignant observation by his mother on the unique and isolated relationship between actor and audience.
All of Tremblay's memories play out in a fluid, faultless production under the direction of John Vreeke, culminating in one of the most moving and memorable endings the theatre arts can produce. When Tremblay's mother must finally surrender to the sickness that took her life, Vreeke stages a beautifully ephemeral and graceful journey for a mother and her grateful son.