Hipster to oldster, gay to straight, funky to formal, Adams Morgan remains one of D.C.'s most eclectic and popular destinations for a wildly diverse range of people. Whether you're making the neighborhood your home in one of the rapidly rising condos or stately townhouses, or taking advantage of the plethora of nightlife and retail options, you're sure to find what you're looking for in Adams Morgan.
Justly famed for a vibrant nightlife full of live music and varied dining, Adams Morgan is also one of the best places in the city to simply sit back and chill. And there are few better places to do just that than Tryst (2459 18th Street NW), the Adams Morgan coffee shop that's taken coffee culture to a whole new level.
Since opening in September 1998, Tryst has been a spot for living, working and playing.
"We are the living room away from your house," says general manager Jocelyne Finnegan. Also conducive to frequent visits is Tryst's WiFi network. "We're the office for some. It's always amazing, the people who are here all day working."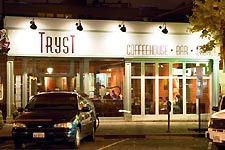 Tryst holds court on 18th Street
Finnegan, who's been with Tryst since just after its opening, says that the neighborhood has changed a lot since the late '90s, with more daytime businesses complementing the famed nightlife scene. And the people who make it worthwhile.
"They're lovely people," she says of the neighborhood residents. "They've supported us. Without them, we wouldn't be here."
Between work and home and play, even the most energetic of urban dwellers may find they need a bit more rest and relaxation. If you're looking to recharge, Adams Morgan is still your place to go, in particular Synergy Day Spa (1800 Vernon Street NW, Suite C, 202-667-1855).
"We consider ourselves a bit of an urban retreat," says owner Angela Spicer, adding that the array of relaxing spa services aren't the only reason clients keep coming back. "People are coming to the neighborhood to socialize."
While socializing may be a benefit, having a facial, a massage, a new hairstyle, or a manicure can be the main show, particularly if you're getting ready for a night out.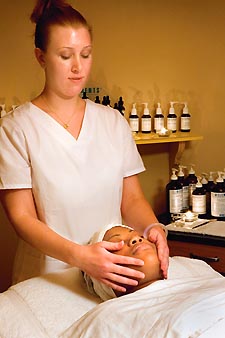 Soothing your face at Synergy
"If it's part of an evening out, we can get you ready," Spicer says.
If you're looking to achieve more inner-calm while giving your body more strength and flexibility, you can find your inspiration at Inspired Yoga (1744 Columbia Road NW, 202-462-1800, www.inspiredyoga.com). You'll also find "more than your normal yoga class," says owner Kyra Sudofsky.
"I feel that the yoga we teach is inspiring," she says. "We want our students to walk out with a message." To that end, the classes have a theme that's pursued along with the Vinyasa yoga focus on breathing and flexibility. Classes have also raised money for non-profits, and recently contributed to the relief effort for Hurricane Katrina.
For those interested in starting now, Inspired Yoga is offering three months of unlimited yoga for $300 — if purchased by Dec. 1.
Even though Adams Morgan offers such a range of options for entertainment, sometimes all you need is your own ears and the right selection of tunes. Especially the hard-to-find — even vinyl — kind. You'll find what you're looking for at Crooked Beat (2318 18th Street NW, 202-483-BEAT), an independent record store that specializes in import CDs and vinyl.
"If we don't have it, we'll try to get it," says Neal Becton, who co-owns the store with Bill Daly. You'll find plenty of punk and indie rock, as well as reggae, world, jazz, soul and hip-hop.
He also takes pride in having a knowledgeable and friendly staff.
"You get a lot of indie stores that have a lot of attitude," he says. "We try to avoid that here."
Whether you're listening to your newfound music in one of Adams Morgan's newfangled condos or a charming town house apartment, the time always comes when something needs fixing or improving — or both! Don't be afraid to tackle those home projects yourself, starting with a visit to Adams Morgan Hardware (2200 18th Street NW, 202-265-3205), where owner Girma Desta has spent nearly 12 years finding ways to give his customers what they need.
"I like to make them happy as much as possible," says Desta, who will special order items that you need. While a small neighborhood store can't offer a super-sized items like drywall and lumber, you can find paint and plenty of other things to make your space your own.
You can take your sense of style to the next level by investing in customized stationery, business cards, invitations and other items that put your best side forward to the world, courtesy of Wendy Melechen and The Printer (1830 Florida Ave., NW, 202-332-3945), a lesbian-owned and operated business in the neighborhood for almost 20 years.
"The neighborhood is thrilled to have me here," Melechen says of her long work with Adams Morgan residents. "And I'm thrilled to be here, so it's mutual."
The Printer itself is a reflection of the neighborhood, she says. "We are very much the flavor of Adams Morgan — down-to-earth, quirky, a little alternative, and gets the job done."