Damn, damn, damn! Is there anything worse than being let down again, done in by too much hype? Depeche Mode lead singer Dave Gahan, after all but calling it quits two years ago, claimed the trio was reenergized. "I might have lost some of my drive in the mid-'90s, but I've got it back," he said in pre-release publicity for the group's 11th studio album, Playing the Angel. Gahan's comments, along with early critical notices about Angel, was cause for hope.
Fueling the anticipation was Angel's wondrous first single, "Precious." With its sentimental and affecting minor-key melody it ranks among the best Martin Gore has ever written. And then there's the loud, penetrating guitar chord that launches the album in "A Pain That I'm Used To," immediately and with conviction trumpeting the long-delayed return of this once-great synth-pop band. Unfortunately, the more you hear of Playing the Angel the fewer reasons you find to rejoice.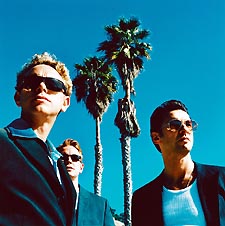 Admittedly, it's the best to come from the studio of Gahan, Gore and Fletcher in more than a decade. It's faster-paced than more recent sets, and features more songs you'll be happy to play over and over again. Notable as well are the contributions from Gahan, who had never written a Mode song before the three he co-authored here. Gahan's "Suffer Well" especially gives the band genuine sparks of intensity harking back to olden times. Typical Mode stark snyths are almost always joined these days by growling guitars, adding a dark, twisted rockish vibe (to decidedly mixed results). The guitars boost "Suffer Well," offering additional commentary to Gore's rolling synths and Gahan's kneading delivery of lyrics that find a new way of saying no pain, no gain. "Just hang on, suffer well," Gahan sings.
But too much suffering and there's no way you can come out of it feeling well. And that's the problem as the album drones on. Gahan's voice grows increasingly grating. And any sign of wellness, any sign of sweetness, and most signs of life are gone by the time we hear the laughably misguided "Damaged People," so amateurish and pallid it sounds like something a parody band might record as farce. "There is no defense/I forget to sense, I'm dying," Gahan upchucks. He's right: there's no defense for this.
The album's title comes from a key lyric in the tolling final track, "The Darkest Star," in which Gahan sings a paean to the devil's companion. It's a suitable title, describing an album that only offers glimmers of joy but no joy itself, one that is at its best a messenger of mere earthly delights.
Did Bathhouse Bette ever sing "Fever?" "Everybody's got the fever, that is something you all know," Bette Midler croons on her new cover of the Peggy Lee classic. She could have naturally sung it in the very same way, with a knowing wink, to the gay New York bathhouse denizens who took time out from feverish frolicking to listen to her. They helped launch her career and that of her accompanist, Barry Manilow. Now, nearly 35 years later, you could almost say they've set out to return the favor.
With Bette Midler Sings the Peggy Lee Songbook Midler and Manilow have released a whole grab bag of Lee covers perfectly pegged for today's showtunes-and-pop-standards-loving gay audience. Midler is a tad bit too conservative in reviving these songs, never straying too far from Lee's originals. She and Manilow obviously didn't feel as free or as inspired to toy with these songs as they did two years ago when they first regrouped to cover the Rosemary Clooney songbook.
Nonetheless, Midler and Manilow are in top form as they swing through the Lee treasures, including deliciously titled classics such as "He's A Tramp," "Happiness Is A Thing Called Joe" and "Is That All There Is?" Midler injects tantalizing dollops of her irrepressible personality throughout, but nowhere more so than on "I'm A Woman." Like Lee before her, Midler is not a woman afraid of a challenge — she has fun chewing through "Woman's" saucy lyrics. And while he may only be a man, Manilow more than keeps up with her. He responds to her chauvinistic vocal taunts by drawing out the song's bluesy, ballsy swagger, most prominent in the familiar riff from the Hammond organ.
It's enough to give a drag queen inspiration for days.