It may have been six months in the making, but the Greater Washington, D.C., STD Community Coalition finally got the chance to honor D.C. Allen for his efforts in fighting syphilis among the city's gay male population.
"They tried to do it as a surprise, and I wasn't able to attend," Allen says with a laugh, explaining that a family emergency kept him from his own award ceremony in April. That also explains why the plaque, handed to Allen at a Nov. 18 luncheon downtown, is inscribed with an April date marking the occasion.
Just what did Allen do to earn the special accolade? In a nutshell, he spent thousands of dollars on an anti-syphilis ad campaign, as well as opening up his venue, the Crew Club at 1321 14th St. NW, to syphilis screeners from the D.C. Department of Health. The formula of more than $40,000 in print materials during the past year, along with the screenings in a club boasting a gym, sauna and lounges with plenty of towel-clad gay men, was a success.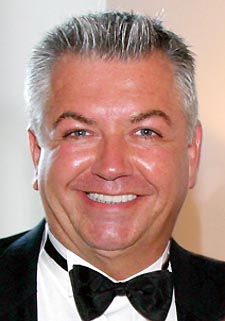 D.C. Allen
(Photo by Henry Linser)
"This is exactly the thing that will enable success in the city," said Dr. Greg A. Pane, director of the D.C. Dept. of Health, speaking to the gathering of about 30 people, including local students getting an educational, first-hand look at peer health promotion. "[Allen] is stepping up to the plate, putting his money where his mouth is…. I think he made a significant difference in getting the word out to MSM [men who have sex with men]."
Pane presented the plaque to Allen as "a small token of our appreciation…for unparalleled efforts."
Allen accepted the award, acknowledging that Dr. B.W. Furness, a syphilis researcher working with the Centers for Disease Control and Prevention as well as the D.C. Department of Health's STD Control Program, told him that Allen's efforts coincided with a drop in the local MSM syphilis rate.
After thanking his staff and others, Allen turned his attention to the assembled students, imparting his words of wisdom: "Never put up with a bully. Whether that bully is syphilis or someone who wants to hurt you — it doesn't matter who it is. Never put up with a bully. I saw this disease as a bully in our community."
Speaking by phone from Florida earlier this week, Allen said he'd previously tried to offer his venue, a popular alcohol-free club for gay men, as an ally in D.C.'s battle with STDs.
"I approached different agencies in the past to do it, but because syphilis rates were so low, it wasn't necessary," said Allen, explaining that today's rates may be higher than at other times, but still remain within the norm. What this award marks, Allen explained, is not courage in the battle against a powerful enemy, but rather allies efficiently marshalling their resources to head off a threat before it becomes serious.
"It just goes to prove that, No. 1, you attack a problem immediately, as soon as it shows up. And No. 2, you spend your money correctly, so that the effect can be seen and measured," said Allen. "[Syphilis] rears its head every so often and it just needs to be handled immediately. As a private businessman, I'm able to act quickly and efficiently — hopefully without having to respond to any government processes…. And [D.C. Dept. of Health] staff came in and were unbelievably professional and unbelievably efficient and charming. They just went above and beyond…. Every gym should have [syphilis screening]. It would probably nip this in the bud. Put it in other gay gyms in town and you would get rid of it immediately."
Accordingly, though Allen says he can no longer afford to sponsor the anti-syphilis ad campaign, having already postponed some Crew Club renovations in order to fund those advertisements, his venue will continue to offer syphilis screening during peak hours for as long as the health department would like.
Latest CDC data for D.C. shows that 9.5 percent of MSM screened for syphilis in 2004 tested positive, up from 6.9 percent in 2003. Still, the actual number of all cases in D.C. would be measured in the tens, rather than hundreds, according to the CDC. Further, Dr. Philippe Chiliade, medical director of the Whitman-Walker Clinic — a primary source for CDC data on D.C.'s MSM population — reports that he's seen the figures already dropping for 2005.
For more information on the D.C. Department of Health STD Control Program, visit them online at http://doh.dc.gov/doh, or phone the city's STD clinic at 202-698-4050. Screening is also available through Whitman-Walker Clinic, www.wwc.org, or 202-745-6112.