The problem with Walk the Line, the new biopic opening on Friday about the life of country music legend Johnny Cash, isn't Joaquin Phoenix — who, simply put, astonishes as the man in black — or the production itself, which is as slickly made and polished as any major motion picture. No, the problem with Walk the Line is that Cash's life — or at least the portion of it portrayed on screen — ain't all that interesting.
While it's true he grappled with drug addiction — a plight shared by so many a superstar musician, it's virtually a rite of passage — and the movie delves deeply and frankly into this aspect of his life, Walk the Line is mostly about Cash's obsessive romantic pursuit of June Carter (Reese Witherspoon, in a luminous — and brunette — turn). When June finally agrees to marry Johnny in James Mangold's slightly exhausting two-hour, fifteen-minute flim, we know it signifies the movie's end. It has nowhere else to go.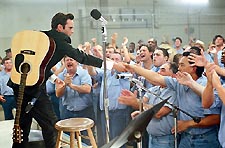 Prison break: Phoenix
Walk the Line will no doubt appeal to Cash's legion of fans. It's got an auto-audience primed to devour it whole. As for the rest of us, there's not much here to chew on.
That's not to say there isn't anything to enjoy, however. Phoenix, for one, gives a transformational performance, proving not only that he can act up a storm when provided the right material, but he can sing as well. His channeling of Cash's lower register warble is flat-out jaw-dropping. Witherspoon performs her own vocals as well, but her voice is actually sweeter than June Carter's, lacking that scratchy country twang. It would have been easy for both to lip sync to the original material, but the fact that they get up to the mike and sing for themselves lends the movie a strong sense of authenticity. Mangold's direction of the live concert sequences are brilliantly executed — he pushes his camera in tight on the performers, creating a powerfully intimate atmosphere. In these moments of song — some recognizable hits, others more obscure — Walk the Line peaks.
The intervening dramatic moments don't fare as well — especially those involving Cash and his stern, disapproving father Ray (stiffly played by Robert Patrick). We are constantly informed that the young John Cash was a bad seed — especially when compared to his saintly brother Jack, who was killed in a tragic accident at an early age — but we don't really see why Johnny is thought of that way. He doesn't seem like all a bad guy — and it could be argued that his shrill, ungrateful first wife would drive any musician into the arms of groupies. About the worst that can be said for Cash is that he's the silent type.
Luckily, that silence doesn't carry over into his songs.
---
Much advance fuss has been made over Kiss Kiss Bang Bang, a pulp-derived comic-thriller from Shane Black, best known as the author of the Lethal Weapon series. In his first foray into directing, Black has created a loopy, convoluted black comedy in which the body count piles up quickly and the characters shoot irreverent wit from their mouths as often as they shoot their guns.
Robert Downey, Jr. plays a petty East Coast thief who, escaping from the police, stumbles into a movie audition and lands a Hollywood screen test. To prepare him for his role, he's tutored by a genuine P.I., Perry (Val Kilmer), who is as hard-boiled as he is, well, gay. The mismatched pair are caught up in a mystery that both tweaks and pays homage to pulp conventions.
Kiss Kiss Bang Bang doesn't make much sense, which is fine, since that doesn't seem to be part of Black's overall plan. What his plan is, however, remains pretty much a mystery. Black is so determined to break down the "fourth wall," he loses sight of all reality. His film is too gimmicky for its own good.
Kilmer and Downey keep the project aloft with miraculous comeback performances. Kilmer plays Perry not with stereotypical flamboyancy, but a dry, crackling irony, making his every line of dialogue a winner. And Downey proves he can create a depth-filled character from sand. And he's a absolute master at the sidelong, exasperated glance. Despite Downey's personal problems, he's always been one of our finest actors. And in Kiss Kiss Bang Bang, it shows. Boy, does it show.