Syphilis infection rates are apparently on the rise in the U.S. On Nov. 8, the Atlanta-based Centers for Disease Control and Prevention (CDC) released the latest data on sexually transmitted diseases (STDs), tracking chlamydia, gonorrhea and syphilis through 2004. The study also included some related HIV figures.
The CDC offered a few main points: In 2004, national gonorrhea rates reached an "all-time low." Chlamydia rates have increased, though that may simply mean more people are being screened for it. And returning from an all-time low in 2000, syphilis infection rates have continued to rise in subsequent years. The syphilis-related bad news has been dropped at the feet of the MSM (men who have sex with men) community.
"CDC analysis suggest that approximately 64 percent of all adult [primary and secondary] syphilis cases in 2004 were among men who have sex with men, up from an estimated 5 percent in 1999," the study reads, in part.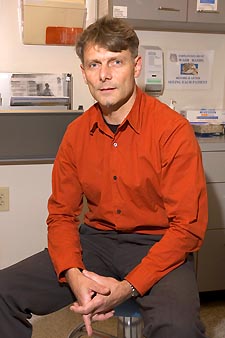 Dr. Philippe Chiliade
(Photo by Todd Franson)
Before anyone runs into gay bars pointing and screaming "Unclean," however, Whitman-Walker Clinic's medical director, Dr. Philippe Chiliade, offers some analysis of his own.
"From 1999 to 2003, we've seen the number of [national] syphilis cases dropping," he says. "The rapid rise in gay men comes when the rate in the general population is going down." In other words, the syphilis infection rate among MSM has remained relatively stable, leaving this population to constitute a greater proportion of all cases as the infection rate drops among the general population.
The CDC data for MSM in D.C., collected largely via WWC says Chiliade, shows an increase of screened clients testing positive for syphilis. In 2000, 3.4 percent of screened clients tested positive for syphilis in 2000. That figure is followed by 4.4 percent of MSM screened clients in '01, 5.9 percent in '02, 6.9 percent in '03, and 9.5 percent in '04. In and of themselves, those still are not alarming figures, says Chiliade.
"It looks like things are starting to improve this year," he says, pointing to WWC data from the first few months of 2005 that bring the syphilis infection rate back to around 5 percent. "Syphilis numbers seem to be improving in a few of the large cities. We hope that trend will continue…. Some cities — Las Vegas, for example — may be having new outbreaks. But overall, in the big cities with lots of gay men, there seems to be improvement [in 2005]. I think we've made big improvement about educating men."
The CDC data for syphilis infection rates among MSM put Washington in the bottom third of the nine cities from which figures were presented. Houston and Long Beach, Calif., tied for the highest infection rate at 14 percent, followed by Philadelphia (13 percent), San Francisco (10.8 percent), New York (10.6 percent) and Chicago (9.7 percent). The cities with lower infection rates than D.C.'s 9.5 percent were Seattle (7 percent) and Denver (5.7 percent).
"When you look at the number of syphilis cases, especially since the '80s, it has gone down dramatically," says Chiliade. "I think the CDC's concern is that it could spread among bisexual men and then women. I think the CDC would like to ensure that gay men get screened for syphilis. They've made a lot of effort to collaborate with us."
But while the CDC is charged with protecting the health of the general U.S. population, Chiliade and WWC have their own obligation to D.C.'s gay community. Accordingly, Chiliade, who says there is nothing contained within the CDC's 2004 STD survey that comes as a surprise, has his own priorities.
"An area for us of major concern is we have very limited data on rectal infection," he says, noting that WWC was approved earlier this month to by the Food and Drug Administration to perform nucleic acid amplification tests (NAAT), which can detect rectal chlamydia and gonorrhea infections. "Up to 80 percent of rectal infections may be asymptomatic. The other major concern of rectal gonorrhea or rectal chlamydia is that that they can make it much easier for a person to become infected with HIV. And if a person already has HIV, rectal chlamydia or rectal gonorrhea makes him much more capable of transmitting HIV to an insertive partner."
And as far as statistics go, Chiliade appears to worry far less about the CDC's new figures than about already known figures, such as HIV rates among young African Americans in the MSM community in hard-hit cities like Washington and Baltimore. "The big difficulty is to engage very young people," he says. "We know that young people are sexually active, and we need to do everything we can to protect them. I think very young men don't understand the importance of getting screened [for both STDs and HIV].
While the CDC and WWC may not have the same priorities, the CDC says it will soon be refining its National Plan to Eliminate Syphilis to include the MSM community. This community has not been considered in the plan since its inception in 1999, as syphilis data from the MSM community had not previously alarmed crafters of the CDC plan, says a CDC spokesperson.
Though the CDC may now have to give added scrutiny to the MSM community when it comes to eliminating syphilis, Chiliade concludes that this new data should not increase local alarm, already attuned to HIV.
"The gay men we screen here at the clinic — in 2004, it was 8 percent with syphilis. But that number has already decreased close to 5 percent," he reasons. "The reality, in my mind, is that sex is part of a healthy lifestyle…. I don't think that should be vilified. It's a question of what precautions you take not to get infected, and not to infect others. Have sex in a rational, controlled fashion."
The CDC's 2004 STD surveillance report is available online at www.cdc.gov/std/stats/toc2004.htm.