Mr. D.C. Eagle 2005, Scott Jones, came to the end of his title run Saturday, Nov. 19. That evening, judges selected Bennett Long to succeed Jones as Mr. D.C. Eagle 2006.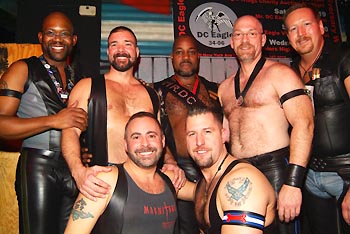 More pictures from the Mr. DC Eagle Contest
Jones was not the only new addition at the evening's event, which drew a full house to the second floor of the D.C. Eagle at 639 New York Ave. NW. The other newcomer was the President's Award. This new annual award is designed to honor a president of a Baltimore-Washington leather club that has supported the D.C. Eagle. Neil Alexander, past president of the Highwaymen TNT, was chosen as the first recipient.
D.C. Eagle management also chose two recipients for the bar's 2005 "Friend of the Eagle" awards. One went to Frank Nowicki, Mr. Mid-Atlantic Leather 1993 and stalwart member of the leather community. The other went to Randy Shulman, publisher of Metro Weekly, for supportive coverage of the leather community in his magazine.