The District government exercised its eminent domain powers Oct. 25, filing a legal claim to properties in the area of the proposed Southeast baseball stadium for the Washington Nationals, as reported by the Washington Post the following day. The filing initiates a process that will leave affected business with 90 days to vacate.
Bob Siegel, an ANC commissioner, owns a large complex along O Street SE that sits in the proposed stadium's footprint. And as the city wants baseball in, it wants Siegel out. Siegel, who owns the Glorious Health and Amusements, a gay-oriented, adult cinema and shop in the complex, does not want to go. Along with the threat to his own business comes the threat to other gay-oriented, adult businesses of which Siegel is landlord: The Follies Theatre, Heat, Secrets and Ziegfeld's, which combined offer male nude dancers, bars, drag shows, and an adult theater. Siegel also maintains a private residence for himself within the complex.
"It's my livelihood, my home, my commission. I don't want to start all over again," Siegel told Metro Weekly Oct. 26. "There's an arcane rule that says that if the businesses move, they can't be within 300 feet of each other. That rule needs to be addressed and revised at the insistence of the mayor and the City Council if they want us to move.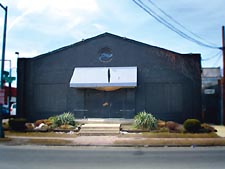 Ziegfeld's nightclub in Southeast DC
(Photo by Todd Franson)
"These are my tenants. We work well together. [The O Street corridor] is a strong area of town. I feel upset reading today's [Washington Post] article that we have to move within 90 days."
Siegel says that he has a Nov. 30 court date set to fight the city. If forced to move, however, he says the city's offer of compensation falls short of what he considers fair.
Siegel is trying to cover his bases, however, looking for a new location for Glorious Health and Amusements. He declined to give details, beyond noting a warehouse on West Virginia Avenue NE that may suit his needs.
"I really am very hopeful," Siegel says. "The building I'm looking at is 20-times larger than the existing area. It's room enough for all of the adult amusements. Maybe I will have my Gay Disneyland…. I believe that Glorious Health Club (sic) could relocate to any part of the city. It's just my tenants with the liquor licenses who will be having a problem."
Allen Carroll co-owns the Ziegfeld's/Secrets enterprise with Chris Jansen. The business features female impersonators in one half of the nightclub, nude male dancers in the other, with liquor in both halves. But despite the double-whammy of alcohol and nudity, Carroll says he does not expect any trouble from the city if forced to relocate.
"We're looking for a new place. We've got a couple places in mind," says Carroll, declining to elaborate, and guessing that any forced relocation won't be executed till March or April at the earliest. "I want to stay close. We need to stay near the highway….
"They — the City Council — they're going to be lenient with my license. I see no problem with that. If we had the police down there all the time it might be different, but we've been good with the police…. I won't pick an area unless everything goes as is, but who wants to go out this way — being put out?"
Rick Rindskopf, manager of the Follies Theatre, has no liquor license. Still, he imagines a more difficult time than Carroll in finding a new location for the Follies.
"There is a limited amount of the city zoned for where we can relocate," says Rindskopf of the district's industrial zones that permit sexually oriented businesses. "When we know exactly what we're going to do, we'll let everybody know. At this point, all that we do is fuel speculation, and I don't want to do that."
Such speculation, says Carroll, has given some the impression that the gay-related adult entertainment that has for years flavored the area of the district now sought by American League Baseball will soon be a thing of the past. Not true, Carroll insists.
"People think we're closing tomorrow, not going to a new place," he says. "But Chris and I have been working on it…. We're going to try to stay in the same area, but if we can't, we can't. But we plan to stay in business. We've been doing this for 30 years. It's all we do."
Siegel says that if forced to move, he hopes some corner of district government will support a collective move of all the O Street businesses, despite current regulations.
"I've gotten nothing but promises and smiles," Siegel says. "I do know that Marion Barry is definitely batting for me. But next week I'll be knocking on doors. I hope one of the City Council members has the balls — or tits — to demand and insist on putting something else on the table, especially those that are running for mayor."
Siegel is eager to appeal directly to the community, as he's quick to admit that sometimes you can't fight City Hall. At least not by himself.
"I want to connect with people who will support me," he says. "I need to know that people who want to help me will help rally with me, so that if there is any problem with zoning, the gay community is 100 percent backing me up. A lot of people think that I'm a very independent type person, but I really need their help."
Bob Siegel asks that supporters of his adult-oriented businesses contact him at legeis1@verizon.net.