It isn't so much Eartha Kitt's sultry version of "Lazy Afternoon" that should have inspired S.M. Shephard-Massat to pen Starving, but the aching lyrics of Billie Holiday's "God Bless the Child." After all, Holiday's tune was recorded in early 1950 — just one month shy of Shephard-Massat's Easter Sunday in Atlanta — and the thin opening lines that seep through Billie's ruby lips depict everything that Starving earnestly attempts to recall: "Them that's got shall get/Them that's not shall lose/So the Bible said and it still is news/Mama may have, Papa may have/But God bless the child that's got his own."
Indeed, Starving's two-story urban dwelling is filled to the rafters with those that "got." These are "them," African Americans who have lived through segregation in the South, and they're far too busy trying to maintain their status as upright citizens of the city's "upscale Negro population" to bother curbing their increasing appetites. Hungry for justice, for stability, for new ways to forget the old, these are the weary, friendly faces of 1950s black America, barely surviving underneath all of their snazzy suits and dainty dresses.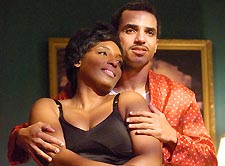 Starving Newleyweds: Ursula & Nicholas
(Photo by Stan Barouh)
With names like Dolsiss Coolbroth and Archer Way, they are the denizens of a tiny neighborhood that recalls the poetry of Langston Hughes and the prose of Toni Morrison. Lovely, intriguing, whole characters who resemble the kind of neighbors you're eager to get to know, each one hides a painful past with a steady coolness that is barely warmed over by evening's end. There's the motor-mouth Miss Freida and her easy-going hubby Felix upstairs, English teacher Rosetta across the hall, newlyweds Bettie and Meeker downstairs, and aspiring farmer Archie cooped up alone in his bachelor pad. Their lives are examined, for better or for worse, in a drama that is honest and often nostalgic, but not entirely effective.
Oh, it has the right look, the right cast, even the right feel for Georgia in the springtime, and while it's not exactly emaciated, the play itself is starving from a lack of purpose and aim. There are moments when Shephard-Massat's script aspires to be as rich as an August Wilson epic, and it only narrowly misses its mark. The problem is that the half-hearted resolution is anti-climactic, leaving her story hoarse from all bark and no bite.
Starving
To Dec. 18
Woolly Mammoth
202-393-3939

Starving is a bit of a departure from Woolly's usual daredevil offerings, but they have mounted their world premiere with smart staging by Seret Scott upon a wonderfully stylish set by Daniel Ettinger featuring intelligent lighting from Dan Covey. Lizan Mitchell is the highlight of the evening with her sparkling performance as the meddling mother hen of the place, while Doug Brown counters her playful banter alongside the spirited Michael Anthony Williams. The rest of the ensemble is "as decent as daytime" (as Miss Freida likes to claim), with Dawn Ursula's steely Rosetta and Bethany Butler's high-as-a-kite Dolsiss, and Craig Wallace offers a refreshing turn in a role that requires the kind of bashful charm his characters rarely project.
Wallace's understated gardener and Mitchell's nosy rosy are among the redeeming and even admirable elements in Shephard-Massat's story of a community struggling to shape its own identity, but overall, Starving remains a toothless tribute to a hard-working generation that made the civil rights movement more than a mere possibility.
---
For the record, I believe Judge Judy said it best: "Don't pee on my leg and tell me it's raining." Her sentiments best express how I felt after sitting through the shameless cash cow that is Cuttin' Up.
Cuttin' Up
To Jan. 1, 2006
Arena Stage
202-488-3300

Following the success of their perennial money machine Crowns, based on Craig Marberry's book Crowns: Portraits of Black Women in Church Hats, Arena Stage crafted a new way to bank on that franchise with Marberry's latest tome, Cuttin' Up: Wit and Wisdom from Black Barber Shops. Never mind there wasn't a solid story there to be told, never mind that at all. Just throw in a few chuckles here and there with the promise of musical interludes now and then and that will be enough to distract a house full of patrons from the realization that what they're being presented with isn't exactly theatre — it's two and a half hours of undercooked, overstaged backwash.
Of course, Charles Randolph-Wright wouldn't be credited with developing and directing his script if audiences weren't already lined up to drink it all in. And his production is technically faultless, with its majestically detailed set by Shaun L. Motley and incredible parade of wigs from Jon Aitchison. But there was some serious "cuttin' up" at Arena when it came time to hand over a script loosely based on the fraternal bonds formed in black barber shop culture. With the fictitious Howard's Barber Shop in D.C. serving as the "final black frontier," Randolph-Wright created a quaint, nostalgic scene of black history as recalled in our nation's capital.
Sure, there's the aging Howard (Ed Wheeler), anxious to pass on the legacy of his shop to the brooding Andre (Peter Jay Fernandez), a roaming barber with no roots of his own, and the rookie of the three is Rudy (Psalmayene 24), a surprisingly tame young buck with aspirations all of his own. That's it, that's the story. Now weave in some arbitrary staging of lame and inexplicable monologues apropos of nothing and entirely unrelated to Howard's narrative — gushing on like bad run-on sentences through stories and anecdotes and quips and quotes and memories and tales — and that's what makes Cuttin' Up so sporadic and so slow. With the exception of a few colorful characters portrayed by Carl Cofield and Duane Boutté, Cuttin' Up is the equivalent of a long, boring beauty pageant.
---
While the folks at Arena settle into their barber chairs for a lesson in black "hairtage," Round House Theatre visits the marsh with the bouncy musical treat A Year with Frog and Toad. Surprisingly, this musical comedy has it all: brilliant song and dance numbers set to a catchy ragtime score, a round of gleeful performances outfitted in evocative costumes, and a great big heart beating at its core.
A Year with Frog and Toad
To Dec. 18
240-644-1100

Based on the whimsical children's books by Arnold Lobel, the show reenacts all of the sweet, swampy adventures of Frog and his miserly friend Toad. So while kids can eat up all of the magical scenery fashioned from a stain-glassed Tiffany lamp, adults understand that there's always plenty of gay-ity in Frog and Toad's neck of the woods. Whether it's Toad performing an "interpretive dance" or Lizard strutting on the scene in his black studded leather (perfect for a night of cruising at the Eagle), Frog and Toad know the ins and outs of life in the marsh, from top to bottom.
Will Gartshore and Steve Tipton make up the amphibiously gay duo, and Gartshore, fresh from his spectacular turn as Bobby Strong in Signature Theatre's Urinetown, glides across the stage while his silky reed of a tenor floats out above the audience. Erin Driscoll and Sherri L. Edelen offer loopy comic support, and Bobby Smith nearly steals the show as the snail "coming out" of his "shell."
From baking cookies to raking each other's fallen leaves and feuding over a teensy-tiny ice sledding incident, Frog and Toad remain the very best of friends. Their relationship is more Will and Jack than Oscar and Felix. As Will would describe it: "Tears, drama, finger-pointing, hair-pulling, we're done."