The self-referential, Charlie Kaufman-esque twist to The Dying Gaul, opening Friday at Landmark's E Street Cinema, is the somewhat astounding fact that the movie was ever made in the first place. Ten years ago, Craig Lucas wrote a play about a screenwriter trying to sell his script about his AIDS-stricken lover to an unsympathetic, profit-focused Hollywood studio. He wrote this as his own longtime lover was dying of the same disease, never once imagining that his play could ever become a film — indeed, the fact that it couldn't is exactly what the play was about.
How things have changed. Ten years later, Lucas had just returned from being fired from a project in Seattle when he got a call from George VanBuskirk of independent maven Holedigger Studios. VanBuskirk had come across Lucas's play via Jen Garvey-Blackwell of the Vineyard Theatre (her brother Marty is a Holedigger investor) and asked Lucas if he wanted to try writing it as a screenplay — on spec.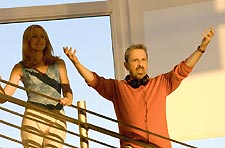 Lucas directing (with Clarkson in background)
Lucas, demoralized from his recent termination, thought, "Oh, fuck it," and wrote it for VanBuskirk, who promptly offered to buy it and make Lucas director. "I'd never directed a movie," says Lucas, "and suddenly I was casting in Hollywood and living in this lovely home in Venice Beach and meeting with cinematographers. I figured, this is an exercise in futility, but at least I'm getting some time in the sun."
Art house favorites Campbell Scott, Peter Sarsgaard, and the more recent comer, Patricia Clarkson, whose hat trick at Sundance in 2003 anointed her the "indie queen" with critics, signed on to the project, and Lucas found himself conducting the organized mayhem of a major independent picture with no experience but plenty of energy, making "400 decisions a day." He says this kind of manic behavior suits him just fine. "I pace from room to room in my home," he explains. "Sometimes, if the weather is nice, I circle the house."
The story, while not strictly autobiographical, naturally draws from Lucas's past experiences, such as the scenes where Sarsgaard's grieving character seeks solace in Internet chat rooms. After Lucas lost his partner in 1995, he did the same thing, and found that talking to people in chat rooms offered the emotional objectivity he needed. "I'd call my father and say, 'Dad, today's the six-month anniversary of my lover's death,' and my dad would say, 'Don't be a crybaby! Put it behind you!' When you're grieving, people who know you just want to fix it, they want to deny it. But if you're talking to complete strangers, they don't care if you say you're going to go burn yourself in the street like a Buddhist monk. You can tell them everything."
Lucas, who was abandoned as a child at birth (the father he speaks of is his adoptive father, a former FBI agent whose job it was to "arrest people for being homosexuals"), knows a bit about those who don't understand grieving. In the '80s, he says movie producers would occasionally ask him what he'd like to make a film about.
"I'd say, 'Well, I really want to make a movie about people with AIDS,' and they'd say, 'Oh, great, that would be great! Now what would be your second choice?"'