The Andean spine of South America is creeping its way northward into Adams Morgan. Under the flag of "Toro Mata," this Peruvian outpost offers unique wares not readily found in the Northern Hemisphere.
"Over the past six years, we've traveled extensively throughout Peru to find the best artists and artisans," says Jim Nixon, who owns Toro Mata (2410 18th Street NW, 202-232-3890) with Hector Zarate, a Peruvian. "Nationwide, I only know of a handful of places specializing in Peruvian art. Of them, very few go higher end. We strive to carry the finer, hand-crafted furnishings and artwork. You won't find any plastic or mass-produced goods anywhere in our store."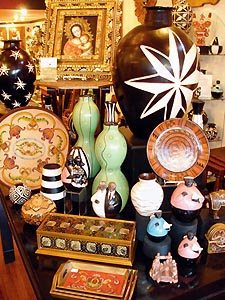 What you will find is striking black-and-white Chulucanas pottery from the eponymous village in northern Peru. Mirrors of all sizes with intricately carved wooden frames, painted in dazzling patterns, fill the walls of the gallery. Plush Alpaca throws rest upstairs, as a comforting sign explains the pelts come from Alpacas dead of old age. That's just a hint of the vast inventory Nixon and Zarate have on offer at Toro Mata, an upscale turn from their long-running spot at Eastern Market. The new location — and protection from the elements — have allowed them to stock the best Peru has to offer.
"Peru is very much a melting pot," Nixon observes, pointing to the myriad cultures that have left their mark on Peruvian culture. "The style is anchored in Incan and pre-Incan Empire, and Spanish colonialism. But there are all these other influences, from the Amazon to Africa. There is German and Japanese. It's very solid, warm and traditional."
Though Peru is the rule at Toro Mata, the rest of the world offers exceptions as Nixon and Zarate feature guest artists. Currently on offer are figures carved from olive wood by Deab Badah of Bethlehem, in the West Bank.
"Whether they're local or from another part of the world, we occasionally have guest artists," says Nixon, explaining that shoppers may always expect a surprise of some sort at Toro Mata.
What they can't count on, however, is a definitive definition of the shop's name. "'Toro Mata' means literally to kill the bull, like in bullfighting," says Nixon. He adds that Zarate chose the name, as the phrase has taken on a much deeper, far less definitive definition, simply equating to something purely Peruvian. "Any Peruvian will immediately recognize the phrase 'toro mata' and appreciate it. It describes the spirit of the people."
Exactly how it describes that spirit, Nixon can't say. But he can, with a laugh, offer the perfect analogy: "It's like America and 'Yankee Doodle Dandy.' Who the hell could translate that?"