Could Madonna's latest studio album, Confessions on a Dance Floor, be her swansong to music-making? It's hard to imagine, and she also hasn't said as much, of course. She simply told Billboard in a recent interview that for her future she's interested in directing films, which she said is far more challenging than making music. But if she were to plan her retirement from recording, she couldn't do much better than to create an album that neatly summarizes and synthesizes the highlights of her two-decades-plus recording career while capturing the most cutting-edge sound in pop music today.
All throughout Confessions on a Dance Floor you hear samples and slightly disguised references to her past hits. There's "Get Together," which samples from the late '90s dance hit "Music Sounds Better With You" by Stardust, which itself sampled Madonna's "Holiday." And you also hear samples or nods to her influences, from ABBA on the catchy first single "Hung Up" to Donna Summer and her producer Giorgio Moroder on "Future Lovers." There's even the Jackson 5, once removed, on the dazzling "Sorry."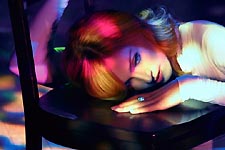 I, confess: Madonna
The album is Madonna's most focused since 1998's Ray of Light, and it reads like a love letter to gay clubland in particular. Though there is diversity in tempo, Confessions On a Dance Floor plays like a 60-minute DJ set. Its 12 ballad-free tracks, dizzyingly and densely layered with electronic instrumentation and hyper-charged beats more typical of dance compilations than a pop artist album, can be (and have been) played without need for a remix at a dancefloor near you. That was her intention, she told Billboard, and it's hard to imagine another gay clubland diva doing the same.
That may hurt her sales in America, since dance music is still at significant remove from the pop charts at the moment. And some of the weakest and most cliché-ridden lyrics she's ever put to music may hurt her sales as well, possibly even in Europe. That's especially true when word gets out about the lyrics to "I Love New York," one of her most cynical and unimaginative tracks ever, with one disingenuous line after another. Besides trashing her current home of London, as well as her sometime residence Los Angeles, she professes "I don't like cities, but I like New York," later offering a taunt to Texas that would get her laughed off any childhood playground: "If you don't like my attitude, then you can 'f' off/Just go to Texas, isn't that where they go?" (Madonna, you do realize that not only are you a city mouse yourself, but your well-cultivated fan base is chiefly too, right? Many of them even happily reside in London and Los Angeles and Houston and Dallas.)
But damn, the music is just so fantastic. Although Mirwais Ahmadzai resurfaces to offer the psychedelic standout "Future Lovers," the real credit for the album's astounding sonic success goes to London-based DJ Stuart Price, also known under the pseudonym Jacques Lu Cont. His signature retro-futuristic pop sound, with slightly abrasive but sweet rock 'n' roll-colored sound, is in full effect here.
Thanks to Price's guiding hand at the music boards, it's actually quite possible this won't hurt her sales at all, and Madonna will reap commercial success the likes of which she hasn't seen in years. You can't help but think of Confessions on a Dance Floor as an apology of sorts for her hard-to-dance-to and even harder-to-tolerate American Life flop of 2003. She's not nearly as caustic or as preachy, and for a change she generally finds ways of making statements about life without beating you over the head.
The album's high water mark is its second-to-last track, "Push," dedicated to the people in her life who have in some way helped shape her. That includes, allegedly, her first dance instructor, who took her to her first gay club. And also Sting, whointroduced her to husband Guy Ritchie. "Push" subtly references the Police's "Every Breath You Take," and its Eastern-inspired sound bucks and sways: "You push me, when I think I know it all/You push me, when I stumble and I fall."
And just like that, all is forgiven: With Confessions on a Dance Floor, Madonna moves beyond her more recent stumbles in such a way that you'll probably fall for her — or at least her music — all over again.