She's the delicious demon of a character everyone loves to hate, most especially gay men. Think Tori Spelling as Sally Bowles, Norma Desmond as Holly Golightly, Joan Crawford as Cruella De Vil. Swirling in a fantasia of femininity and vulnerability, she's tragic and tempestuous, lonely and lascivious, scandalous and sublime.
Meet Alexa Vere de Vere, "a mixture of every woman you've ever loved in a movie."
The cold and cunning queen bee buzzing diligently in the hive of Douglas Carter Beane's As Bees in Honey Drown, Alexa is ultimately little more than a mistress of grand illusion. And who doesn't love a grand illusion? Well, for starters, there's Evan Wyler, a hot, young — and gay — writer who falls into the honeycomb lair of Miss Vere de Vere, shortly after his topless photo is published in a prime magazine in 1995 New York. In an age just before the dawn of celebrity nothings like the posh Paris Hiltons and Nicole Richies — those bony, blonde club darlings who reap the rewards of "fame without achievement" — Alexa has enlisted Evan to pen a biographical screenplay of her life story.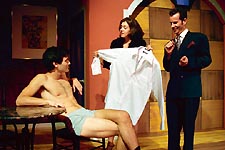 Sticky situation: Zox, Ginsburg and Browning.
(Photo by Vincent Worthington )
Intrigued by Alexa's fearless flirting and outrageous drama, it isn't long before Evan is rushed off to A-list parties and blinded by his own ambition. Who cares if there isn't an ounce of truth in Alexa's self-centered world of make-believe? She's fashionable, influential and rich. How could Evan resist such a fortuitous offer?
And so the story goes, a flippant little tale of how the bee stings and who ends up with the honey. Only this time, Beane (whose most memorable work is the screenplay for To Wong Foo, Thanks for Everything, Julie Newmar) adds a dynamic new twist to the lowly grifter and the unwitting pawn with a super-glam fag hag who takes advantage of ambitious gay men.
It's an interesting premise, the idea of a woman who culls her identity from Breakfast at Tiffany's and other movie theater queens, just to scam gay men out of a buck or 20,000. With Evan, Alexa imagines the sort of relationship between writer and subject as an innocent Sally Bowles seducing Clifford Bradshaw. Little does she realize that her naïve novelist will not fade quietly into the night.
Vincent Worthington's linear production taps into a guerilla form of artistry almost in spite of itself. Just like its crafty antagonist, the set for Bees (as designed by Gerald Browning, a virtuoso supporting actor in the cast as well) is comprised of an eclectic, worn mix of furniture and props that emit the kind of artificial, stale quality of a drag queen after curtain call.
With fictitious superstars and artists aplenty, Beane's script eventually leads to Alexa's first love, a gay painter whose prized piece is a golden canvas splashed in angry color. Trumpet Vine commissioned original artwork from Chilean artist Joan Belmar, and his lively work serves as the centerpiece of the set, framing the story with rich symbolism and a sense of mythic reality.
As Bees in Honey Drown
To Dec. 3
Trumpet Vine
$18-$20
703-912-1649

That mythic reality is almost quenched by the miscasting of Kari Ginsburg as Alexa. She's supposed to conjure up striking images of old Hollywood and martini Midtown, but Ginsburg is hardly a gay icon with her obnoxious music theater persona and loud, brash portrayal of all things glam. She's more of a teenage Babs than a sassy Bette, and she hasn't quite mastered listening to the other actors on stage. It's frustrating to hear her barrel over juicy comic bits. Andrew Zox, as her chosen love interest, is often overwhelmed by her verbal steamrolling.
Bees finally begins to hum after a sluggish first act with a second half that is compelling by comparison. Beane invites the notion that a con artist is still an artist, and Worthington illustrates his point with glimmering montages to remind us how easy it is to drown in hopeful folly. When Alexa Vere de Vere's past is finally revealed, it may help explain why Ginsburg's performance lacks depth and sparkle, rendering Worthington's production a stinging lesson in sweet, sweet irony.
---
While Bees creates buzz at Trumpet Vine, Signature travels down to a magical island where Quiara Alegría Hudes weaves a strange and bittersweet story of a young boy's journey from his small village to the big city and beyond. A Caribbean dream of a play, Yemaya's Belly is filled with the same kind of lush poetry and enormous imagination that Washington audiences danced with in Sarah Ruhl's works earlier this year.
"Rituals are the moments when words would only get in the way," claims Hudes, and here she designs moments when her tale must recede to an exotic dance or intimate moment, where traditional theater breaks under David Maddox's original compositions. Underscored by sounds and chants from another world, a little boy named Jesus dreams of fancy hotels and refrigerated Coke as his village burns to the ground. "The city has no memories," warns Tico, and as Jesus learns the hard and fast rules of life outside of farming country, he must also learn how to leave his home in search for a new promised land.
Yemaya's Belly
To Dec. 18
Signature Theatre
$29-$49
703-218-6500

Thanks to inventive staging by Rick DesRochers and the efforts of Jose Aranda's inner 12-year-old, Yemaya's Belly is at all times engaging. Lit in gorgeous hues of blues and greens, Saskia de Vries is a belly-dancing vision in orange and peacock blue, while Clifton Alphonzo Duncan teaches Jesus to be a gentleman. It's a steady, meandering script that takes its time to unfold. Yet once it does, Yemaya's Belly lends a graceful beginning to lost children of another world, landing on our shores to begin a new life in a new land.