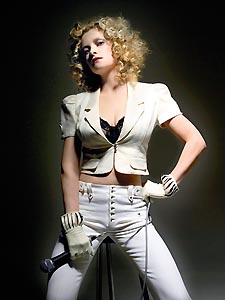 Goldfrapp
GOLDFRAPP RELEASES EP… Madonna name-checked them in a recent Billboard interview, and that can only help U.K. electronica duo Goldfrapp gain more attention in the U.S. "I love the new Goldfrapp record. It's my main record," Madonna told the magazine. Billboard, of course, didn't stoop to report that one cheeky British gossip newsletter said Madonna's label reps had taken to calling her "Oldfrapp," playing off the last name of the Madonna/Bjork-hybridized singer Allison Goldfrapp, who records with Will Gregory. North America has to wait until March 7 before it gets to hear Goldfrapp's third album, Supernature, already a big hit in Europe. But the duo's label, Mute, has recently released an EP to tide over fans and to pique the interest in others who like the sound of today's neo-electro — or as Madonna has taken to calling it, "future disco."
Number 1 includes three tracks from Supernature, though strangely only a remix of first single "Oh La La" and not the original. Tiefschwarz does turn out a nice remix, good enough that it could help the song top the Billboard Club Play Chart, just as the group's "Strict Machine" did last year — or a year before Madonna borrowed Goldfrapp's idea to sample Donna Summer's "I Feel Love." The best new track, "Beautiful," is an attractive recast of "Strict Machine," altered in part by a hair of Dire Straits-esque guitar work in the chorus. Goldfrapp's music will soon be heard in TV shows NCIS and Grey's Anatomy….
BROADWAY BRIT?… She just released a slapped-together collection of edited dance tracks, B In The Mix — The Remixes. But instead of focusing on promoting this uninspired set, Britney Spears is instead testing out new territory these days, even if most sane people would recommend she didn't. Besides marriage and motherhood, the still-girly-but-clearly-now-a-woman singer may soon star on Broadway. Yes, the Great White Way, where, unlike the recording studio and the concert stage, singing is usually done without assist. People magazine reports that Spears, 22, is in talks to take over from Christina Applegate to play the lead role in the musical Sweet Charity. She'd play the title role of Charity Hope Valentine, a plucky dancer with a heart of gold….
RISKY NELLY, RAUNCHY PEACHES… With their respective third artist albums, both Nelly Furtado and Peaches have enlisted all-star guest lineups, and both Canadians are branching out to become even riskier and raunchier, if you can imagine such a thing. Next spring Furtado will release Loose, which Rolling Stone reports has already been recorded in Miami with hip-hop hitmaker Timbaland at the production helm. But as ever, Furtado's album isn't just about hip-hop, or where hip-hop meets pop. She also snagged Coldplay's Chris Martin to contribute vocals on one track, "All Good Things Come to an End." As much as I like both singers' voices, this has the makings to be a whiney duet. Futher, the likely first single, "Promiscuous Girl," is a sexy, slow jam about celebrating your inner slut, according to Rolling Stone. Sounds lusty.
But it's sure to have nothing on electro-clash naughty girl Peaches' forthcoming third album, also due in the spring. Most famous for her first club hit, 2000's "Fuck The Pain Away," the singing-rapper Peaches has recruited Joan Jett, Queens of the Stone Age's Josh Homme and Peaches' former roommate and fellow Canadian singer-songwriter Feist, among others, to guest on the as-yet-untitled album. The album is the follow-up to 2003's Fatherfucker, an album that tried-too-hard-to-shock, and whose title she coined as a sort-of feminist retort to a common curse phrase. There's more from whence that came: Rolling Stone reports that the new set will feature tracks with raunchy titles such as "Hankie Code," "Stick It to the Pimp" and "Two Guys for Every Girl." The latter is a response to the 1960s' mega-hit "Surf City," in which Jan and Dean sang about "two girls for every boy." "Everybody fantasizes about the two-girl thing — to hell!" Peaches told Rolling Stone. "Guys gotta get sexy with each other"….
VERVE REPACKAGES REMIXES… Instead of releasing a fourth compilation featuring new dance remixes of jazz standards, storied jazz label Verve decided to re-package its first three popular Verve Remixed albums as part of a four-disc boxed set. It doesn't necessarily spell the end for the series, according to a label rep. And in any event it is this year's perfect holiday stocking stuffer for those who like both jazz and electronica. It's a great way to brush up on both the best of vocal jazz history and the best of present-day electronica. Though the fourth disc includes previously unreleased material, such as Carl Craig's rework of Dorothy Ashby's "Afro-Harping," it also includes others that were previously released exclusively through iTunes, including Diplo's rework of Walter Wanderley's "Popcorn" and Mondo Grosso's remix of Archie Shepp's "Blues for Brother George Jackson." The fourth disc also features videos based on remixes of three female jazz legends: Dina Washington's "Is You or Is You Ain't My Baby?" as remixed by Rae & Christian, Nina Simone's "Sinnerman" as remixed by Felix da Housecat, and Sarah Vaughan's "Fever" as remixed by Adam Freeland….