A memoir, by its very definition, is self-serving. Writing "your" story can serve as therapy, disclosure, dutiful revelation, apology, even revenge. To some extent, Tab Hunter Confidential: The Making of a Movie Star is all of the above. Foremost, however, it is the story of how simple, handsome Art Gelien became, and managed to remain, a star.
The beginning of Tab Hunter reads almost like a little girl's (or, I should say, boy's) Hollywood fantasy fairy tale come true. Boy's father is absent; his mother is cold. Boy is unpopular, but finds comfort and camaraderie with horses and ice skating. Boy shies away from the opposite sex out of fear. Boy is almost molested by a priest. Then the iconic moment: One day while mucking out the stalls at the stables, the little boy is discovered by a Hollywood agent. The boy is renamed Tab Hunter.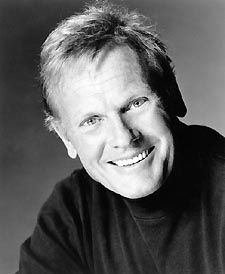 Matinee story: Hunter
And then he is introduced to the gays.
It's all a tad more convoluted than that, but Hunter's story does have all that doe-eyed, glistening drama of a teenage girl's dreams, complete with a beautiful ship on which to sail away. In fact, as the newly rechristened Tab returns from making his first film in Jamaica, Paris and London — a long way from his hardscrabble younger days — he stands on the prow of the Queen Elizabeth, reveling in his new success with language so cheesy and overwrought I couldn't help but hear strains of Disney's "A Whole New World." Thankfully, the next chapter opens with his arrival in America and his overblown reception there, resulting in the fantastically forthright line: "The ass kissing was beyond extreme."
It is a much-needed reality check. Hunter strives so consistently to present himself as an innocent, a moral compass, an honest boy, that it sometimes gets tiresome for the reader. Flat-out genuine lines like "ass kissing" give the book a much-needed bite.
Not that the starry-eyed Hollywood-insider dish is anything but giddy fun. While he does go on, and on, and on with detailed recountings of nearly every film, play, television show and recording he's ever done, the descriptions do weave a silver-lit netting over both Hollywood glamour and the dark realities of living life as a lie. Tab met and worked with seemingly everyone: John Wayne, Lana Turner, Natalie Wood, Anthony Perkins (with whom he had a two-year, frustratingly undefined "relationship"), Elvis, Charlton Heston, Tallulah Bankhead, James Dean and Vincent Price, and right on through to modern names such as Michelle Pfeiffer, Mimi Rogers, Joyce DeWitt and Divine.
Unfortunately, despite the juicy setting, Tab Hunter Confidential remains far too chaste for its own good. It's almost disappointing, in fact, that he shies so far away from acknowledging the "sex" in "sexuality." Things like "Tony would usually stay over at my place" stand in for any real sense of his relationships with men. While gratuitous sex scenes aren't necessary, the opposite is equally less real. Perhaps that's why, when he finally refers to a man with the italicized reaction: "What a cute little ass," it comes as such a relief.
As much as Hunter's dizzying luck and occasional, self-righteous whining feels unseemly (he was a huge star, after all), his apparent goodness, clear work ethic, and simple soul win out. As his fortunes falter, you can't help but feel for the guy. Here is a simple kid who fell, through luck and good looks into an amazing enviable life. Intentionally or not, he calls himself "Tab Hunter" in quotes, when not using the more natural "I." It's almost as if, at times, he doesn't believe the he, a little horse-riding, dog-loving, mama's boy named Art Gelien, is also the sexy, savvy Tab Hunter the world had come to know.
Overall, Tab Hunter Confidential is a supremely tasty and fun read (if falsely naïve and just-this-side-of-manipulative) little book. Especially near the end, when Hunter makes clear that he's never really grown up. After a series of deeply affecting family tragedies and health scares, Tab admits that now would be the "point in the story" to "say that I learned my lesson and developed a new perspective, and that I cherished each and every one of those sunrises and sunsets" he has left. Instead he admits: "Frankly, I was bored out of my mind."
It's that recurring spark of personality that makes Tab Hunter Confidential consistently intriguing.