Cyndi Lauper scored her first hit with "Girls Just Wanna Have Fun," but only the faithful would have predicted then that she would still be releasing albums on a major label more than 21 years later. Neither she nor her left-field feminist anthem were taken seriously, and to some degree Lauper seems to be still fighting for the popular respect that has eluded her.
Now she's re-recorded that first hit, along with several others, on The Body Acoustic. Ostensibly it's an effort to recreate how her hits have sounded at more recent live performances. Unofficially, it's also an effort to bolster the notion of Lauper as artist, not just a celebrity pop star continuing to cash in on her name and notoriety.
You can say that again. Though she may not garner the mass attention of yore, Lauper has never sounded better as a singer, or more in control of her musicianship. And where another aging pop star may have simply presented an album such as The Body Acoustic as a remastered greatest hits set rounded out with a new song or two, Lauper has instead rethought her hits and paired them with several new songs that more than hold their own in sound and quality. As its title suggests, Lauper here has mostly forgone electronic instrumentation, particularly keyboard programming, opting for a more organic vibe, complete with acoustic strings, piano and light drums, conjuring echoes of bluegrass and gospel.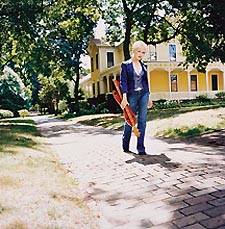 Lauper
Lauper gets tremendous support from the likes of Sarah McLachlan, Vivian Green and especially Ani DiFranco, who dazzles with her extemporaneous counterpoint on "Sisters of Avalon." And as emotionally powerful as her stripped-bare rendering of "True Colors" is, with her raggedy doll voice occasionally and appropriately choking up, it's got nothing on the version on Lauper's DVD LiveÂ…At Last, released last year. (In concert Lauper went silent midway through "True Colors," clamping and raising her fist and waiting for the audience to match her silence in memoriam to a friend of hers who died of AIDS and to whom the song is dedicated.)
The Body Acoustic doesn't always work as well as Lauper intended. It's not clear why she bothered to invite Shaggy to ribbit out a few lines in his croaky voice on "All Through The Night." "She Bop" as a sad and lonely whistling ballad works in the literal sense, since the song is about masturbation. But the "she bop, he bop, a—we bop" part sounds corny when slowed down and accompanied only by acoustic guitar. She's taken all the fun out of it.
It's the newer material that makes The Body Acoustic such a remarkable achievement. The sweet, country-ish ballad "Above the Clouds" is an intricate and stately call to persevere, built on the beautiful guitar work from co-writer Jeff Beck. The recreated four-year-old "Water's Edge" actually sounds like a 200-year-old early American hymn. Its sweet harmonizing piano offers accompaniment to Lauper's appealingly imperfect earthly voice and Sarah McLachlan's dreamy angelic one. They sing a sad song about the possibly hopeless search for the path to happiness.
At least to the listener, they find the path in the process.
With Simplified, Simply Red has also just re-imagined its oeuvre. If future releases sound as great as these two do, then we can only hope they are suggestive of a trend of such revivals to come. But while Lauper turned to Americana for inspiration, the British soul group turned to Latin pop and jazz, apparently the result of a recent trip to Cuba. The first single, "Perfect Love," is a sauntering duet between Red's Mick Hucknall and Havana-based singer Danae, with responsive horns and Santana-styled electric guitar in the chorus. Even better is "Something Got Me Started," transformed as a sweat-drenched salsa-stomper that defies you to stay still, not to mention to remember how the original sounded.
Simplified is an amazing set, and a surprising one, given that the past several Simply Red outings have been tedious and tired. But Simply Red is now primed and ready for a revival. You'll swoon over the band's past hits reconstructed as pristine piano ballads worthy of Elton John, from "Your Mirror" to "For Your Babies." And then there's the group's stunning, stark take on the classic ballad "A Song For You," with its falling keys, forlorn melody and sublime lyrics asking for a lover's forgiveness. Or, in this case, it could be of a long-lost fan's: "I've sung a lot of songs, I've made some bad rhyme/But we're alone now and I'm singing this song for you."
Hucknall sings the song in such a delicate, direct manner that you can't help but forgive his past transgressions.