Rob Vander Zee creates images that may elicit a number of different responses. He offers landscapes sensual and serene. Pensive portraits may leave a viewer feeling empathetic. His Genetic Alterations series may provoke discomfort.
"The commonality, the link, would be the movement, a deep understanding of how to create visual excitement," says Vander Zee, a Michigan native who earned his MFA in painting at Michigan State University, but has lived in the D.C. area since 2001.
His latest creation is a bit different: Vander Zee Gallery. It kicks off with an open house this Saturday and Sunday, Dec. 3 and 4.
"My career got to a point where I believed in what I was doing and things were taking off," he explains. "I decided to take the plunge. I've been plastering walls and cleaning up a studio space. Now it's really beautiful."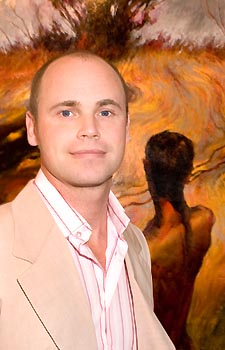 Rob Vander Zee
He says he'd like to use the space to continue educating people about art, as he's been doing at the Torpedo Factory Art League.
"I come from a humble background," Vander Zee says, somewhat sheepishly. "If I'd had the right access to art education, it would've made all the difference for me. I want to be able to offer free classes to kids who don't have access to good art education. Over a period of three or four years, I want to work with these kids to build their skills as artists so they can get into any university."
And if a student happens to be gay, he may also warn them to stay away from Eastern Europe, where his own studies took him in the late '90s.
"I lectured on the influence of gay men and lesbians on contemporary art [at a Romanian university]," he recalls. "Even the dean's wife wouldn't be in the same room with me after that."
Vander Zee Gallery is located at 105 South Lee St. in Alexandria. For more information, visit www.vanderzeegallery.com, or call 703-683-1814.