It's tough to pinpoint exactly what is wrong with Arena Stage's production of Damn Yankees. Matt Bogart is a perfect "Shoeless Joe" Hardy, and Brad Oscar's stellar version of "Those Were the Good Old Days" nearly brings down the house. There are a handful of genuinely enjoyable moments and it's good to see some familiar local faces gracing the angular Fichandler stage. But truth be told, Molly Smith's rowdy revival never really knocks one out of the park.
That's not to say that her huge cast — the core group is nearly 30 deep — doesn't score a few home runs of their own, with flawless execution of Baayork Lee's signature choreography and a darling gang of kids bleating out the lyrics to the old standard, "(You Gotta Have) Heart." In fact the eerily efficient ensemble is at their best whenever they're challenged by Lee's athletic feats, from the hoe-down soft shoe in "Shoeless Joe from Hannibal, MO" to the amusing locker room antics of "The Game" that opens the second act on a high note. Here the ensemble — a peppy posse of singing baseball players and their dear devotees — is united in musical theater bliss.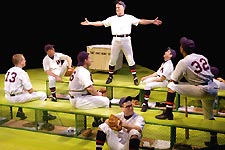 Ya gotta have art! The ballplayers.
(Photo by Scott Suchman)
So while there are a number of fun things to appreciate in Smith's straightforward approach to musical comedy, it's disappointing that the artistry in her production never rises above a purely pedestrian level. The staging is often tremendously presentational, and with the first act clocking in at almost two hours, the Faustian affair becomes a dawdling, prosaic episode stuck in the era of collared plaid and T.V. dinners.
It was 1955 when Damn Yankees debuted on Broadway, fashioned after the Douglass Wallop novel The Year the Yankees Lost the Pennant and later staking claim to the 1956 Tony Award for Best Musical. The original production made a star of the legendary Gwen Verdon, who immortalized the nifty notes of "Whatever Lola Wants." Half of a century later, the gentle comedy of Damn Yankees is a very dated dose of nostalgia, the story of a middle-aged baseball fanatic who makes a pact with the devil to save his beloved team and win the pennant.
Joe Boyd (Lawrence Redmond) is the man who outwits Lucifer himself (disguised as a well-heeled businessman who answers to the name of Mr. Applegate) with an "escape clause" set to expire on a proposed date and time. Instantly transformed into 26-year-old "Joe Hardy," he is propelled from a quiet life on Magnolia Street to the roar of the major league. Fame and success isn't all it's cracked up to be, and soon Joe longs for wife Meg and all the familiar comforts of home sweet home. To distract his conquest from the misery of his memories, the cunning Applegate calls upon his little demon seductress Lola, but after three strikes, the devil may not get his due.
STRIP SOME TAGS DamnYankees
To Feb. 5, 2006
Arena Stage
1101 Sixth St. SW
$49-$68
202-488-3300
www.arenastage.org

It's too bad Applegate has only one terrific solo tune, since Broadway veteran and Rockville native Brad Oscar hardly gets an opportunity to show off his strong song-and-dance-man talents. Oscar is a gentleman on stage, careful not to steal the spotlight from his fellow players, including Meg Gillentine's saucy Lola and Lawrence Redmond's crooning Joe Boyd. The usually splendid Kay Walbye is a bit cold as Joe's hardened wife, while Cindy Marchionda is fantastic as the news reporter sniffing out Joe's story.
But the real bright spot in Smith's cast is Bogart's Joe Hardy. Every time Bogart pops in on the proceedings, the scene bounces along in double-time. He shares what is irrefutably the evening's best number — vocally and otherwise — with Gillentine in a hip retro rendition of "Two Lost Souls."
There are other bit parts to savor from Steven Cupo and Tracy Lynn Olivera, and the costumes by Martin Pakledinaz are certainly nothing to scoff at. Just don't expect any truly revolutionary leaps in Smith's humble presentation. In a sense, it's as all-American as jumbo hot dogs and apple pie.