As you might guess by the name, Jason Walker is not a big black woman. He, in fact, is not a she, of any size or race. Yet every article about this lanky white male singer with a high-pitched but multi-octave singing voice makes mention that he sounds like a woman. The reason, of course, is because he does.
He's had a string of club hits over the past year, including his latest, the weak "No More," his greatest, the Chad Jack-produced guitar stomper "Set It Free," and "Foolish Mind Games." That last song, a response to Soft Cell's "Tainted Love," was originally recorded with a woman singing before Walker made a hit out of it.
But the sounds-like-a-woman point is no doubt also made to help sell Walker in a genre, and a community, that prefers female singers to male. Having a gay man out in front singing and not just producing dance music is an idea so uncommon it seems novel.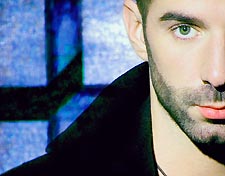 Yes, dammit, I'm a man: Walker
And now, after multiple delays and nearly a year of waiting, Walker has finally released his debut album. Well, at least you can buy it: This Is My Life is only available at iTunes until February, or whenever his label decides it's ready for wider release. The move doesn't suggest confidence, or match Walker's mission. "I'm breaking through hesitation, so I can find my destination," he sings on opening track "My Life." At least he knew to use the present tense — clearly it's not a battle to be resolved quickly.
The other crucial point to make about Walker is that he's Junior Vasquez's latest protégé. Walker is not a DJ, but Vasquez co-wrote and produced much of This Is My life, which also comes from his label, JVM. And much of the album sounds like what you'd expect from Vasquez. It's full of crisp, focused dance music with a strong disco sensibility, as songs gradually build to an intense vocal release. The album sounds like dance-pop from roughly a decade ago, back when Vasquez was in full-throttle production and remix mode. But while some of the tricks are a little tired and overused, the end result is appealing. There's nothing too gimmicky to keep you from listening and dancing to it repeatedly.
There are two basic ways for an upstart dance singer to get on the fast track to success. By finding a heavyweight like Vasquez to slowly and patiently guide him through the process of creating music, Walker took the more complicated route, one dependent on luck and mutual commitment and passion. The more common approach is to work with various heavyweights — or at least mid-weights, those behind-the-scenes players highly regarded within the music business — on multiple, one-off projects. And that's essentially how we've come to know of Kirsty Hawkshaw. She stepped in when Sarah McLachlan, Dido and other breathy, airy female vocalists were unavailable to work with the likes of Tiesto, Delirium, BT and Way Out West. Now after a few years of freelance projects, Hawkshaw has released a full-length album, Meta Message, featuring several old tracks but many more new ones.
Hawkshaw makes the kind of music — slightly sunny but still moody — that Sarah McLachlan always promises but rarely delivers. When it's not slowed down to the speed and contemplative sound of lounge music, Hawkshaw's music moves at a fast trot, drawing from trance music's preference for bouncy, high-end frequencies. The lyrics are sharper than you expect, and they often match both her moody voice and the intensely moody music.
The first track "Just Be Me," for example, is all about resigning yourself to being happy about who you are and not sad about who are not. The sweet yet sour lyrics are matched by a forlorn melody with a peppy beat. On "Walking on Clouds," Hawkshaw's voice floats on high. During the song's bridge, producer Tiesto forces her to stop walking by removing the song's galloping beat, leaving just resonating bass notes and her cascading vocals, hanging in midair. "Even if you wanted me to, I can't come down," she responds. And she never does. She starts walking again, above the clouds.