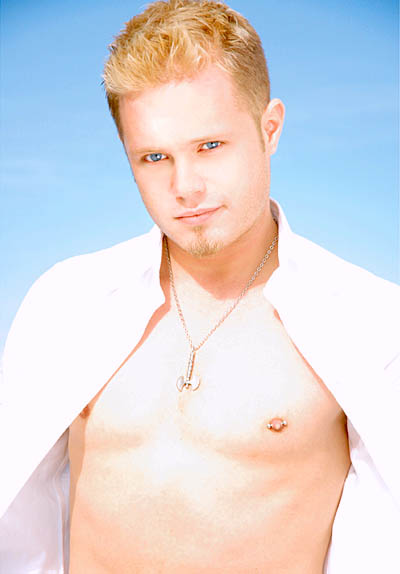 Just last year Douglas Miller was a dancer for Royal Caribbean Cruise Lines. He was on his way to Broadway, so to speak, but then love came to port. Within a month he was sailing to D.C. instead, where love lives.
Things happen quickly in Douglas's life. When he got news of an available dance position on a cruise line, he hurriedly put together a videotape audition with the help of his dance teacher in suburban Detroit. At 21, he had spent little time outside of Michigan.
"I had a week to pack up my entire apartment, say goodbye to my family and my boyfriend at the time," Douglas says.
Three years later, he had less than a month left on his contract with the cruise line when he met his current boyfriend Mike, a Washington passenger on the cruise. He had never been to D.C., but after spending just a few days here with Mike last fall, "I decided I wasn't leaving."
Since then, the 25-year-old has quickly become something of a fixture on the scene, and not just by virtue of being a Nightlife Coverboy in June. He bartends four to five nights a week at JR's. He's just started dancing with the DC Cowboys. And he's an occasional amateur dancer at Wet.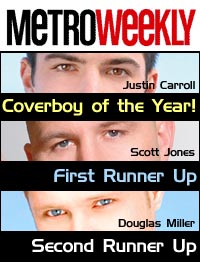 "I don't go there planning to do it," he laughs. "But the manager's always begging me to, and a couple times I've said yes." Just last month he stripped for his fourth time, but it was actually the first time he didn't win. He lost to his boyfriend.
"He's entered it before and he's also always won," Douglas says. "So we entered together to see who would win. And the bitch beat me."
His boyfriend has more than made it up to him, surprising him with an early Christmas trip to Las Vegas. And it was a real surprise — after grudgingly getting up one morning to walk the dog at Mike's behest, he returned to bed to find a present between the sheets.
"There were tickets to Las Vegas, with tickets to Cirque du Soleil. He had already arranged with my boss to give me nights off work," he says. "He's good at these presents."
While they have invested in commitment rings, the couple hasn't had a ceremony yet.
"We know we're going to be together forever, so there's no rush," says Douglas.
While he likes making his home in D.C., Douglas admits that city life isn't his first preference.
"I have to admit I'm a suburban guy. I like a quieter life at times," he says.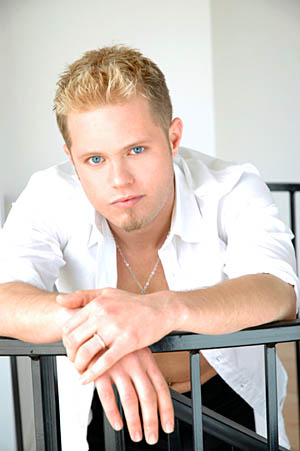 Eventually moving back to the Detroit area is a possibility, since Douglas is close to his father and his stepmother. Or perhaps Mike's home state of Rhode Island.
"Or somewhere random, like Kansas or Texas," he says. "Somewhere quieter, with pretty country."
An avid DVD collector, Douglas keeps his collection filled with his favorite TV shows, from Friends to Queer as Folk, but horror movies are his favorite to watch. "Horror movies are just fun," he says. "I get scared at times, but [mostly] I just like to laugh at them."
In the past month or so he's also picked up a new hobby, learning sign language from a deaf friend who frequents JR.'s. "He would respond to me with his hands. And I'd ask him what that meant on a napkin."
"I'm literally learning from him," Douglas says, though he's now thinking about taking classes for formal training in the language. "I've picked it up so fast I can actually have conversations with people other than him [his bar patron guide] now. I mean, I don't know everything but I'm fluent in the alphabet, and a lot of phrases and words and expressions."
A self-described exhibitionist, Douglas says it still took him a while to say yes to the idea of being a coverboy, and he turned down the first offer. "I wasn't very confident I guess. And then I started going to the gym, and I was asked to do it again."
And that made all the difference. Although, he chuckles with a tone only half-concerned, "Since I've done it, I've gained weight."
And you can count on him to continue showing off in the future, at JR's, with the D.C. Cowboys – and probably again at Wet.
"I say I'm retired, that I'm hanging up my socks." But perhaps a rematch with Mike?
"Yeah, right," he laughs. "Two out of three."
Click here to read Douglas Miller's original Coverboy Confidental interview.
Second Runner Up Prize Package

$150 Cash
Cherry – 2 Tickets to Main Event
Cobalt – $50 Bar Tab plus 5 VIP Passes
DC Eagle – Black Hoodie Eagle Sweatshirt
Go Mama Go! – $50 Gift Certificate
Freddie's Beach Bar – Freddie's T-shirt
Halo – $25 Bar Tab

JR.'s – $50 Bar Tab
Leather Rack – $25 Gift Certificate
Mid-Atlantic Leather Weekend 2005 – 2 tickets to Reaction Dance
Signature Theatre – T-shirt and visor.
Ziegfeld's/Secrets – $25 Cash Certificate

Some restrictions may apply to certain prizes