| | | |
| --- | --- | --- |
| | Contemporary style holds court in this Northwest condo where a new owner's dreams become a home-based reality. Open spaces between kitchen and dining room, creative closet options: Everything's available when you put your mind to it. | |
Christian Salinas took his clean slate seriously when he moved to his new condo in 16th Street Heights, creating a new home with new furnishings, where everything matched to create the perfect space for him.
CHRISTIAN: [In the dining room] My style is modern and contemporary. I always wanted to have a cool modern place with soft colors. I went to magazines and catalogs, I started to take ideas from them, as well as home stores in D.C. I had to put everything together using a floor plan since I didn't have access to the house when I started. I was so anxious to do the project that I started to buy things before I got the keys! Ninety-five percent of everything here is new. [Before I moved in] I called my friends and said "take anything you want," because for the new place I really wanted to do something that was perfectly matched. I didn't want to bring an old-style couch with a chair that didn't match. So I started over.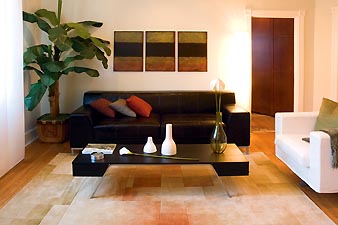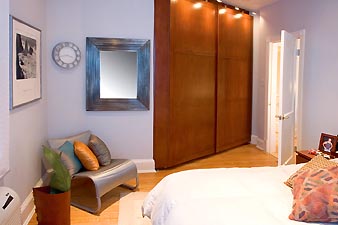 I got the keys on a Friday, so immediately that Saturday I had a bunch of things delivered. I spent the whole weekend putting everything together — my hands were almost bleeding. But I was so happy that I was working in my house and it was for me. The three wooden pieces on the wall and the dining room set are all from West Elm, one of my searches online. Most everything you see here with this kind of wood color and contemporary shapes is from West Elm. They have a lot of cool things: very simple, clean and contemporary. The chandelier is from Ikea. I wanted to put more plants in here, but since I don't have the space for a lot of plants, I hung prints of flowers on the walls to give the visual impression of plants.
| | |
| --- | --- |
| | |
[Between the kitchen and dining room) When I came here this was a solid wall between the dining room and kitchen. My idea was to open it up so you could interact with people in the dining room. Since the wall has electrical stuff running through it I couldn't remove it completely so I made it into an open wall with glass shelves. Right now the shelves are empty, but I'm thinking of putting just two or three things there, nothing big. I don't want to overcrowd it. It doesn't bother me like it is now, because it looks open and clean. But eventually I want to put maybe one little thing on the top and two on the bottom. Little sculptures, just for an accent.
| | |
| --- | --- |
| | |
[In the living room] In the corner there is a banana tree. I'm Venezuelan and I love banana trees — it reminds me of my hometown. It's fake, so it will never die, it will always be beautiful. I have a cleaning lady who comes in and I bought a special leaf cleaner for the plants. I remind her to clean the leaves so they will be shiny all the time. My coffee table is very low and long, with openings on the sides to store books, remote controls, everything that you want to hide. It's a great, unusual shape from Ikea, and it's functional because you can just pull everything out. My house is a mix from Ikea and West Elm. Everything is squared lines. You don't see any round shapes.
My television is a 32-inch Panasonic flat screen that I got from Ebay. It was a great deal. I know the system now on Ebay. You just have to wait until the last 5 seconds and over-bid and that's it: You win.
[In the bathroom hallway] This was my biggest deal in the beginning — I said I may not get this house because of the lack of closet space. In order to add the built-in closet space in the bedroom I moved the door and added a wall, which created this cute little hallway that leads to the bathroom. I decorated it with pictures of me and my friends, and a mirror — to make sure you are looking good. [Laughs.]
[In the bedroom] I felt at home the first day I came here. Everything was so nice for me, everything was new. I had to give up the keys to my old apartment before I moved here, so I was living in my boyfriend's house with my things in boxes everywhere and I really wanted to be here. I'm so happy with the results that I don't want to go to sleep in his house now — we have to come here every night.