With King Kong, director Peter Jackson follows up a monster achievement — the massively ambitious Lord of the Rings trilogy — with a massively ambitious, undeniably entertaining homage to the movies of yore, all the while fully showcasing the technology of today.
Jackson's 25-foot great ape is a formidable creation. More than a mere rampaging monster, this Kong has a full emotional range, an animal with flashes of intelligence and strong self-awareness, haunted by loneliness at being the last of his kind. He's a melancholy monkey.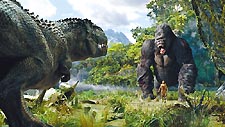 You roarin' to me? Kong, Watts and Mr. T-Rex
As portrayed by Andy Sirkis — who also breathed "life" into Lord's Gollem — and enhanced by CGI, this Kong is extremely convincing. It's hard to believe he's not real. Just as it's hard to believe the rest of the dinosaurs and giant bugs that populate the "frozen in time" heart of Skull Island are similar CGI fabrications.
As envisioned by Jackson, this CGI-generated Kong is capable of great warmth and tenderness in a way that his predecessors — the original, stop-motion animated Kong of 1933 (still one of cinema's most revolutionary achievements) and the man-in-a-monkey-suit Kong of the disastrous first remake in 1976 — were not. Kong is still capable of a full-blown rampage — like any wild animal, he operates on instinct and is unpredictable. But in the end, he's won over by a Vaudeville comedienne named Ann Darrow (Naomi Watts). Those television anchors on CNN and Fox who have nervously (and moronically) joked that Ann and Kong's relationship skirts the boundaries of bestiality are missing the movie's underlying point. King Kong ushers in a subtext — via a path of spectacular, epic adventure — that we should preserve endangered species at all costs, something that really wasn't really part of the public mindset during the Great Depression, the era in which the movie is set. Still, the way things play out, then as now, the "8th Wonder of the World" is ultimately a curiosity that becomes a commodity. Science never gets a chance to enter the picture.
Watts and Brody
What's truly startling, in fact, is the willingness of the biplane pilots to fire upon Kong, willy-nilly, with Ann in plain sight, making us wonder how their orders were framed. "Destroy Kong at all costs," one imagines their commander barking. "The dame is expendable." (A little political nod to Iraq, eh Mr. Jackson?)
Jackson loyally adheres to the original, blowing it up into gargantuan proportions wherever possible. The resulting 187-minute movie is, quite honestly, far too long — the skimpy narrative buckles under the strain — although there is plenty of exciting action-adventure padding, especially after the ship arrives at Skull Island.
Jackson beefs up Kong's dinosaur battles, and while breathtakingly executed, they still become a little much to bear after round three moves into round four and then round five. An extended sequence featuring a nasty encounter between the ship's crew and giant, man-eating crickets, while ratcheting up the movie's ick factor, brings the narrative to a grinding halt. The set pieces are showy and spectacular and extremely well-executed, but a little patience is required. Part of the problem is our cultural familiarity with the original Kong: We know everything that's going to happen from the moment the film starts. And Jackson barely deviates from the storyline. The only surprise the director has his disposal is to deepen the various character elements — and he expends most of this capital on Kong and Ann.
Jackson, who has made no secret that the 1933 classic is what fired up his love of movies, touches upon all the iconic moments associated with Kong — a stolen piece of fruit, Kong's fight with a T-Rex, the battle atop the Empire State Building — while altering some things to make them more palatable to contemporary audiences (the island natives aren't so much blatantly offensive stereotypes as they are creepy, exotic aboriginals; still, they're pretty wild-eyed and bloodthirsty). But, as with the original, Jackson fails to explain how Kong, once subdued, is put on the ship and carted all the way back to America for his big Broadway debut. The 1976 version more or less dealt with this logistical problem, but Jackson leaves it as it was left in 1933 — as a leap of faith.
Okay, that's quibbling. Because an extra half hour of detail at that point would have been intolerable. It's past hour two and we're more than ready for Kong's big stomp through Times Square. And Jackson, sensing this, doesn't disappoint.
Where Jackson misses the boat completely is in the casting: The obsessive fervor of Jack Black's movie producer Carl Denham gets old fast. (When a CGI creation out-acts you, it's time to rethink your career.) The normally fine Adrien Brody seems mildly lost as romantic lead, playwright Jack Driscoll. He's a little drippy and dull (you can see why Ann might prefer the ape's company).
Better are the ship's crew: Thomas Kretschmann as the gruff, unsavory yet ultimately heroic captain, Evan Parke as Hayes, the ship's noble first mate, and Jamie Bell as his young protégé. Bell is the only supporting actor accorded a instance of pure anguish — and the moment rattles you. While the other guys are playing off the page, Bell is playing from the heart.
Well, actually, so is Naomi Watts, who is magnificent as Ann Darrow, and who will now, at long last, become the star she so very much deserves to be. Unlike Faye Wray, whose legend was built on her screams, Watts dispenses with the shrieking early on, exhibiting instead a quiet, determined courage, a humanity, and a resourcefulness more in tune with heroines of today. The movie's focal point is on her relationship with Kong, its development, its transformation into something deeper. At first she's a plaything to the big brute. Later, she's his soulmate.
This is not as odd as it sounds, especially when you consider the lasting, loving bond humans have with their pets. And while King Kong isn't exactly pet material — can you imagine the size of that litter box? — he is still a thinking, feeling primate, a few short evolutionary steps away from homo sapiens, a creature who can be swayed by a gentle show of affection. Jackson lovingly (and brilliantly) lingers on a few pivotal moments — one atop a mountain on Skull Island, the other on a frozen lake in Central Park — and the visible connection between Ann and Kong is glorious, the tenderness fully stirring our hearts. If she had been born in another few decades, Ann would have been Dian Fossey, and Kong her Digit.