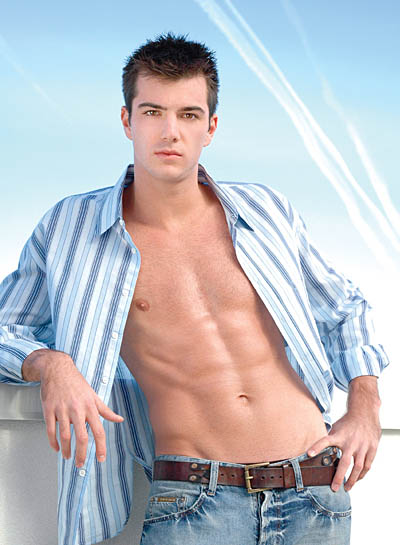 Most people approach the unknown tentatively, gingerly dipping their toes into the proverbial waters. Too hot? Too cold? Just right? But when 24-year-old Justin Carroll decided to come out of the closet, he cannon-balled head-first into the deep end.
Just two months after breaking his silence, the tall, dark-haired Princeton grad was posing for Metro Weekly's Nightlife pages. The former swim-team heartthrob wasn't afraid to make a big splash.
"People say I didn't come out of the closet, I burst out of the closet," he says with a laugh. "In a full sprint. [I] didn't waste any time."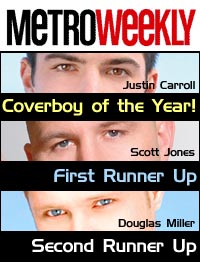 Within hours of publication, Princeton friends from as far away as San Francisco were leaving messages on his voicemail, "Hey, coverboy!" Knowing e-mails flooded his inbox.
"It was very liberating…to acknowledge that, yes, I'm gay, and this is what I'm doing," he says. "And I'm going to put it in print just so I can't go back on my word."
No worry about that. Following his blazing debut, Justin embraced the life of a twentysomething gay newbie: He met new people, found excitement in the bars and had his fair share of romantic flings, all the while loving his newfound freedom. Revealing in his "Coverboy Confidential" interview that bartenders were his biggest turn-on landed him enough free drinks to make Betty Ford blush.
It was a blast, he says, an "alternate life" and somewhat unreal. "I wasn't taking anything I was doing seriously," he says. But after several months of the no-holds-barred glamorous life, Justin was ready for something more.
The change he needed came this fall when he moved to New York to attend law school at Columbia University. After two years in Washington, he was ready for the challenge and change of scenery.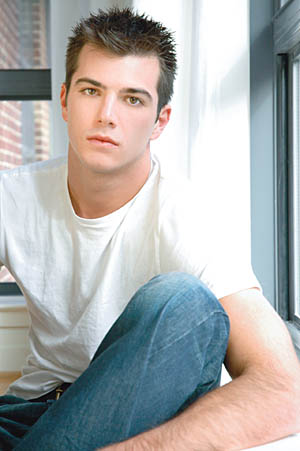 Justin quickly settled into a routine of reading and studying. Then, through mutual friends, he met his boyfriend, Andrew, a publicist in the fashion business. They hit it off immediately.
Together now for just over a month, the two are getting along famously. "It's been really crazy," Justin says. "Usually I get tired of people really fast, but he's been fantastic. It's really the whole package."
Though Andrew lives in SoHo, he's not averse to making the trip to Harlem to visit Justin for those all-important study breaks. Andrew's job has introduced Justin to a world wholly unlike Washington: fashion parties and nights out with Ashlee Simpson, Michael Stipe and Faith Hill.
It's a world even more unlike his alma mater. For all its accolades, Princeton University is hardly an oasis of liberal progressivism, Justin says. Unlike Harvard, Yale or Brown, it's still very much a good-ole-boy network, making it difficult for gay undergrads to come out.
As a four-year member of the university's swim team, it proved even more difficult to find himself. "We had a lot of gay people on the team, but no one would come out during school," he says. "It was always after graduation."
During his senior year, he had his first experience with a guy, a member of his eating club (Princeton's version of a fraternity). That fling ended his relationship with his longtime girlfriend after Justin told her what happened. "It didn't go well, but I was proud of myself for being honest with her," he recalls.
On top of dealing with his girlfriend and teammates, during Justin's senior year his younger brother started at Princeton as well, adding the whole "family element" to his struggle, he says.
It would be two years before he finally came out to his brother, which eventually happened this summer. Taking time off before law school, Justin signed up for a summer share in Rehoboth Beach. His brother, passing through town, asked Justin if he could crash with him while visiting friends in Dewey. Rather than beg off, Justin decided to reveal his secret.
"He came up on Thursday night, and we talked on Friday," Justin recalls. "I said, 'People are going to start arriving, and you're going to quickly figure out that we're all gay."' Though his brother ended up crashing in Dewey instead (who would want to bunk with 24 gay guys in one house?), he took it well — even heading out to a gay bar with Justin and his housemates that night.
This summer was a "big bonding experience" with his little brother. Coming out brought them closer together.
After graduation, Justin moved to Washington to pursue his dream of a career in politics. He took a job as a legal assistant at a D.C. law firm, working 16-hour days and not having much of a social life, gay or straight.
Though still passionate about politics, Justin is unsure of what he wants to do with his law degree. Politics is still an option, but he's considering practicing in New York to pay off loans and get some experience.
"New York has been a very different experience for me than D.C.," he says. For one thing, "there's no politics talk at all in New York." Conversation there focuses on entertainment, celebrity and business.
While gay life in New York has scores of options for nightlife, he says, "What I like about D.C. is that I can sit on 17th Street and have brunch outside and know everyone who's walking by."
His first few solo trips to D.C. bars weren't so easy.
"It was so intimidating," he remembers. "I just kept walking from bar to bar and acting like I had a purpose." But then he approached a group of guys and said, "'Hey, introduce me to your friends,' and they were very nice."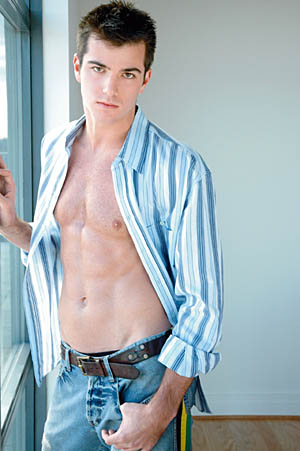 Soon after, on a trip to Cobalt, he ran into a coworker. "I knew he was gay, and I think he had heard rumors that someone had spotted me there," Justin says.
"He took me under his wing, introduced me to his friends, and once you meet a few people, you meet everybody."
Justin's greatest joy in his first year of being out is the sense of liberation that comes with being gay. "Anything goes," he says. "It's okay to listen to whatever kind of music I want, dress however I want, go out, dance, party, have fun and meet different kinds of people.
"In the closet, I always felt constrained to some persona of what I was supposed to be as a straight person," he adds.
But he's also learned the gay world isn't as big and free and anonymous as he first envisioned. "I think the biggest negative — and this is both good and bad — is how interconnected everyone is," he says. "When things happen, everyone knows about it all at once."
He adds: "That was my biggest thing that I learned those first few months. There are no secrets in the gay world."
But when you're looking to make a splash as big as Justin Carroll, who needs secrets?
To read Justin Carroll's original Coverboy Confidental interview, click here.
Coverboy of the Year Prize Package

$500 Cash
Annie's Paramount Steakhouse – $50 Gift Certificate
Arena Stage – A pair of tickets to any of the remaining shows from the '05-'06 season
Caf̩ Berlin Р$50 Dinner Certificate
CD Warehouse – $10 Gift Certificate
Cherry 9 – 2 Host Passes
Club Fuego – 5 free admissions
Cobalt – $100 Bar Tab plus 5 VIP Passes
DC Eagle – $50 Bar Tab and a Black Hoodie Eagle Sweatshirt
Dakota Cowgirl – Dinner for 2
David Greggory – Dinner for 2 at Wed. night Pork & Pinot (up to $100)
Follies – $100 Gift Certificate for merchandise
Freddie's Beach Bar – Sunday Champagne Brunch for 4
Go Mama Go! – $200 Gift Certificate
Green Lantern – A 2-hour cocktail party for winner and up to 50 friends
Fireplace – $75 Bar Tab
Halo – $50 Bar Tab
Heat – $100 Bar Tab

Hippo – Free admission for 2006
JR.'s – $100 Bar Tab
Kennedy Center – 2 tickets to a performance of Mame starring Christine Baranski
Landmark Theatres – 2 pairs of passes
Leather Rack – $75 Gift Certificate
Mid-Atlantic Leather Weekend 2006 – Full Weekend Pass to this year's Centaur MC-sponsored event, including Reaction Dance
Omega DC – $50 Bar Tab
1409 Playbill Caf̩ Р$25 Gift Certificate
Reel Affirmations XVI – 2 Lincoln Theatre passes to next October's GLBT film festival
Round House Theatre – 2 tickets to a performance of Midwives
Signature Theatre – 2005/06 Sunday Pride Night subscription for 2, including post-show cocktail receptions
Washington Plaza – Dinner for 2 at No. 10 Thomas
VelvetNation – Free admission for 2006
Wet – $100 Bar Tab
Ziegfeld's/Secrets – $50 Cash Certificate

Some restrictions may apply to certain prizes