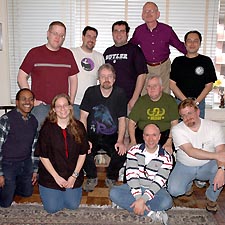 Members of Lambda Sci-Fi
MISSION: Founded in 1990, Lambda Sci-Fi (LSF) is for GLBT people and their friends interested in science fiction, fantasy, horror and related genres in all forms. LSF's primary goals are to have fun and provide community.
NUMBER OF MEMBERS: Approximately 50.
ACTIVITIES: All activities are open to non-members, and include "video madness parties," movie outings, a monthly book-discussion group, a monthly social, gaming days and attending science-fiction conventions.
HOW TO JOIN: Annual membership dues are $10. Membership grants voting rights, eligibility to hold office, and subscription to the group's newsletter.
BACKGROUND: "I'm a founding member," says LSF membership coordinator Peter Knapp. "I was looking for a group of like-minded people to socialize with." Thus, a club was born, modeled after gay sci-fi clubs blossoming in other cities about 15 years ago. "Lambda Sci-Fi is my main social outlet," Knapp adds, pointing to the array of regular activities. The monthly social potlucks are one such highlight. If you're lucky, some clever contributor may surpass one edible standout from years past, recalled by Knapp: "At a Godzilla party, someone made a city out of Rice Krispies treats, and stuck a couple Godzillas in it."
CONTACT: info@lambdasf.org
NEXT EVENT: New Year's Eve Video Party. For more information, visit www.lambdasf.org.