There is a profound ache at the core of Ang Lee's Brokeback Mountain — it's the ache of a powerful love, of a love unable to requite itself, mostly due to circumstances, but largely because of the two people caught up in it. They're men — cowboys, actually. And their lifelong pine for one another begins one cold night on Wyoming's Brokeback Mountain, where they're employed herding sheep during the summer of 1963.
What starts as a sexual release quickly turns into something far more meaningful, although Ennis Del Mar (Heath Ledger), the quieter and more withdrawn of the two, doesn't quite recognize the transformation he's been through until after he and Jack Twist (Jake Gyllenhaal) go their separate ways at summer's end. Hunched over himself in an alley, Ennis falls prey to a violent fit of nausea, as if his stomach were being ripped out. It's his body telling him that he's just been separated from his soulmate.
Ride 'em, cowboy! Gyllenhaal and Ledger
Over the next few years, Ennis and Jack both find their way through mundane, hollow lives, the former working as a ranch hand in Wyoming, the latter as a would-be rodeo star in Texas who later ends up selling high-end farm equipment. They both settle for less than each other — but really, the circumstances in society don't allow for much else than repression of one's homosexuality, especially in the West.
So Ennis and Jack find wives, raise families, and then meet again years later, immediately recommencing where they left off. They rendezvous two, three times a year, going on "fishing trips" to Brokeback Mountain where they can be at peace with one another, quelling their longing and loneliness.
Jack, the more sexually experienced of the two, and the one with a somewhat stronger gay drive (he's not beyond dousing his fire with trips to Mexico), tries to convince Ennis to start a life with him, to build a cabin and run a ranch. But Ennis, immobilized by fear, resists. "Two guys livin' together? No way," he mutters. "This thing grabs hold of us in the wrong place, wrong time, we're dead."
Based on a wonderfully crafted short story by Annie Proulx (originally published in The New Yorker), the screenplay by Larry McMurtry and Diana Ossana magnificently captures these cowboys of few words, opening small moments in Proulx's work into a greater, more fully fleshed-out dramatic whole. Jack, and especially Ennis, don't always express themselves eloquently, but they manage to get their points across. There's a simple poetry to their words. "I wish I knew how to quit you," a frustrated Jack says to Ennis, and his sentiments ring with pain and desperation.
Ang Lee's direction is simultaneously minimalist and sweeping, its narrative a small and intimate work set against gorgeous, epic vistas. It is without doubt the director's most heartfelt, emotionally gripping work. Lee gets to the heart of this complex relationship — and the equally complex relationships surrounding it, including Ennis's strained, loveless relationship with his wife Alma (Michelle Williams, in an Oscar-worthy turn) — with a cinematic clarity and stark directness we rarely get from movies these days. Lee lets the tale unfold in its own time, its own way, and yet the story never flags, never engages us less than fully, building to a heart-shredding conclusion.
Gyllenhaal and Ledger are both magnificent. Their scenes of passion have a masculine brute force, pent-up repression unleashed, passion unrestrained. The love scenes — particularly the first encounter — are shocking, uncompromising, brilliant. But Brokeback Mountain is about much more than sexual desire, and Lee makes sure we understand that Ennis and Jake are happy simply sitting beside one another, taking in Wyoming's majestic scenery.
Ledger gives the movie's most wrenching performance (he can now be forgiven for The Brothers Grimm). Ennis is a stereotypical Marlboro Man stunned by the realization that he's in love with another man — and that's where the archetype falls apart. The narrative tilts in his direction. His interactions with Alma, who confronts her husband's predilections in one of Brokeback's most riveting scenes, as well as other women who try to seduce him, speak volumes about his heart's allegiances.
Ledger keeps his character's volume low. Barely opening his mouth when speaking, his voice is frequently an indecipherable mumble, his face, a stoic, blank slate. He's in hiding. And yet there are isolated moments when we see Ennis's pain, guilt, anger and utter hopelessness at being unable to solve a situation that is completely untenable. The impact hits us with the force of a stampede.
"I'm stuck with what I've got here," he says, voice tinged with sorrow, lying beside Jack in a motel room. "Makin' a livin' is 'bout all I got time for now."
One could argue that Ennis and Jack's happiness is laid to waste by society's mores. But where lies tragedy, also lies the tender, undiluted potency of genuine love. Brokeback Mountain is a testament to that love, in all its forms.
---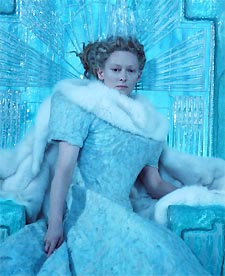 Tilda Swinton, the White Witch
It would be easy to dismiss The Chronicles of Narnia: The Lion, The Witch and the Wardrobe as another fantasy-fortified, special effects bonanza were it not for the movie's heritage: the book — one of seven in a series by C.S. Lewis — is as beloved as the Harry Potters. And director Andrew Adamson (Shrek 2) pays homage to the source by remaining as faithful as possible to its material.
It's also impossible not to view the film as a religious allegory — Aslan, the Lion (voiced by Liam Neeson), is clearly a messianic figure, and the terrifying White Witch (Tilda Swinton), with her hordes of misshapen demons and minotaurs, is no less than a personification of Satan. But since most epic fantasies come down to a battle between good and evil, it's just as easy to dispense with the religious undertones and simply have a grand time drinking in the adventure. Which is what I did.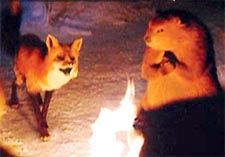 Rupert Everett and Dawn French voice for The Fox and Mrs Beaver
Fortunately, this story of four children who discover a magical land called Narnia in a musty old English wardrobe, works on a variety of levels. It has wonderment and dazzlement (the special effects, particularly the convincing Aslan, are extraordinary and seamlessly integrated). It has lessons — the children learn the importance of sticking together as a family. It has talking beavers, a faun (the winning James McAvoy), and big, beefy Centaurs, who are creatures of impressive economy when it comes to battle: there's no mounting of one's horse to be done — you just gallop off toward your enemy, sword raised, ready to slice away.