Oh, the starving, the deprivation, the unrequited love — the pièce de résistance that is Les Misérables. Something feels so right about seeing this nostalgic musical masterpiece during the holidays and being swept away by its ardent ideals and fearless romanticism. It's comforting to know that some traditions haven't changed one bit.
Almost 20 years after its American premiere, Cameron Mackintosh's perennially bankable production has survived three national touring companies and the third-longest run in Broadway history, with cumulative box office receipts in excess of $1.8 billion. "The world's most popular musical" remains so because, unlike its fellow generation of '80s bigger-better-more musical extravaganzas, Les Miz has aged just as gracefully as its core material, thriving over the past two decades with distinct, dramatic imagery and a memorable score of precious lullabies and rousing anthems.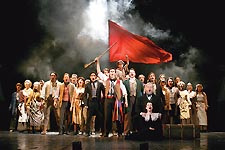 Fighting the good fight: The cast of 'Les Miz'
Set entirely to music, Les Miz has evolved past Hugo's treacherous tale of the horrors of the French Revolution to define the quintessential mega-musical. It's still the same cat-and-mouse game between fugitive Jean Valjean and the self-righteous Inspector Javert, but the stage version spins a complex and colorful yarn so powerful that it nearly transcends the original text. At its heart remains a trio of tormented love stories aching with matters of personal choice and freedom, but its soul is a volatile wartime epic separating the haves from the have-nots.
To accommodate its decades-sprawling drama, directors John Caird and Trevor Nunn employed an enormous revolving stage that turns through the years. At one point, mammoth set pieces merge to evoke a makeshift barricade. The concept was novel when it first appeared, but is now instantly recognizable to theater aficionados as the Land of Les Miz. Also familiar are the show's timeless tunes, from "Castle on a Cloud" and "I Dreamed a Dream" to the march of "Do You Hear the People Sing?" This latest production is a surprisingly compact road show with fiercely renewed staging and lush orchestrations that abbreviate some of the score's tedious exposition (Thénardier's superfluous "Dog Eats Dog" late in the second act, for example).
Not to worry about missing bits and pieces, however. "Master of the House" still stops the show, and the gorgeous three-part harmonies still soar between Marius, Cosette and Eponine. But the greatest gem mined from this cast is a light and luxurious rendition of "Bring Him Home" from Randal Keith. There is a globe of music spinning inside this Valjean, and Keith tempers his huge voice with a lovely falsetto that floats from his lips like magic. It's difficult to strike a realistic balance between the hardcore melodrama of the plot and its operatic overtures, but Keith masterfully weaves Valjean into a whole character, bleeding with tender emotion and life.
Unless you had the good fortune of catching Debbie Gibson — née, Deborah Gibson — in the role of Eponine in New York some 13 years ago, you've never fully experienced the unbridled pop passion of "On My Own." Sure, Frances Ruffelle gives good gamine, but Melissa Lyons is a serviceable substitute for the original lovesick desperado. Marius, the revolutionary paramour, doesn't fare so well as portrayed by the overly enthusiastic (and often nasal) Adam Jacobs, while Leslie Henstock is barely present as the grown Cosette.
There have been better Javerts, but at least Robert Hunt has a fitting last name for the role of the officer hell-bent on "justice." His Javert throttles in one gear from start to finish, void of any subtle revelations or self-inflicted agony. He may be a man of the law, but he is still a man, not a crime-crushing machine. And while no one strikes a particularly sour chord in the uniformly able cast, there are high expectations for Jennifer Butt's Madame Thénardier, considering that she originated the role on Broadway. Her pilfering hag resembles a strung-out Carol Burnett, and she is mismatched with the fabulously energetic Fabio Polanco.
The rest of the ensemble dazzles, from Trent Blanton and Charles Hagerty in small character roles to the requisite singing tykes. If you've never seen theatre's take on all things French and fiery — or if it has been some time since your last rendezvous — this largely satisfying production may be your last opportunity to visit Jean Valjean and friends. This round is dubiously billed as the tour's "final Washington engagement," so now is the perfect time to treat yourself to the musical phenomenon that is Les Misérables.