More than 50 guests representing many of city's most tuned-in GLBT politicos noshed and drank in a stately old room decorated with chandeliers, holiday garlands, and a rainbow of stickers touting candidates for the 2006 mayoral race. Aside from candidates, stickers touting love of "a smoke-free D.C." also vied for attention.
It was all a part of the Gertrude Stein Democratic Club's annual award reception Monday, Dec. 12, at the historic Washington Club on Dupont Circle.
David Meadows, stepping down as president of the Stein Democrats — the district's club for GLBT Democrats — to make way for incoming 2006 president, Mario Acosta-Velez, got the ball rolling with thanks and special introductions. One such introduction went to Brian Johnson, newly elected board chair of the Gay & Lesbian Victory Fund and Leadership Institute.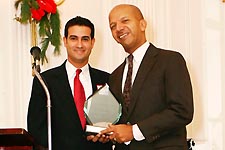 Mario Acosta-Velez and Mayor Anthony Williams
(Photo by Rudy Lawadjaja)
Sgt. Brett Parson of the Gay & Lesbian Liaison Unit of the D.C. Metropolitan Police Department was the first recipient of the evening, accepting the Heil-Balin Award for Community Service. Stein Democrats' Darrin Glymph, who presented the award, accompanied Parson earlier this year when the pair made a presentation about the GLLU as part of the Innovations in American Government Awards at Harvard University. The GLLU was one of 15 finalists, though it did not win.
Nevertheless, Glymph said that Parson is "the best and brightest in government innovation anywhere in the country."
Parson thanked the Stein Democrats, pointing out Third District Police Commander Larry McCoy as well as his own parents in the audience, offering some parental double-entendre: "Someone said the fruit doesn't fall far from the tree. I thought, 'Isn't that appropriate?"'
The Freedom Award went to Matt Foreman, executive director of the National Gay and Lesbian Task Force. Foreman took a modest tone, saying that he didn't really deserve any recognition for a job he sees as simply being openly gay and drawing a salary for it. "I really shouldn't be getting this award," said Foreman. "You [Stein members] do it from the heart, and you don't get paid for it."
Those unpaid efforts would continue in 2006 and beyond, said Meadows, including sending Stein Democrats to help with elections outside of the district's own huge Democratic majority. "We need to go out to the swing states," he said, citing past efforts. "It's time to put a Democrat back in the White House."
Justice Award recipient, D.C. council member Sharon Ambrose (D-Ward 6), said she knew she'd wanted to ally herself with the Stein Democrats after seeing the group's earlier steps in supporting Marion Barry for mayor in the late 1970's.
"Absent Gertrude Stein involvement, I'm not sure Marion Barry would've won that first campaign," Ambrose said. "What I think is really important about the Gertrude Stein Democratic Club is that it is a template, an example of how political muscle can work."
The final recipient of the evening — Mayor Anthony Williams — stepped into the room on cue, just as Meadows handed "Don't Blame Me, I Voted for Kerry" T-shirts to the Stein Democrats 2006 officers. Williams was the first to receive the Wanda Alston Democratic Service Award, named for the woman who headed the Mayor's Office of LGBT Affairs, and who was murdered in March, less than six months after the office was created.
Williams said he was accepting the award on Alston's behalf: "I like to think that her spirit still pervades everything we do."
D.C. Council member Jim Graham (D-Ward 1) closed out the evening, also invoking Alston's memory, and bringing up the move to make the LGBT affairs office permanent — a move he has led on the Council.
"Mayor Williams, I know Wanda Alston would be especially happy tonight to see you winning this award…. She was so proud to serve in your administration," Graham said, adding that homophobia still exists in Washington. "The truth of the matter is there's still a huge struggle here, even today…. Just a few weeks before she was murdered…[Wanda] wanted me to reintroduce this legislation [to secure the LGBT affairs office] because it mattered to her."
Though talk of Alston injected a mournful note into the evening, Graham ensured that he ended the evening cheerfully, with a sermon to the choir.
"Isn't it great being with gay Democrats?" he asked. The audience responded with cheers.
For more information about the Gertrude Stein Democratic Club, visit them at www.steindemocrats.org.