Brian A. Johnson may not be a big name in politics. To many, he may not be a big name at all. But if you aren't yet familiar with Johnson, it's time to take a look. He is one of the newly elected leaders in the political fight for GLBT equality.
The Gay & Lesbian Victory Fund announced earlier this month that the organization's board has elected Johnson as chair. He'll be leading the board of the only national organization dedicated to supporting qualified GLBT political candidates and officials.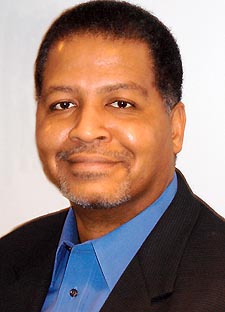 Brian A Johnson
Photo courtesy Victory Fund
"The people who have been co-chairs before me, each and every one has made a unique and wonderful contribution," Johnson said last week, while on a trip to New York — partly pleasure, partly to meet with Victory Fund supporters. "[My predecessors] have been a collection of politicians and activists, policy wonks…. I'm not sure what my niche is going to be."
While Johnson searches for his perfect fit at the head of the table, it's certain he brings a talent for finance with him. Originally from Philadelphia, the 50-year-old Johnson moved to Washington in 1972 to attend American University.
"Even before I graduated, I was controller of student government at American University," he says. Not much later, Johnson worked as an auditor for the Defense Department. Now living in Falls Church, Johnson has helped a number of local organizations over the years, especially when it comes to finances.
"I've known Brian for quite some time — he's definitely an asset to the community," says H. Alexander Robinson, executive director and CEO of the D.C.-based National Black Justice Coalition, the only national organization advocating primarily for black GLBT people. "I recruited Brian to be on the audit committee of Whitman-Walker Clinic when I was treasurer there. He has some very important skills that have been valuable to the Victory Fund and Whitman-Walker, when it comes to understanding finances. But he's also very passionate about the work we do on behalf of African-American LGBT people."
It seems Johnson, an African American, is also passionate about working on behalf of lesbians, saying that supporting the Mautner Project, the national lesbian health organization, is high on his list of priorities.
Understandably, Mautner Executive Director Kathleen DeBold is thrilled.
"Oh my God, we love him," gushes DeBold, a former deputy director of the Victory Fund. "He's one of the first gay men to support Mautner. In 2004, he won our 'Man of Mautner Award' for all the fabulous work he's done."
DeBold also points out that despite Johnson's relatively low profile, his years of activist work have not gone unnoticed.
"He's so quiet and behind-the-scenes, but he's done so much and built all kinds of bridges between organizations," she says. "The people who have been doing the great political work in our community all know about him.
"He's the man with no ego. It's always about the mission of the organization he supports. I hate to say it, but that's kind of rare. He definitely missed out on the 'me generation."'
There are also indirect benefits to Johnson's new role as board chair, says Robinson, who has lamented the lack of diversity represented among the leadership of America's national GLBT organizations.
"[The election] is significant. We're very excited about it," says Robinson, granting that board chair is not the same as executive director. "Although it's not directly related, it reflects the Victory Fund leadership's understanding of the need for diversity.
"The NBJC will be partnering with the Victory Fund & Leadership Institute to host one of their candidate trainings in D.C. this June. It's not a coincidence that we're partnering and Brian has been elected to this position. It's a reflection of the greater need for diversity, and the greater role black LGBT folks can play in our organizations."
DeBold adds that she sees an indirect boost to both Mautner and GLBT organizations across the board in Johnson's new post as board chair.
"With Brian as chair, they'll continue to grow and get better," says DeBold, explaining that Victory Fund strength translates to more openly gay officials in government. "Having openly gay people in office always helps on the health side, because it's rare for elected officials to be informed about lesbian health issues…. When you're fighting for rights, everything is interconnected. Something good for one organization is good for all. And Brian Johnson is good for all."
Though Johnson may not have a clear-cut idea just yet of how he'd like to use his new position, he nonetheless offers strong statements on the Victory Fund's role in the national scheme of things, as he readies to roll his sleeves just that much higher.
"We must always remember there is an election going on someplace, all the time," he says. "Congressional [race] years are bigger, but we just went through a year with all kinds of activity in a supposedly 'off' year. What we really ought to be looking at — every gay and lesbian organization — is how the political choices we make can move us forward on a number of civil-rights fronts.
"We ought to always be looking for people who are willing to raise their hand and say, 'I'm willing to serve.' [In D.C.], just because there are two people on the City Council who are openly gay, and a lesbian on the school board, that doesn't need to be the end of it."
For more information about the Victory Fund, or its sister organization the Gay & Lesbian Leadership Institute, visit www.victoryfund.org.